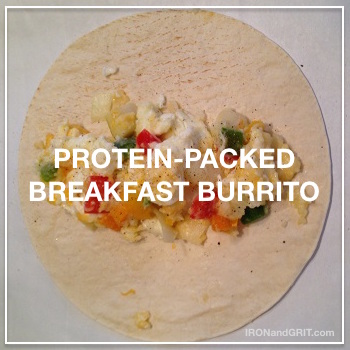 Subj: A protein-packed breakfast burrito that's ready to eat in less than 5 minutes. It tastes amazing and will kick start your morning metabolism.
Back in my college days I had to choose between eating a good breakfast, or sleeping a few extra minutes before class.
And eating something low-quality like McDonald's or a cereal bar just made me feel worse.
I wanted to eat well, and be able to prepare breakfast quickly.
You prep the ingredients  in advanced, so all you have to do is heat them up in a skillet or microwave.
The Quick and Easy Breakfast Burrito Recipe
You will need the following ingredients to make these bomb a$$ breakfast burritos. Obviously, you can add or subtract ingredients depending on your taste. I like the items listed below so that's what I use. You can add jalapeños, salsa, sausage, bacon, or ground beef if you'd prefer.
Onion
Bell Peppers
Potatoes
Shredded Cheese
Eggs or Egg Whites
Real Butter
Tortillas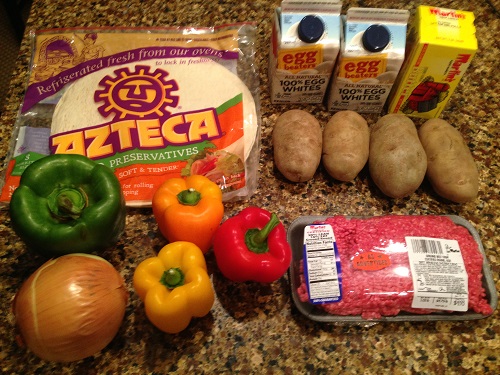 Total prep time is about 15 minutes of actual work. I do it on a Sunday night before the work week. Before you start, make sure you wash the peppers and potatoes to remove bacteria and pesticide.
Step 1) Gut peppers to remove the middle (white parts) and seeds. Cut peppers into long strip and clean out all the seeds with running water.
Step 2) Peel potatoes and cut then into quarters longways.
Step 3) Dice onion into ½ inch by ½ squares. Put in airtight container and store in fridge. These keep for about a week.
Step 4) Boil potatoes for 10-15 minutes until tender. Remove from heat and carefully remove  potatoes from hot water using a fork or sauce spoon. Place potatoes in a bath of ice water.  This will harden the potatoes so you can dice them without them turning into mush. Remove from water and cut into chunks.
Step 5) Cover two baking sheets with wax paper. Spread potatoes on one sheet and peppers on the other. Place in the freezer for an hour. Once frozen place in separate containers.  Make sure you freeze veggies like this first because they will stick together if you just throw them into a container and freeze them due to the natural moisture.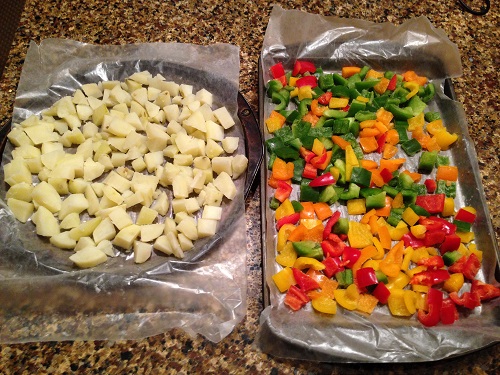 Step 6) Put veggies into airtight containers, seal and store in freezer/fridge for keep fresh.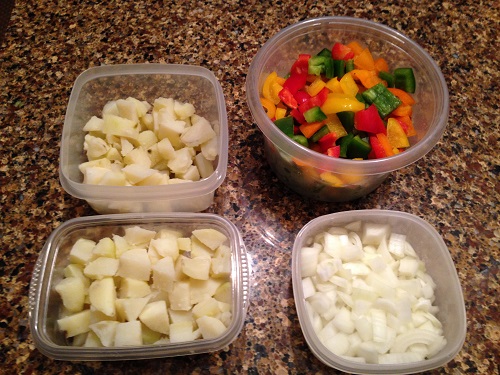 You're rework is done just like that. Boom.
Now all you have to do is go to sleep. When you wake up you'll be able to cook yourself a nice treat –
How to make easy breakfast burritos
I like to use a skillet to heat my ingredients. I think the burritos turn out better. But you can throw the onions, peppers, potatoes and eggs all together in a bowl and zap them in the microwave.
Step 1) Melt some butter in a large skillet over medium heat.
Step 2) Add frozen peppers, potatoes and onions to skillet.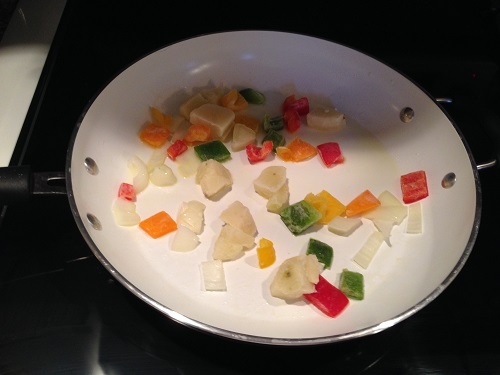 Step 3) Warm in skillet until thawed (about 3 minutes). Add egg whites to skillet.
Step 4) using a spatula move eggs around in pan so they don't burn. They will become to form light, fluffy curds. Mix with veggies in skillet.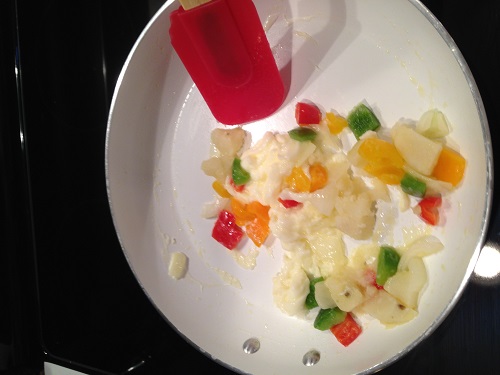 Step 5) Sprinkle shredded cheese on ingredients.

BONUS step) Place tortilla over ingredients in skillet to heat it and make it easy to roll your burrito.
Step 6) Place heated tortilla on tin foil.
Step 7) Place ingredients on tortilla.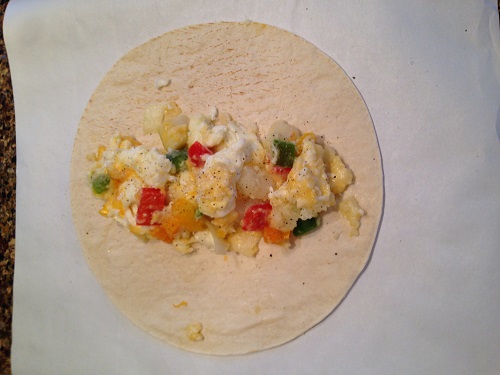 Step 8) Roll into a burrito and wrap neatly with tin foil (use the kind that has wax paper on one side).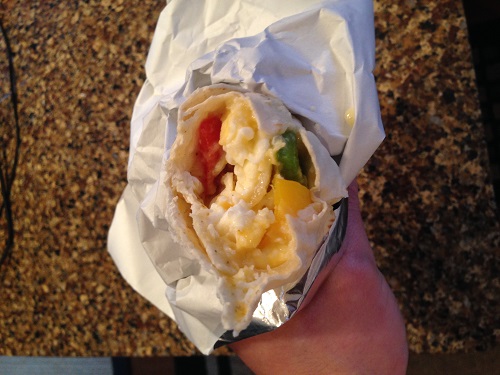 Congratulations – You now have a delicious, nutritious, muscle building breakfast burrito you can eat on the go — Made for under $1 and in about 5 minutes. Not bad for the best damn breakfast burrito you can make.
If you train often and work full time it can be hard to find time to eat right.
Don't spend your morning waiting in line to buy overpriced dog shit that's going to hurt your gains and sap your energy.
Eat well and stay energized all morning with your very own, home-made protein-packed breakfast burrito.
Check out these articles about meal prep to learn how to eat healthy on the go:
Still don't have time for breakfast? Maybe it's time for you to look into intermittent fasting.