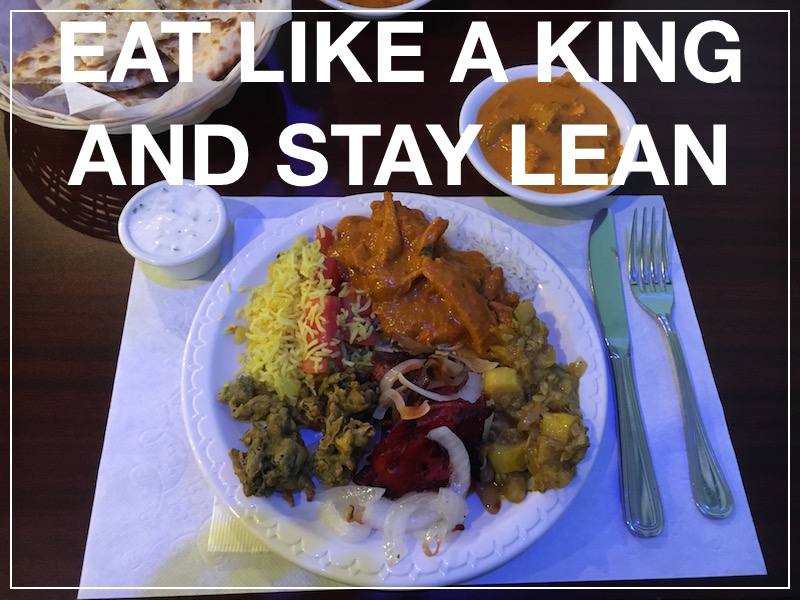 Subj: Intermittent Fasting for Bodybuilding: Boost Testosterone and Build Muscle Eating only during certain times each day. Intermittent fasting allows me to eat like a King and Stay lean all year round.
Medical Disclaimer: Always consult a Doctor or licensed physician before starting a new diet, training routine, or fasting regimen.
[This article is under construction]
Intermittent Fasting is the best way to lose fat and stay lean.
When fasting, you don't have to follow a strict diet or eat 6+ meals a day. You only eat during a feeding 'window' each day.
The feeding window can be 8 hours, 6 hours or 4 hours during the day. Once the feeding window ends, you stop eating until the next feeding window.
This 'feast or famine' approach taps into our 'primal' biological wiring, providing many benefits including increased growth hormone production, fat metabolization, body detoxification and life extension.
Intermittent fasting is effective for bodybuilding, especially for getting lean.
It's also great for people with busy schedules and dieters who have tried losing fat without success. Fasting teaches you to control hunger, rather than let hunger control you.
What is Intermittent Fasting
Fasting is a practice where you restrict or eliminate calories for an extended period of time. Fasting can be done for hours, days, or weeks at a time.
Ancient medicine men, including Hippocrates, the Father of Modern Medicine, preached the health benefits of fasting.
Fasting gives your body a break from the constant ingesting and digesting of food. Every bite of food you eat contains trace amounts of chemicals, toxins and poisons. These impurities build up over time making you fat and sick.
Fasting allows you to metabolize fat for energy. Reducing food intake mean your body must burn fat for energy, making intermittent fasting one of the best ways to get ripped.
Intermittent fasting is not a diet, although it's commonly referred to as one. Intermittent fasting is actually an eating schedule or routine.
There are several methods of intermittent fasting. Each method has a specific desired effect and one method may work better than others depending on your goal. In this article I'll focus on intermittent fasting methods for bodybuilding.
Intermittent Fasting for Bodybuilding
There are a few intermittent fasting methods you can use for bodybuilding.
Natural bodybuilders can 'hack' their biology to amplify their results in the gym. Intermittent fasting results in increase growth hormone to build lean muscle mass while keeping body fat low. Making it perfect for natural bodybuilding.
Intermittent fasting is a great way to achieve a natural, lean physique.
16/8 Intermittent Fasting
You fast for 16 hours and eat all your meals within an 8 hour window. This is the method I use when fasting.
I will skip breakfast, eat lunch around noon and eat dinner around 8 PM. I'll typically have a few snacks within this window as well.
I keep a huge bag of unsalted almonds at my office and eat them if I need a snack between meals or as a pre-workout snack.
Depending on your schedule, your feeding window can be 10AM – 6 PM, 8AM – 4PM, any eight hour window that works best for you.
This method is the best introductory method for intermittent fasting. The schedule is kept every day allowing for consistent results over time.
The 5:2 Method or The FastDiet
The 5:2 intermittent fasting method is where you eat regularly for 5 days straight then fast for 2 days in a row.
On 'fasting' days, you eat nothing or eat only 500-600 calories each of those two fasting days.
The 5:2 diet is more of a detox and fat loss technique and is more for overall heath rather than bodybuilding so use it at your discretion.
Fast all day and eat one huge meal at night. This is a similar diet that General Stanley McCrystal used to get and stay lean for years while training 2 hours every day.
This is a challenging diet and may be hard for many people to get used to but can prove effective.
Legendary bodybuilder Serge Nubret and Pro NFL running back Herschel Walker thrived on one meal a day.
Intermittent Fasting Benefits
Intermittent fasting is the fastest way to get 6-pack abs and develop defined, rock-hard looking muscles.
Many cultures practice fasting for health and religious reasons. It's a safe an effective method to heal your body that's been done for millennia.
Other fasting benefits include eating better, reduced body fat,  and allowing your body to cleanse itself naturally.
Lose Fat
Intermittent fasting will burn fat around your stomach. It's the best method to drop weight quickly in a healthy and natural way.
During fasting periods, your body burns fat stores for energy since there's no food in your system.
You're also likely to consume fewer calories when intermitting fasting since you'll have less time to snack.
You're more likely to eat quality, nutrient dense foods because your body will crave high quality food when fasted.
Get Ripped
Intermittent fasting burns the fat covering your muscles, letting them to show through.
No matter how strong you are or how big your ab muscles are, you will never see them if they are covered by fat.
To get ripped you must be lean. And the best way to get lean is to fast.
Live Longer
"To lengthen thy life, lesson thy meals." – Benjamin Franklin
Intermittent fasting can help you live a longer, healthier life.
Reducing your meals will inherently cut out saturated fat, sodium, and cholesterol that hardens and clogs your arteries.
You're also less likely to be overweight, suffer from type 2 diabetes or have high blood pressure if you fast regularly.
Save Time
Time spent cooking, preparing, and searching for food is time you won't get back. With intermittent fasting, your more likely to eat less meals. Less time eating means more time for other things.
Try meal prepping to save even more time and ensure you always have healthy meals ready to eat.
Increase Growth Hormone Production
Intermittent fasting significantly increases natural growth hormone production.
Without food readily available, your body taps into 'primal' reserves to protect muscle and increase strength because muscle and strength are precious resources necessary to bring down the next kill to eat.
Sharper Focus and Mental Clarity
Fasting helps you focus. When you're full you can't focus because digestion takes a lot of energy.
Mornings are more productive when I'm fasted because I skip breakfast and don't eat until noon.
When you're fasting I'm more alert, think clearly and quicker on my feet.
Detoxification of the body
Every bite of food puts trace amounts of toxins into your body.
Food additives, artificial ingredients, chemicals build up in your body over time and make you sick.
Fasting allows your body to flush toxins that enter your body through the food we eat, air we breath and contact with our skin.
Intermittent Fasting gives your body a break from digestion so it focuses on repairing your body and flushing out toxins.
Eating nothing and drinking fresh, clean water allows your body to do what it does best and repair itself from damage done through living.
Eating too often doesn't give your body a chance to process what you ingested and clean it out before adding in more. Your body is spending energy on digestion instead of cleaning out your system.
You have a limited amount of energy and intermittent fasting lets your body focus on cleaning the system and detoxifying.
Fasting is a basic healing method used by many ancient cultures.
Intermittent Fasting Meal and Training Timing
When intermittent fasting I find it best to weight train in the evening around 5:30PM.
I wake up at 6 AM, work until 5 or 6 in the afternoon and train right after work.
After training I eat a big dinner and then go to bed within two or three hours.
With this schedule, my feeding window is 12:00 PM – 8:00 PM.
I do it this way because I like to eat a big meal after I workout.
If you train in the morning, between 6-8AM, try a feeding window 8AM – 4PM.
The Beginner's Guide to Intermittent Fasting
You don't have to count calories, macros or measure your food. All you do is eat all your food within a certain window each day.
I lost 15 pounds in a few short weeks with intermittent fasting, going from a 'puffy' 210 pounds to a lean 195 pounds in less than a month.
I continued intermittent fasting for several months and stayed around 190-195 pound range. During this time I kept my strength. In fact I got stronger.
I repped 100 pound dumbbells 6 times in a row for flat bench press – a personal best at the time.
In addition to losing fat, intermittent fasting has many health benefits including increased strength and testosterone, stronger immune system, detox effects, and enhanced focus.
My mornings are hyper-productive when I'm fasting. I think faster and am able to get a lot more work done.
Who should do Intermittent Fasting?
I want to be lean but I also want to have energy to workout and nutrients to build muscle. Finding the balance between sustainable energy all day and not overeating is challenging.
I also like to be extremely focused at work in the morning and a combination of adequate hydration, black coffee and an empty stomach help me keep a sharp focus at work.
Intermittent fasting is perfect for people with a busy lifestyle.
If you're a hardcore bodybuilder or trainer that lives in the gym and you eat 6-7 meals a day and that's all you do then by all means eat 6 meals a day and God Bless. That's your life and your choice.
But, if you work and workout and want to stay strong and lean and not have to carry around meals or be eating all the time than intermittent fasting is perfect for you.
It's all about creating a lifestyle that works for you. Intermittent fasting is an awesome choice for busy trainers on the go.
Intermittent fasting might take a few days to get used to. Especially if you're used to eating several times a day.
You might feel hungrier than usual the first week or so until your body adjusts to your new eating habit.
If you do happen you get hungry  just eat eat more food within the window.
You'll learn how much food you need to eat to as you practice IF.
Intermittent fasting is a good plan to cut weight for spring break or summer or if you want to look ripped for the beach. You can also use intermittent fasting for extended periods of time.
Our ancestors fasted and it made their bodies lean and strong. They woke up. worked in their village or dwelling then went hunting. Brought their kill back and had a feast. They ate one or two times a day if they ate all.
Sometimes they went days without a meal. The majority of their diet was animal meat (protein and fat).
They were tall, athletic, lean and strong as a result of this lifestyle. This type of fasting would be closer to the 5/2 fasting plan I mentioned above.
How Does Intermittent Fasting Work?
You're body gets energy from food. normally you'll eat 3 meals a day, morning, noon and night.
If you don't eat your body needs to get energy from somewhere and if there's no food in your belly your body begins to use your fat stores for energy. Your body burns fat in a fasted state.
"But won't I lose muscle mass!? if I don't eat for such a long time?"  You might lose a little if any at all.
If you used to eat 3000 calories in 6 meal and now you eat 3000 calories in 2 meals do you think you'll lose muscle? Most likely you will gain more muscle eating two meals a day because of the growth hormone production increase when fasting.
Most of the weight lost will be fat if you lift 3 times a week.
Intermittent fasting helps put your growth hormone production into overdrive. Up to 1000%+ in some cases.
This protects your muscles from breaking down and will actually help them grow if you eat enough.
Plus there are plenty of examples of high-performing athletes that build muscle and stay top of class by eating only one meal per day!
Pro football legend Herschel Walker and Bodybuilding Champion Serge Nubret preformed at elite levels eating 1 meal a day.
That being said you might lose 1 or 2 pounds of muscle for every 10 pounds of fat. You can minimize or eliminate this effect by eating enough protein.
Even if you lose a small amount of muscle you will actually look more muscular because your losing fat which allows your muscles to show through.
Intermittent fasting is perfect if you want to stay lean and can't hit the gym as much as you'd like to. You can maintain your ripped-ness by practicing intermitting fasting daily and training 2-3 times a week.
What to Eat While Intermittent Fasting
The following contains an intermittent fasting meal plan and food list.
As a rule, avoid refined sugar and excess carbohydrates like bread, pasta and rice. Eat healthy snacks like fruit with peanut butter or greek yogurt. Anything processed or frozen is out of the question.
The steak and eggs diet is the perfect diet for intermittent fasting for maximum fat loss and muscle definition.
You can eat as much as you want while intermittent fasting. A high-protein, low-carb diet works best for fat loss. Try to get a gram of protein per body weight.
Just because you're fasting doesn't mean you can eat whatever you want. You can get away with snacks every once in a while if you're working out regularly but don't go overboard on candy and pop.
Try to eat a lot of healthy, hearty food. Eat as much as you want of that. When I'm doing intermittent fasting I usually have 2 BIG meals a day and a few snacks. You still need to get your calories and nutrients to recover and grow from your workouts. To ensure you're making gains, have an all-natural peanut butter protein shake before bed for extra lean protein to build muscle.
Sources: 1. Intermountain Medical Center. "Routine periodic fasting is good for your health, and your heart, study suggests." ScienceDaily. ScienceDaily, 20 May 2011. <www.sciencedaily.com/releases/2011/04/110403090259.htm>.
My stomach might growl every once in a while but drink some water or black coffee and you won't even notice it after a while because your body will adjust.
Intermittent Fasting Diet Plan and Meal Ideas
Intermittent Fasting Schedule