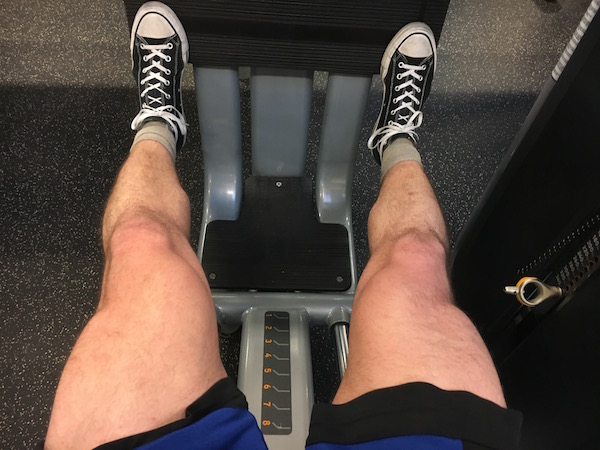 Subj: How to cure your chicken leg syndrome.
Chicken leg syndrome is a condition where your legs are smaller than your arms.
To find out if you have chicken legs, grab a tape measure, and measure the size of your calves at the widest point, then measure the thickness of your upper arm.
If you're upper arm is bigger around than your calve, well my friend, I regret to inform you but you have chicken leg syndrome.
A syndrome? Yeah. Serious shit. But, don't stress. That won't help. Stay cool – this condition is treatable and I'll show you how to fix it.
But first:
You need to understand how you get chicken legs in the first place.
Chicken legs are often self inflicted. They are created by years of neglect and are a direct result of skipping leg day.
Someone with chicken legs has the following workout split, without fail:
Monday – Chest
Tuesday – Arms
Wednesday – Back and Shoulders
Thursday – Chest and Arms
Friday – Arms
The typical 'bro' that suffers from chicken legs has been doing this split for years, probably since riding the bench in high school football.
The enlightened trainer knows that the only way to get truly song and look good is to have a well balanced physique with aesthetic proportions.
Therefore, leg training is critical to get in great shape. In fact, if you only had one day per week to workout, you should train legs since that's how you get the most bang for your buck.
"But Hoz, my genetics make my legs small and hard to grow."
The only reason your legs won't grow is because you're not training them hard enough and eating enough to make them grow.
Some dudes with chicken legs blame it on bad genetics. While genetics may play a small role, how can you know for sure? How many of you with chicken legs train your thighs and calves as often as you train upper body? And if you're hitting your legs hard and heavy, are you eating enough calories to ensure muscle growth?
Why You Shouldn't Skip Leg Day
Aside from not having chicken legs, skipping leg day means you're losing out on a lot of benefits.
Lower body training give you strong legs which is the foundation to build your upper body. Many people don't know this but the bigger your legs are, the bigger (and stronger) your upper body can be.
Training legs boosts testosterone, increases growth hormone production, burns calories and fat, builds muscle and sculpts your abs.
Leg Training Benefits
Increased strength
Leg training is the only way to get truly strong. It has an anabolic effect. Barbell lifts like squats and lunges train your body as a unit.
When a heavy barbell is on your back every muscle in your body is used to support the weight.
Squats and lunges target the legs but are really a total body exercises and will increase your other exercises, like bench and rows, as well. Remember this – You're only as strong as your legs are big.
Training legs has increased my strength for everything else. Insulting bench and shoulder presses.
Crazy, I know, but when you think about it, the exercises performed to train legs engage every muscle in your body. Next time you have 300 pounds on your back you'll know what I'm talking about.
Your arms, shoulders, even your chest will feel the weight.
Leg Training Burns Fat
Leg training burns fat like no other. Legs are big muscles and require a lot of calories for tough workouts and recovery.
Builds More Muscle
Leg training forces your largest muscles to grow resulting in faster muscle mass gains. You also get the added benefit of bigger core and back muscles.
Boost Growth Hormone
Your legs are your largest muscle group. Leg workouts stimulate the muscle fibers and cause your body to produce increased amounts of testosterone and natural HGH (human growth hormone). Training your legs with make every other muscle grow. The old school trainers know this and in fact trained legs using the 20-Rep Squat routine to cash in on the flood of HGH.
Leg Training Builds Ab Muscles
Contrary to popular belief, the best way to get abs is with heavy squats. You have to keep your abs tight while squatting or else you'll buckle under the weight. Squat to get 'strong guy' abs which are different than skinny guy abs. Skinny guy abs look like they're airbrushed,  strong guy abs look carved from stone.
Leg Training Mistakes
Until recently, I rarley trained legs. I realized skipping leg day was a huge mistake. Training legs seriously showed me the benefits of heavy lifting and resulted in the best muscle gains of my life.
It completely transformed my physique – I went from above average, kinda-sorta strong looking to being one of the best built guys in my gym. I got attention and people wanted me to train them.
There is No Substitute for Barbell Squat
When I start lifting in high school people would talk about how strong their legs are. What they really where saying is that their legs are strong relative to the rest of their body. And they base this strength from the amount they can leg press. Just because you can leg press 400 pounds does not mean you are strong or that the strength transfers to real lifts likes squats or deadlifts. So don't kid yourself.
Don't get me wrong, the leg press is a great machine for leg training the benefits page in comparison to barbell squats.
Not using full range of motion
Half squats will get you zero benefit. Squat as low as you can each rep. If your upper thigh isn't parallel with the ground at the bottom of each rep, you need to lower the weight. Quality matters more than quantity.
Infrequent or Inconsistent training
Train thighs twice a week. You can train calves every other day.
Old school bodybuilders trained calves every day. Calves are a tough, dense muscle that can take a lot of weight and volume. When I train calves, I put 4, 45-pound plates on the leg press machine and do 20-30 reps. Then I add two more 45-pound plates and do 15-20 reps, then I add 2 more 45-pound plates, then 2 more, and I keep adding 45-pound plates until there are 18 on the leg press machine and I can barely do 4-5 reps.
Not Training Heavy Enough
You're legs are used to train heavy. When at a full sprint, your legs endure tension 3-4 times your body weight. You're legs where meant to move a lot and lift heavy weight. You're caveman great-great-great-great-great-great-great-great-great-great grandpa put a saber tooth tiger over his back and hauled it to camp. You need strong legs to do this. Can't drag that shit because it takes to long and your tiger gets dirty.
Your calves need heavy weight to grow as well. See the previous point I made where I put 18 45-pound plates on the leg press for my calve workout.
Not Eating Enough Calories
This is a huge mistake. I missed out on a lot of muscle gains in my younger years because I din't no anything about nutrition. To get big and grow muscle you need to eat big and get enough protein. Always have food ready to eat with meal prep.
Leg Training Tips
Stretch after every leg workout
Legs should be flexible and strong. You want to stay limber and prevent cramping. Also, heavy leg training maes you very sore. Stretching helps muscles recover faster and reduce soreness.
Squat First
Train legs first each week. Train lower body before upper body each week to ensure you get a leg workout in.
My advice to every starting trainer out there is Squat at least once a week! Bare minimum. This will at least ensure your legs don't fall too far behind. Make sure you're lifting heavy too. and at least 5 sets a workout.
Vary your workouts
Legs where designed to run, jump, sprint, squat and climb. Therefore you're leg training should include some variety. Do sprints and box jumps and running up stairs or steep hills.
Balance your upper body and lower body training
Your curl to calve rep ratio should by 1:1 at least. You should do more calve training than arm training.
The "Cure Your Chicken Legs Workout Routine"
Follow this routine and you're on your way to thick thighs and cut calves.
You need to lift legs twice a week until your legs catch up to your upper body development.
This workout has you train legs two times each week. The routine lasts for 8-12 weeks. Then take a week or two to recover. After you take a week or two off, you can repeat until you get the desired results (muscular, strong legs).
Leg Day 1:
Barbell Back Squat 5×5
Calf raises 5×12
Lunges 5×5
Leg Press 3×8 (1 leg at a time with low weight)
Leg Day 2:
Barbell Back Squat 5×5
Calf Presses on  5×12
Leg Curls 3×12
Leg Extensions 3×12
Keep adding weight each week. 5-10 pounds each set until you can't anymore. Continue this workout until your legs catch up to your upper body. It could take a few month or more depending on how hard you train and how imbalanced your upper/lower body is.
After you've evened out, lift legs at least once a week to make sure your legs keep up with the rest of your body.
Best Leg Exercises for Muscle Mass
Squats
Front Squats and Back squats. High bar or low bar.
If you're in a pinch, you can goblet squat with a kettle bell. Goblet squats can be done at home.
Lunges
Calf Presses on the Leg Press machine.