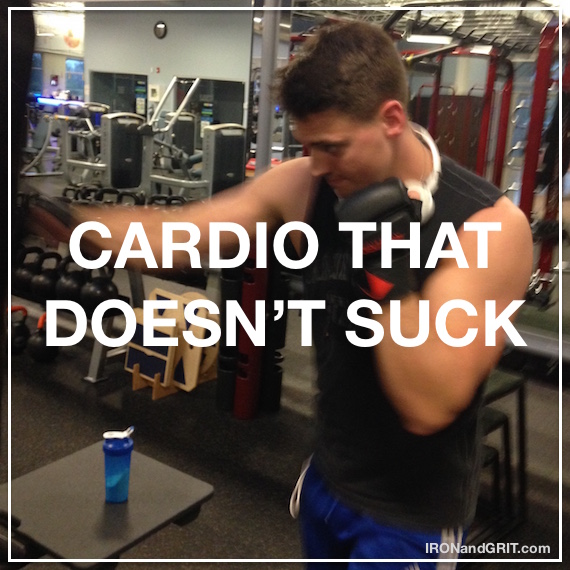 Subj: Train like a Modern Day Gladiator with these MMA and Boxing workouts to build muscle, improve endurance, and generate explosive power.
Alternate Title: 6 Cardio Workouts Better than Running.
---
Combat sport athletes have dense, strong muscles and ripped physiques.
Dense muscles make your body look 'hard' and 'cut'.
Muscle density is developed over time. It requires many, many reps and a lot of time under tension.
If you have dense muscles and low body fat, you will be ripped.
This article contains training techniques inspired by Mixed Martial Arts and Boxing workouts. Anyone can add these methods to their workout to burn more fat and build more muscle.
I put this list together because there are better way to train cardio than running.
Running is Good for Cardio, but There are Better Ways to Train
People, who want to look good, run for two reasons:
They want to lose fat.
They want to improve their overall health.
Both are noble reasons, but there are better ways to lose fat and improve health. Ways I will explain soon.
But first:
You need to understand how to lose fat and how to improve health.
Losing fat means burning more calories than you take in. Calories are burned through activity, recovery, and cell maintenance.
Running is activity, which burns calories, but running requires little recovery. Plus, running doesn't build muscle, so there's no additional cell maintenance.
Running is trading time on the treadmill for calories. It a 1:1 relationship.
On the other hand, weight training burns calories, requires a lot of recovery and increases muscle mass (in turn, increasing cell maintenance requirements). You burn calories while weight training, while recovering from weight training (muscle building and repair), and to maintain your new muscle mass. A 3:1 relationship.
This is why running is not efficient for buying fat. Running will not build muscle and it is a low-intensisty activity. Plus, the effort must be sustained for a long time in order to see the benefits.
Running is a Waste of Time
In my opinion, unless you enjoy running, it's a waste of time. Because there are better, faster ways to reach your goal.
Don't get me wrong – running burns calories, BUT running is not efficient for losing fat and it can be bad on your joints.
I get bored running. Especially running on a treadmill indoors, breathing stale air.
Running more then once or twice a week seems more like a chore to me rather than an enjoyable activity.
In fact, I ran less than 5 time in the past year.
"But won't I lose endurance if I don't run?"
You won't lose endurance by not running as long as you train in a manner that keeps your heart rate elevated for an extended period of time. (Think super-sets and high volume workouts with little rest between sets.)
I recently went for a 5-mile run with my girlfriend. I ran the entire way, at a good pace, without stopping more than a minute two or three times. Proof that you don't need to run to do cardio to keep your endurance.
If you're running to lose weight, there are better ways to burn fat. The following workouts will burn more fat in less time compared to running.
If you want to lose fat, you're better off building muscle. Muscle burns calories 24/7. Muscle reshapes your body. The workouts can be done in half the time of running and produce twice the results.
"Cardio" is the term for training cardiovascular efficiency and improving respiratory health. Thus, improving how well your body intakes and used oxygen, which is critically important for everything you do. Your energy levels, mood and productivity are all impacted by your blood oxygen level.
Mixed Martial Arts and Boxing Workouts
The workouts below where inspired by combat sports like Boxing and mixed martial arts, were strength and endurance are necessary to compete and win.
You don't have to be training for the Octagon to benefit greatly from the following workouts.
Heavy Bag Workouts
Punch a heavy bag non-stop for 1 minute and you'll break a sweat. Guaranteed. heavy bag training is a total body workout that will give you defined arms, shoulders and abs.
Boxing is the ultimate endurance sport. Three, 15-minute rounds of constant movement The training, just like the sport, is grueling, intense, and relentless. A good boxing workout will have you puking if you're not ready for it.
I've been to a few different boxing gyms and the workouts are non-stop bodyweight exercises,  handwork and footwork technique that takes a lot of movement and poise.
Lots of shuffling, running, skipping rope and throwing punches. You are constantly moving.
It's mentally and physically exhausting. A one hour boxing workout can burn over 1000 calories.
No boxing workout is complete without punching the heavy bag for a few rounds.
Heavy Bag Training is a Total Body Workout
Punching a heavy bag strengthens muscles, bones, joints and ligaments making you stronger in every way.
Your muscles flex hard when trowing a punch. When your fist hits the heavy bag, the impact actually damages your muscle slightly, which your body repairs while you rest and makes them stronger.
To throw a solid punch you generate power by pushing your feet off the ground and transferring energy up though your legs, core shoulders arms and eventually your fist.
The core stabilizes your body as you move in all directions and twist into punches from all angles. Your arms and shoulders are contracted throughout the entire workout, especially when striking and this makes then stronger and more defined.
Your entire body is working together, getting stronger, when you hit the heavy bag. Because of this, your muscles require a lot of energy and oxygen to keep up with the demand put on them. Resulting in increased heart rate, heavy breathing, sweating and fat burning.
When going a round with a heavy bag, make sure your moving constantly bobbing and weaving back and forth and side to side. Never keep your feet in one spot for more than a second. This constant motion is a total body workout and one of the best cardio workouts you can do.
Do three rounds with a heavy bag throwing flurry after flurry until exhaustion.
Between each round take a quick, 1-minute break then do it again. Add more rounds as you get used to the workout. I use an 80 pound heavy bag and leather clinch gloves and recommend both. You want to make sure the bag is heavy enough to resit your punches in order to get the most from this workout. A bag that's too light will not help you get stronger.
There's a guy I know of that locked him self in a barn with a 100 pound heavy bag in summer heat and humidity. No fan, no air conditioning. and hit a heavy bag for 30 minutes straight. While training for Tough Man competition. He won his weight class.
Skip Rope / Jump Rope
Skipping rope is one of the best cardio workouts you can do. Jumping rope conditions your legs, core and arms all at the same time. Your shoulders will get rounder and more defined. Your thighs and calves will get stronger and leaner.
The jump rope motion puts constant tension on your shoulders, upper arm and forearms. Skipping rope for 5 days in a row for 20 minutes and you'll notice you will have more defined arms and calves.
Skipping Rope increases your over athleticism and agility. Muhammad Ali skipped rope each workout. His quickness and footwork could be attributed partly to skipping rope.
He positioned his feet in a different spot every time he landed. It made him agile and quick on his feet because he worked his legs from so many angles so frequently.
This simulated the infinite number of foot positions he could be in at any point during a fight. Get a jump rope here and keep it in your gym bag for a quick workout anywhere.
Skipping rope works all the 200+ muscles in your legs for major calorie burning potential.
Barbell Complexes
Barbell complexes are a cardio/muscle building hybrid workout.
They are quite possibly the fasted way to build muscle, burn fat, strengthen your body and improve endurance and the same time.
Barbell complexes are when you use a barbell and do complex exercises. Complex meaning multi-joint movements like squat and deadlift. But instead of doing sets and reps, you do barbell complexes for time. And you do as many reps as you can within the set about of time.
Just grab a barbell and move the weight for 20 minutes straight. Do lunges, squats, deadlifts, clean and press, good mornings and shoulder press.
Do each of the exercises above for 2-4 minutes each. Don't worry about sets and reps. Rest when you have to but keep rest as brief as possible.
Just keep moving and do as many reps as possible for as long as possible.
Barbell Complex Benefits
Barbell complexes have a long list of benefits including burning fat, building muscle and all the benefits that come with preforming cardio exercises.
20 minutes of barbell complexes 3-4 times a week will trim, tone and harden your body quicker than most other workouts.
Barbell Complex Equipment
All you need to perform barbell complexes are a barbell (any size, although a barbell shorter then a regular 7-foot olympic barbell is a good bet in order to improve maneuverability. An EZ- Curl bar will work, too.)
Barbell Complex Workout Routine (to be completed 'circuit' style)
Deadlifts – 3 minutes
Clean and press – 3 minutes
bent over rows – 3 minutes
military press – 3 minutes
Squats – 3 minutes
Good Mornings -3 minutes
You don't need much weight for this. Beginners should just use the bar or a 20 or 30 pounds curling bar. Once your more advanced you can add weight to increase effectiveness.
Give these workouts a shot next time you do cardio. You'll see results that you would never get from running in a fraction of the time
Plyometrics
Plyometrics are a type of workout for increasing explosive power. Think box jumps and clapping push ups.
The goal of plyometrics is to increase athleticism and overall fitness, explosive power, vertical leap, and quickness.
To perform a plyometrics workout, all your need is a tall, sturdy box. Wear good shoes that fit and have good grip and support. You can enhance any plyometrics workout with a weighted vest.
Bodyweight Exercise Circuit
Pushups, pull ups, dips, repeat.
Do as many pushups in a row as possible, then immediately do as many pull-ups ass possible, then immediately do as many dips as possible. Then repeat that entire cycle until your completely exhausted. Very intense but incredibly effective.