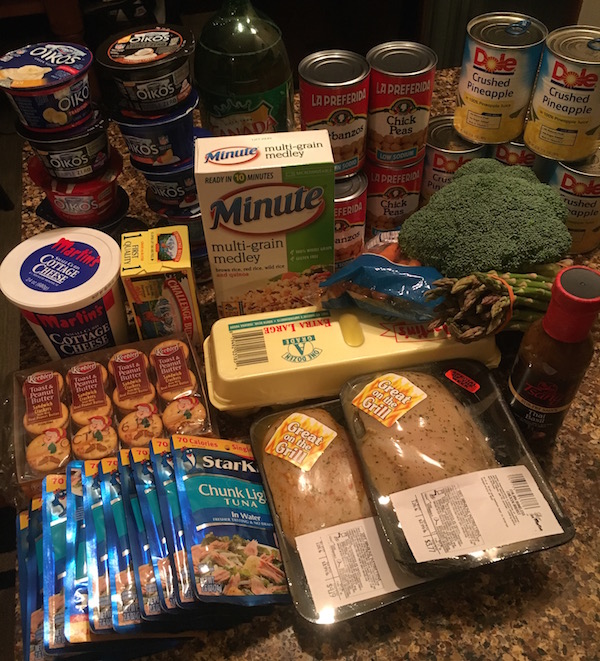 Subj: The best foods for bodybuilding.
The quality of food in your grocery cart will be directly proportional to the quality of your physique.
Without proper nutrition your progress in the gym will be minimal.
You need to eat right to build lean muscle,  stay healthy and get strong.
This posts covers bodybuilding nutrition, diet and my shopping list.
Your muscles breakdown when training and you need proper nutrition to rebuild broken down muscles.
Food is the brick and mortar used to rebuild your muscles.
Higher quality food makes your muscles bigger and stronger than before. Like reenforcing your foundation with concrete.
The Top 10 Best Foods for Bodybuilding
Beef/Steak
Whole Eggs
Fish/Tuna
Chicken/Turkey
Cottage Cheese/Greek Yogurt
Potatoes
Rice – white/brown
Broccoli
Beans
Nuts – peanuts/almonds
The Ultimate Bodybuilding Shopping List
The following are on my bodybuilding diet shopping list of Essentials:
Meat
Steaks
Ground beef
Ground Turkey
Chicken Brest
Pork Loin
Fish –  Cod, tilapia, walleye, salmon, tuna. Definitely stock up on tuna when it's on sale. Get the tuna in water.
Lunch meat – Sliced Chicken, turkey, roast beef, and ham.
EGGS
Whole eggs or egg whites in a carton. Learn to love them. They are the single best muscle building food on God's green Earth.
Vegetables
Asparagus
Broccoli
Spinach
Kale
Romain Lettuce
Onions
Potatoes – Red, sweet and Yukon Gold (Yukons are rich and buttery. They taste great mashed).
Bell peppers – Green, yellow, orange, and red.
Nuts and Beans
Black beans
Kidney beans
Pinto Beans
Peanuts
Peanut Butter
Almonds
Walnuts
Dairy
Cottage Cheese – The best late night snack.
Cheese – Your favorite sliced and shredded cheeses.
Milk – I rarely drink milk. But if you want milk, get milk.
Grains
Whole Grain Bread
Pasta
Oatmeal
Quinoa
Granola
Rice – White or brown, it doesn't matter. I like the flavored rice packets. They're a quick and easy side dish. Try the Spanish Fiesta rice or the broccoli cheese.
Cereal – I rarely eat cereal anymore and when I do it's as a snack. I don't I have to say this but I'm going to anyway. No Fruit Loops or Fruttie Pebbles. In fact, stay away from anything with chocolate or more than 2 colors in it. I like Honey Bunches of Oats.
Fruits
Note – Canned fruit might as well be 'candied fruit'.  Too much syrup. Choose fresh fruit.
Fats
Olive Oil – Lasts forever and a little bit goes a long way
Grass fed butter – Use real butter not margarine or vegetable oil based stuff. I like Challenge butter and I buy two or three boxes (4 sticks per box) when it goes on sale.
Avocado – Great to spread on salads, sandwiches, burgers, or just as is. I've been known to eat a whole avocado right out of the shell.
Spices
Salt – Sea salt ground coarse for flavor and texture
Pepper – Get a peppercorn grinder
Garlic – Bad for your breath, good for your heart.
Snacks
These aren't necessarily the best foods for bodybuilding but Hey, you gotta live a little.
Larabars – These are the shit. I recommend the cookie dough. Not cheap, but totally worth it.
Saltine Crackers
And this…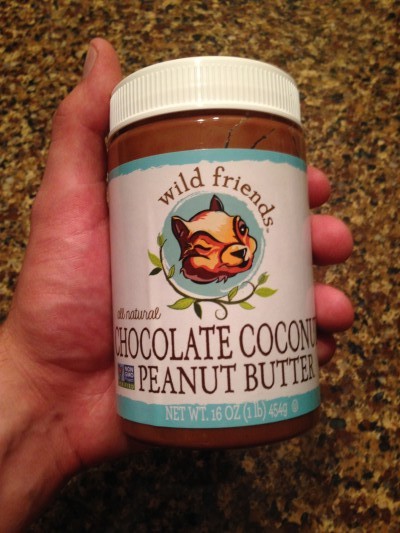 Wild Friend's Chocolate Coconut Peanut Butter It's like adult Nutella. Not as sweet but savory, creamy and delicious. Spread a thick layer on a slice of bread for a tasty snack. Or add some to your oatmeal. Nom nom.
Bodybuilding Shopping Tips
I have have a shopping list of 40-50 food items. This is a running list that I add to periodically.
When I'm shopping I buy only what's on sale and stock up. 15-30 items from my list will usually be on sale any given week.
I buy enough to have at least a 2-4 week supply of food.
If it's a great deal on can or dry goods that are non perishable I will stock up big time. Example – I saw tuna on sale for 50 cents a can. I bought 20+ cans and it lasted me a long time, saving me money and keeping my belly full.
Misc.
This is stuff to add flavor or that you can eat in a pinch.
Ketchup, mustard, marinades, stir fry sauces, pasta sauces. Vodka sauce is top notch for pasta dishes. Creme of mushroom soup is great with ground beef and noodles. Kind of like Hamburger Helper. These items have a long shelf life and are great to add flavor.
Granola bars, soup, frozen meals. I don't eat these often but once in a while they are ok if you're tired or on the go.
Additional Bodybuilding Diet Tip
Then Pick 3 other things you want to try. It doesn't matter what it is as long as it's on sale. If you like it and it's healthy add it to your shopping list. This will keep things fresh moving forward. There you have it, the best foods for bodybuilding, getting lean and building muscle.
Not sure if it's healthy? leave a comment below and I'll let you know.