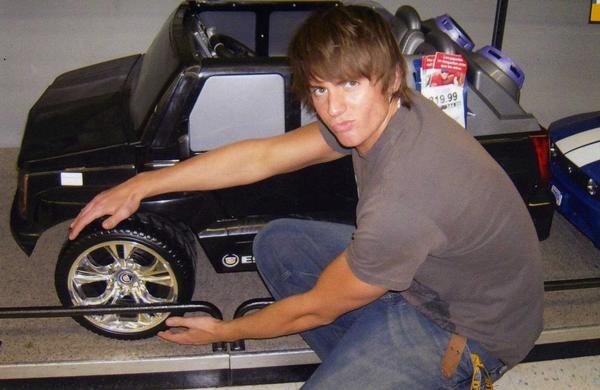 Subj: How to get a jump-start in life with my advice about Lifting, Life, Fitness and Business when I was 18 years old————
[This Article is about 80% complete. Check Back later to get the full effect]
When you're 18 you have your whole life in front of you. You can get a job, go to college, travel the world, start a business or do a combination of all those things.
Or, you can do nothing and waste your youth, health, energy and time.
I wasted a lot of precious time when I was younger.
I could have used the time I wasted building a better future.
If I had a time machine I would go back and do the things I write about in this article and I would be a wealthier individual.
Unfortunately for me, no such machine exists.
Fortunately for you, I'm going to share how you can get ahead in life.
But first, a little background on where I'm coming from:
As a teenager, I spent most of my free time playing video games, chasing girls and partying. This continued for years into my early to mid 20's. Pretty normal behavior for a guy that age, but a tremendous waste of time. Sure, it was fun and I learned a few things but it wasn't any way to keep living.
On the other hand, doing something you're passionate about and building something from scratch that's all your own is much more fulfilling than getting drunk, wasting money,  and chasing women.
You will meet like minded people, and help others get what they want. It's a good feeling. You will evolve as a person and become a better version of yourself. You will start thinking differently, more economically. You will get your act together and prioritize better, and be more in control of your life.
It All Starts with YOU.
Being successful takes a lot of responsibility. You need to have the right mindset. You need to have the right plan. You need to do all the right things and avoid the wrong things.
Go after what you want, Dream BIG, have a plan, work like Hell, and don't give a damn about what people think about it!
Let's begin, shall we?
Be good and be in demand.
18 Thing every 18 Year Old Should Know
#1. You are 100% Responsible for Your Success
The choices you make determine how your life plays out.
It doesn't matter where you started. Luck is a factor and your starting point in life is beyond your control. the city your born in. your parents are not your choice. Your choice
By the time you're 18 your a free man. You make your own choices and are emancipate from your family life and any condition you may be in.
Nobody owes you a damn thing. You get out what you put in. Don't expect a handout and don't expect people to step aside just because you show up. Be useful and add value to other people first, then you can get what you want.
Grow up and quite blaming other people for your problems. If you are healthy, able-bodied, and live in America you have more opportunity than BILLIONS of others. Don't squander it on pettiness. Make the most of it your good fortune. All it takes is a little shift in mindset.
#2. Mindset is EVERYTHING
Success in Anything Starts in Your Mind
There's a great quote a friend shared with me years ago that changed the way I look at things. Henry Ford said:
"If you think you can, or you think you can't; You are right."
Damn.
Let that sink in. If you think you can, you can. If you think you can't, you can't. You are your biggest critic and you biggest ally it all depends on how you think. think about success constantly, and you will succeed. The body naturally follows the mind. visualize the life, body, house, car, boat, yacht, mate you want enough and eventually you will have it.
Optimism and enthusiasm have a powerful impact on Outcome. They aren't the end-all-be-all but when you back it up with hard work and relentless determination, well, shit – you can do anything…in time…
#3. Play the Long Game
Don't expect things to change over night. Overnight successes take 5, 10, 15+ years. All your hard work will be realized when the time is right. You should focus on the ultimate goal and workout toward it each and everyday.
you'll be more relaxed and won't get discouraged with can kill enthusiasm and your will to continue. Have a real, actionable plan that allows you to make incremental progress each and every day. Eventually you will get what you want.
About good values. don't be swayed by people taking shortcuts. Don't get discourage if you have a slow start. Great things take time. Everything done well will compound over time and will eventually become great. That is if you want it to bad enough and finish what you start…
#4. Go Full-Measure
Success in life requires you know how to sell yourself. Salesman don't eat if they don't close. You need to finish what you start and get results. 90% complete is still incomplete.
Focus on one thing at a time and take it to completion. Multi-tasking doesn't mean doing multi things at once. Multi-tasking means prioritization and time-management to finish everything you need to finish in a specific period of time.
Football teams don't score points unless they get the ball in the end zone or through the uprights. It doesn't matter if they had a 99-yard, a record-breaking run, or a 1-in-a million miraculous play to convert on 4th down. If you don't get the ball in the end zone, you can't win.
Which is why i don't play fantasy football anymore – players earn points for participation. Not to mention the payoff is shit compared to the time invested.
The point is that RESULTS matter. And you need better results, more often that the competition if you want to WIN. How do you get results consistently and become a high-caliber producer?
#5. Work Harder than Everyone Else
There's no substitute for hard work. Hard work doesn't necessary mean hard, long hours. I measure work in valuable output. It means using time wisely and getting the maximum output for the time you put in.
Somethings come easier to some people compare to others. Regardless of this fact, no one become that best at something unless they work their ass off. This takes energy, focus, time and action. Put it all together for long enough and you will eventually get what you're working for.
All you have to do is get started. and better yet, start early:
Wake up early, start learning and building valuable things early in life. Working and taking action will give you one very valuable thing:
Experience.
#6. Nothing Beats Experience
Most 18 year olds don't have that much experience. That should be motivation to go out and get some. Now is the perfect time to start.
There's something to be said for the nuance experience teaches you. It's something a book, video or lecture cannot teach. Everything looks good on paper but once things get real and you're in the heat of battle you don't have time to think through your battle plans. You training, experience and instinct take over.
How well you perform is determined by your planning, work and time put into getting better at your desired skill. Start early and get ahead of the game. Read up on what you want to do and act it out. Start before you think your ready. Even if you fail you will learn and become better, wiser and stronger.
Experienced is earned. You have to be willing to try new things and possibly fail. All failures are momentary and will be overcome if you change your plan and try again. Eventually you will exceed and some valuable lessons will be learned.
Better yet, accelerate you're learning by reading books. Books give you the basic knowledge and get rid of the fear of the unknown when trying new things. But you must take action on what you learned to gain experience.
#7. Read like a Fiend
All the smartest friends I have read a lot and did so from a young age. When I stated reading my value and contribution to work and business increased significantly. Along with my income and self confidence. The more you know about the right stuff the better off you are.
Required reading for ALL 18 year olds:
#2. How to Win Friends and Influence People
These two books alone with change your life. They changed mine. They will also teach you the very important priniciple. Desire is required before anything can be achieved. If you have the WILL you will find a way...
#8. Be Resourceful
Finding ways to get what you want and make stuff happen is a crucial skill to have. Cultivate relationships with the right people. Learn the right skills to get what you need. Find good people to do the work that you're not good at.
There;s no playbook for success and you will have to find your own way when pursuing your goals. Being resourceful is key.
When you're 18 years old it might seem like everyone has their shit together. That is not the case my friend. Most 40+ year olds are still figuring life out as they go. Some of them haven't even figured out the basics thus making life harder than it needs to be.
#9. Master the Basics First in Anything You Do
Everything has a natural progression: crawl, walk, run. One thing build on the other.
When weight training you need to master the Deadlift, Squat, Military Press, Bench Press, Bent Over Row. These lifts are the basics and all you need to build a strong physique. These basic lifts teach you how to move your body and train your muscles. Once you master these lifts you can move on to other, move advanced lifting techniques.
When learning something new, write out the definitions of each new word or term you learn. These are the building blocks for thinking and communicating the new thing you're learning. It's worth investing the time on the front end.
Everything you do requires you to learn the fundamentals to do it well. They fundamentals are the foundation of anything. Sports, math, science. learn the basics and master them. once you know the parts you can figure the rest out much easier.
Take time to learn the basics of everything first! Boxers learn the stance first then the jab. The simplest fundamentals  yet most important things to learn to excel at the 'sweet science'. Everything starts with a balanced stance and every combination can be set up with a jab.
Once you know the basics you can start enhancing your skill set to further enhance the value you can add, and in turn, increase your earning potential.
Each skill you have is a 'pillar' to support other skills you can gain. These skills are also transferable so you can benefit in other areas of your life.
#10. Build a Marketable Skill Set or "Skill Stack".
By the time your 18 you should know what you are good at. analyze your strengths and weaknesses and plan on ways to enhance your strengths and make you weaknesses negligible.
Build a skill stack takes time. Don't waste time on video games. Focus your time on high-value activities that will provide a return. These can be self investing activities like taking classes and building a business.
Nothing is better then complete independence and self-relience. Skills make you money. having sales skills or computer programming skills will pay the bills. Having a level 47 Warlock will not.
There are a few ways to do this:
#11. Build a business
the internet wasn't a huge deal for me and my peers when I was 18. it was awesome and fun but I didn't realize the potential of earning money and learning anything on the internet. I spent most time chatting with friends, looking at pokemon cards, and playing games.
What a huge waste of time.
You can build a business and finance it working 10 hours a week on a minimum wage job until you make enough money to sustain it.
Building a business with help you learn skills like communication, marketing, sales, it will also enhance your self-worth and confidence by adding value to people with your work.
Make some coin, have some fun, even sell your business later if you want to move on to bigger and better things.
#12. Keep a Journal or Blog.
This is a great way to take time and reflect each day. Ask yourself what you did well each day. And what you could do better. Dump your thoughts and feeling on a page. When you do self reflecting and try to learn from your experience it will be much easier when you have an accurate account of your thoughts and feelings from that exact moment in time. This will do wonders for your self awareness and self improvement.
Most unhappiness in my opinion is self induced. I was pretty gloom a lot of the time. I didn't know why exactly. i just felt gloomy. Finding words for your feelings helps figure yourself out. Used be surprised at how good you are at talking yourself out of a bad mood.
Having a blog will force you to put yourself out in the world. Exposed to critizism. People don't like criticism so sometimes it forces you to think deeply on what you're writing. enhancing your ability to think.  It also helps build self awareness and understanding of others. Both critical factors to success.
Blogging helps you get your thoughts on paper. I blog to help me organize my thoughts.
#13. Don't try to be everything to everybody.
You stretch yourself too thin and leave nothing for yourself. You need to fulfill yourself before you can genuinely fulfill someone else.
Take initiative and get what you want.
You will be happier. Don't wait for other people to make moves and you just tag along. That's not a way to live it up to the fullest. Do what you want. Blaze your own trail and if you kick ass people will join you – You're kind of people. The kind of people that will help you succeed even more.
even if I didn't think I could get it. try it anyway with 100% confidence. You'd be surprised at what you're capable of.
#14. Banish the Fear of Missing Out (FOMO)
This fear is what keeps people hooked to their smart phones. They don't want to miss out on any laughs or drama or social gathering. This causes anxiety and is a huge waste of time.
How do you beat the fear of missing out?
Adopt a 'Hell yeah! or, no' approach. (borrowed from a Tim Ferris Podcast featuring Derek Sivers) That is when someone propose something to you. If you immediately think 'Hell yeah!, you should do it. If it's not a 'Hell Yeah!' level of enthusiasm, don't do it.
Forget about the fear of missing out. The only thing you're missing out on is living your own life. Which is the WORST thing to miss out on.
#15. Run Your own Race
You will inevitably meet people that have it better than you. Maybe they were born into money, maybe they are self-made. It doesn't matter. Don't try to match people like that.
"Keeping up with the Joneses" they call it. You will go broke and be miserable doing that. The better approach is to re-prioritize your life to become the type of person that warrants that lifestyle you desire.
Focus on what you need to do to maximize your potential. Sometimes the best thing to do is to have less, not more.
#16. Adopt a Minimalistic lifestyle and Eliminate all Distractions and Enhance Focus.
"Perfection is achieved, not when there is nothing more to add, but when there is nothing left to take away." – Antoine de Saint-Exupery
Anything that doesn't help you reach your goal is hurting you and needs to be eliminated. Period.
Only one thing can occupy space at a given time.
All your focus and energy should be spend on building business or enhancing your career. Get rid of cable T.V. it's a huge waste of money. Delete all social media from your phone (unless it's directly related to your business). Do this and you will have clear focus and direction on succeed.
Most people don't reach their potential for a few reasons: Don't have the vision/will/desire, Lack focus, misuse valuable resources.
#17. Have Goals and a plan for reaching Them
Goals with help you make better decisions.
#18. Weight Train for Health and Increased Energy
Exercise is required to stay lean, trim and healthy at minimum. Exercises helps build endurance and keeps your energy levels high, both of which you need to accumulate wealth. Plus:
Wealth means nothing without health and time to enjoy it.
Working out has a compound positive effect on your life, especially weight training.
Weight training helps you build muscles and a strong body. A lean, powerful physique enhances your life in numerous ways.
Lifting weights makes you sweat and strengthens your body and mind. You sweat out toxins that you breath in and consume in food (which is unavoidable). Hitting the weights improves circulation and oxygen delivery to your body and mind making you focused and alert. It also helps manage stress by releasing endorphins and testosterone. Keeping you youthful, relaxed and sharp. You will need health and energy to work long, hard hours. Weight training helps build endurance to go the distance.
Take care of yourself means you will feel and look great. When you feel good things become easier and when you look good people notice. Another benefit of weight training.
You can run, swim to exercises because that's better than nothing but I would recommend making lifting a priority because it has the maximum impact.
Put the time in, put the energy in, and you will reap the benefits. Health, strength, confidence, better athletic performance, attention from females (or males if that's your jam), etc. It's important to hit the weights hard from the get-go, especially for you 18 year olds. There are four reasons to do this:
You have a lot of energy when you're young
You have a lot of free time
You recover faster
Your body is creating a lot of growth hormone so you grow faster
There's no reason a 16-18 year old kid can't make it in the gym four times a week for an hour workout. Take advantage of your youth and hit the gym. In your first two years you can put on some serious muscle if you do it right. You'll build a foundation of muscle that will last for life. Do this before school, life, and familiy responsibilities come into play. You'll thank yourself later in life.
#19. Eat Right and Learn about nutrition
You need to eat clean and get proper nutrition in order to stay healthy and have energy.
Eat home/self cooked meals for most of your meals. Learn how to cook healthy meals. Get good at cooking 5-10 dishes and you will eat well for a lifetime.
 #20. Realize You Are Not Perfect and Nobody Expects You to Be
I was raised being the 'perfect' kid. This had a huge negative effect on me that I didn't realize until my mid 20's. I was a late bloomer and in a series of serendipitous events I was able to learn more about myself and self- awareness and self discovery. It takes work, time andthought and you have to ask yourself some hard questions but you will be better off once you do this.
#21. There are No Rules, Really
rules and policies change all the time. rules are there to prevent debate so people can accept them, move on, and be productive rather then nit-pick what others are doing.  Don't be afraid to think about things differently Don't be afraid to challenge the status quo. Don't be afraid to bend or break the rules. Think in terms of cause and effect. Don't be afraid to do things others can't do. Don't confuse rules with laws. Don't break law, but break the rules. In fact, feel free to Smash the hell out of them. this is America after all.
#22. Learn how to think critically and think independently
Think for your own damn self!
This would have been my mantra growing up. Weight the options before doing something. Think in terms of cause and effect. I was to mentally lazy or too easily distracted in my youth to really think things through. This lead to frustration and unhappiness at times. Thinking things through helps build concentration and mental focus. This will be key to having a quality life. Keep a journal or blog to help you get your thoughts out., it's a nice aide.
Design a life that enables you to get what you want.
#23. Don't make the same mistakes Twice
Failure is ok. failing at the same thing in the same way is not ok. it's a waste of time and energy.
You need to eat the right food to reach your goals. You must also eat the right amount of food. If you want to lose weight, don't snack. Cut out junk food completely.
If you want to gain weight, then eat. Seriously just eat. Eat until you're full then eat a little bit more. I was a skinny kid and stayed until I turned 22.
I thought I was skinny because of genetics and I was so active with sports. Genetics and sports played a part but my skinniness came down to my eating habits. I didn't eat that much for the amount of activity I was doing. I'd have a bowl of cereal or a couple waffles for breakfast. I was hungry two hours after breakfast and after just toughed it out as my stomach growled because I was two lazy/cheap to bring/buy a snack.
Looking back the fact was that gaining weight wasn't a priority for me. I thought I wanted to gain weight, but I never took the time to figure out why I couldn't. Looking back it's obvious – I flat out didn't eat enough. I thought I was but didn't take the time to analyze my eating habits. The solution to gaining weight is to have a number in mind (the weight you want to be), then lift and eat until you reach that number. Here's a quick rule of thumb – if you're trying to bulk and the scale doesn't move, keep pounding food. Aim to gain two pounds per week.
Get into good habits early. Start reading labels and do your own research. always verify people's claims.
#24. Build Self-Awarness.Understand yourself and Others
#25. realize People have Motives, Needs, and Incentives.
I was niave, and 'nice' I liked helping people and had a need to be likable. It got to the point where I wasn't really feeling like I had an identity. I just tried to avoid conflict and
#26. Choose your battles wisely
Don't waste your precious time and energy arguing with fools or focusing on things that don't matter. Every minute you waste doing this is ON YOU. fix it and be a better person as a result.
Know your opponent. Know yourself. Win honorably, but remember, there's no honor in defeat.
4) Find a Mentor – Find someone that has done what you want to accomplish. Better yet get a mentor for everything you want to get better at? FI you really want it, they will know and take you under their wing. Keep in mind people need a damn good reason to mentor you since it's taking time away from other things they could be doing. So make sure you really want it and go find someone who can help you get it. This will save you a lot of time and energy wasting time with trail and error.
been lifting for 5, 10, 15+ more years than you. If you show a genuine interest in working out they will be happy to show you a thing or two to improve your strength. Use their knowledge and experience.
11) Use Trusted Resources (Iron and Grit) to Learn about Fitness – There's a lot of B.S. out there that is half truth. You're only getting part of the story. If someone says they gained over ten pounds of lean muscle in a month – be skeptical. That's not possible, they had some help. Potentially in the form of a pill or syringe. Use common sense and manage your expectations. Check your facts, cross reference information with other sources to see if their claims hold up.
Learn how to choose your battles
Get an internship – I would get at least one internship each year. This is your foot in the door. I recommend getting one each year. You can even get one each summer in a different part of the world to make money, gain experience and travel the globe.
Learn how to cook
Focus on little improvements
Start a business
Be aware of alterior motives
Keep a journal or start a blog or YouTube channel
Read More
Just because someone is older doesn't mean they are smarter, better, wiser or know more than you.
As you get older you learn to get good at bullshitting, learning or both.
18 Years Old
What is something you wish you could go back and tell yourself? Let me know below!
Even if you're not 18 years old you can still get started today. There's no time to waste! start building a better future for yourself today!