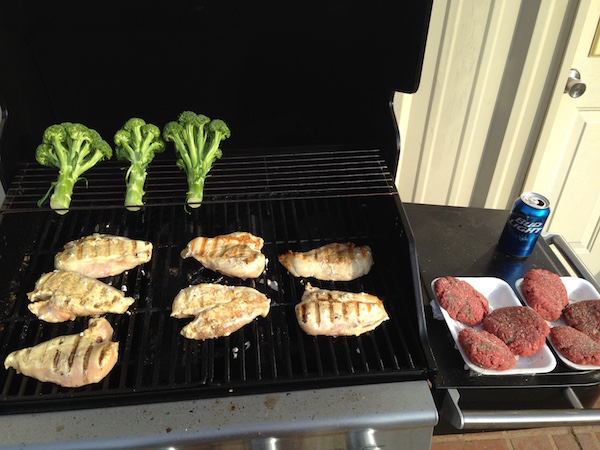 Subj: One Simple Tactic and the Only Guaranteed way to Lose Fat, Be Healthier, Improve Your Mood and Increase Your Energy Level.
–
Hello Friends,
I'm about to share with you the best way to lose fat
Try this tactic and you will get healthier, increase your energy levels and get in better shape.
It doesn't matter if you have a slow metabolism or are genetically predisposed to gain weight and retain fat easily.
The secret that I'm going to share with you is not like anything you've heard before, yet it's been right in front of your eyes since the beginning.
The #1 thing you can do that will completely change your health and well being:
Only Eat Food You Cook Yourself.
Only cook food with fresh, all natural ingredients.
Most of the food you can buy is processed garbage.
99% of Food in the grocery store contains preservatives, artificial ingredients and stripped of nutrients.
Restaurant meals are hardly any better. And don't even get me started on fast food.
Cooking your own meals ensures you eat healthy and avoid unhealthy foods.
It's a simple adjustment that can radically change your life, transform your body and improve your health.
Benefits of cooking your own meals
You Will Make Better Eating Decisions
When you cook for yourself you have to pick ingredients. This inherently leads you to know what your eating.
Does it mean you'll check the label on the packaging? Not necessary, but it puts you in a good position to, more-so than before.
Knowing is half the Battle when it comes to losing fat. It's easier to win when ou know what you're up against and how to prepare.
Home-Cooked food is Nutrient Dense
Most food from restaurants is garbage. It's processed to death. There's only a trace amount of nutrients left in frozen or processed food.
Eating food cooked with fresh ingredients is the most nutritious way to eat.
Home-cooked Food has Less additives, toxins, artificial coloring and flavors, and fewer preservatives
Food additives like preservatives and artificial flavors and coloring are basically poison.
They are hard to digest and punish your internal systems. When you eat these things you feel bogged down, tired and fatigued.
Too much of this crap manifests as illnesses that can be easily prevented.
Additives and preservatives also slow your metabolism. Think about it:
A preservative is designed to make organic compounds last longer. You're body has to work extra hard to digest food treated with preservatives. The digestive process slows down.
Crucial vitamins, minerals and nutrients aren't absorbed properly. This puts strain on your body and can produce harmful byproducts.
The more you eat the slower your metabolism gets. It's a vicious cycle. Avoid eating these things if you can help it.
When you can't metabolize something it causes "blockages" and gets stored as fat. Avoid anything eating anything you can't pronounce or wouldn't use in conversation.
You Know exactly what you're eating
Getting shredded takes dedication. You need to know your protein intake to ensure you're building muscle.
When you cook your own meals you know the portion size and therefor the amount of protein, carbs, fats and calories your getting in each meal.
Cooking Your Own meals is cheaper
I cooked myself a 3 course New York strip steak dinner for under $7 last night. I could go to a restaurant and spend $15 on a meal that's half as nutritious.
It's the fastest and easiest way to get shredded or lose fat
You need high quality meals to get shredded and lose fat. You have control over the contents of meals you cook.
The Environment has the Deck is Stacked Against You
It's easier than ever to get food.
We're hardwired to crave salt, sugar and fat.
There are over 40,000 food items in a typical grocery store. 99 percent of them are designed to make you fat. Maybe not intentionally, but that can be the result if you're not careful.
Many illnesses and ailments can be prevented or reduced if we ate better. However, our environment and culture have made it a difficult challenge to eat well.
Back in the day our ancestors had to work hard to get their food. They had to walk to the field/market, grab fresh ingredients, then walk back to their house and cook their meal. They had to grow their own food or to go out and kill a deer, bison or jungle cat just to eat.
Food was hard to come by and a lot of energy was spent in search of food.
You can see that over the years it has become increasingly easier to get our food.
Now days, we don't have to cook a damn thing if we don't want to. We a surrounded by easy, convenient ready-to-eat snacks and meals. We can easily nuke a T.V. dinner or toss a frozen pizza in the oven and have our hunger satisfied within minutes.
Human Beings are Wired to take the Path of Least resistance as a means of self preservation.
As humans we are wired to think and act economically and to conserve energy as much as possible.
Easy access to food makes it very easy to overeat. We are programmed to eat food that is available even when we're not hungry.
It's in our biology:
As we evolved humans would go days without a meal when food was scarce. When food was plentiful they gorged themselves as much as possible to hedge their bet and increase survival odds during lean times.
Marketers know this and leverage our instincts against us.
Food is placed strategically to cross our path because they know we'll want it.
We're tempted to consume bad food because it's so easily accessible. All day, every day we a constantly bombarded with messages enticing us to consume more and more.
There are vending machines at work, frozen meals, snacks at the checkout line even pizza being served in gyms! Not to mention the thousands of restaurants that will deliver anything you want directly to your house with a few taps on your smartphone.
All of this convenience has a price. Not only is processed food expensive, it's terribly unhealthy.
Realistically, one bite won't hurt and a Big Mac every once in a while won't kill you. It's OK to eat fast food and candy once in a while. Maybe have a little dessert each day. But if you give in too much and eat this kind of stuff daily…well, you are what you eat.
Cooking your own meals is cheaper in the long run. Home cooked meals are also a healthy as it gets and the simplest way to lose fat.
You must exercise your will to not give into temptation of eating junk foods or become a "product of your environment". So, even if you can't control what goes on in your environment you can choose how to react to it.
I'm not perfect and I'm no Saint – I give into temptation, too. I love cupcakes and Dairy Queen Butterfingers Blizzards. I'm just trying to illustrate a point.
Even though the environment is working against you, there's still hope and you have the power to take back control of your nutrition and fitness.
Knowledge is you weapon:
"Maltodextrin" is an ingredient found in many food items. It's a thickening agent that gives foods a creamy texture. It also thickens you around the middle and should be avoided unless you enjoy buying pants with a larger waist.
Pro diet tip: If you can't read an ingredient of the package of a food item, of wouldn't use the word outside of a laboratory or final round of a spelling bee, don't eat that food item.
The Best Fat Loss Program on Earth: The Cook-Your-Own-Food 30 Day Challenge
All you have to do to get in great shape it follow 2 simple rules:
Only eat food if you cooked it yourself.
Use only Fresh ingredients for your meals
Whole, raw foods are OK to eat (think nuts, beans, fruit, veggies, etc.)
The rules of this challenge are simple but the results are dramatic.
Try this for 30 days and watch the fat melt away as your energy levels shoot through the roof.
When I say use only fresh ingredients, I mean it.
Hot pockets, waffles and fried mozzarella sticks don't qualify for this challenge. Using a microwave, toaster or deep frier does not count as cooking.
I'm talking about broil, boil, bake and grill whole foods. If you don't know were to start food-wise then check out my current grocery list for ideas.
You might have to get creative with this diet to avoid being a hermit. If you go out to lunch or dinner with friends stick to beans, salads and steaks.
If you're the social type like me here's an idea – Invite friends over to your house for dinner or a cookout instead of going to a restaurant.
Have them all bring a dish or ingredients and cook a feast together.
Yeah, it's hard. That's why it's called a challenge. But, how bad do you want to get lean? It's only a month. Do it, stick to it, and watch the fat disappear.
"But I don't know how to cook! What am I supposed to do, starve?"
Sink or swim, my friend. You learned how to talk, you learned how to type, and you can learn how to cook. Buy a cook book or google recipes.
Buy ingredients from the grocery store and experiment with meals. Turn your kitchen into a laboratory. It's kinda fun. You have a new life skill and you're eating healthier.
Change comes from necessity and if you are forced to cook your own meals in order to eat then you will. You have to learn to cook or go hungry!
If I had to guess, I'll bet you'll learn to cook, and cook some damn good food at that. Preparing and cooking your meals is going to take some getting used to but you'll thank me later for your new found skill.
Find some recipes online that use your favorite foods and cook those recipes.
When you get the hang of cooking you can to be creative and combine new ingredients and flavors and try new recipes and cuisines. You will be proud of your creations and you can show off to your friends and family by cooking delicious meals to share.
"But what if I don't have time to cook all my own meals?"
Oooh yes you do. If you have an extra hour per week you can prep and cook all your meals for the week.
Do it while your waiting for your clothes to get out of the washer. Or wake up an hour earlier on Sunday and cook. If there's a will there's a way.
Cook some rice and bake some potatoes. Boom there's your carbs for the week. Steam some veggies and buy some fresh fruit. There's your vitamins and minerals.
Buy chicken breast in bulk and cook enough for lunches and dinner for the upcoming week. It will stay good for 4-5 days in the fridge. Protein problem solved. Hungry in between meals? Have a protein shake or some wall nuts.
Get a crock-pot. Throw some beef and veggies in there with a little water and some salt and pepper before you got to work in the morning. Set it to low and when you get home 8 hours later you can devour a delicious roast with veggies.
It's not hard to do this challenge once you get started. You just have to plan ahead and be creative.
Still not convinced you have enough time to pull this off? Maybe it's time to try intermittent fasting.
"But I don't have space for all these meals."
Yeah, ya do. Throw out the junk and get organized. Get reusable meal containers to portion and store your meals. Meals will stay good in your refrigerator for 4-5 days.
I'm telling you, if you want to lose fat bad enough then you will find a way to do it. This 30 Day Challenge is a great place to start your weight loss journey and after the 30 days, if you stick to it, I guarantee you will lose weight.
"But won't I gain the weight back after the 30 days?"
If you go back to your old ways of eating garbage then yes. But now eating your own cooked food works for weight loss. Plus by now you're probably a pretty good cook so you have the skill to keep the weight off.
Make a choice to get healthy, have a plan, and stick to it.
No cheating either! If you truly want to lose fat and keep it off you need be resolute.
I don't care if today's entree at your work cafeteria is something you could make yourself. If you didn't prepare and cook the food with your own two hands then don't put it in your mouth.
Cooking your own meals is the perfect way to avoid the temptation to eat bad food. You already have a meal made, so when you're hungry all you have to do is heat and eat.
Lifestyle changes are not always easy and it's nice to have some guidance and support.
So, if you don't know where to start or need more guidance, then get ahold of me and I'll show you how to get into the best shape of your life.
If you're pumped and ready to change your life and get into great shape then give this 30 Day Challenge a try. A remember once you start, the ship has sailed. There's no going back to shore. Keep looking forward to why you started the challenge in the first place: to lose fat and get shredded!
There is only moving toward your destination with determination and grit. Get it done.
I've got your supplies as you start your just as a culinary artist:
Cooking Supplies
Having good cookware makes cooking much more enjoyable.
Clean up sucks so buy cookware that's easy to clean.
Buy quality and your set for years.
KitchenAid Cookware – Get non-stick and stainless. It's better in almost every way.
KitchenAid Tools and Gadgets Set – Everything you need to cook anything you need.
KitchenAid Knife Set – All the knifes you'd ever need.