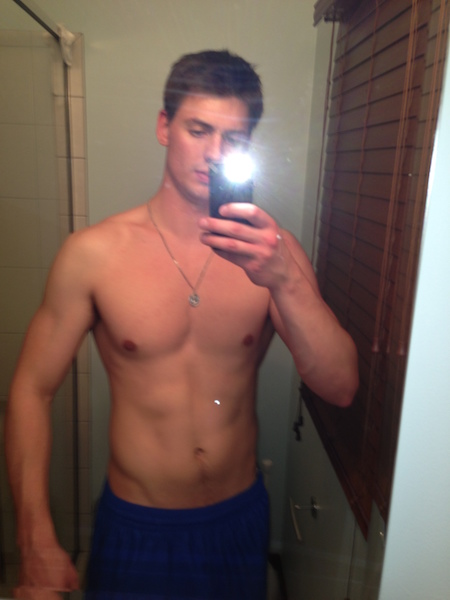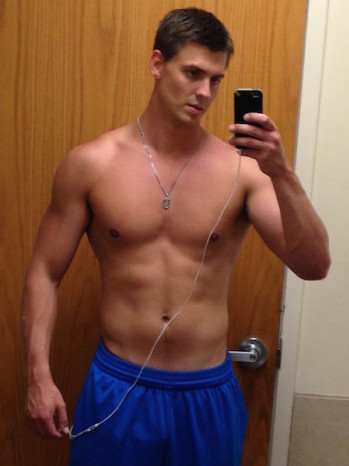 Subj: How I gained 10 pounds of lean muscle and increased my max deadlift to 405 pounds. (with bonus deadlift workout.)
In this article I will show you how to execute the deadlift and explain why it's the best exercises on the planet.
I'll also share with you the the deadlift workout I used to build 10 pounds of muscle in 12 weeks and share the techniques I used to increase my max deadlift to 405 pounds raw.
But first a little personal backstory…
When I first started weight training I made a terrible mistake:
Like most beginners I focused on the 'show' muscles. So that's all I worked out on. I wanted nice arms, a big chest and washboard abs. Naturally then, all I did was dumbbell curls, bench press and sit-ups.  I was in the gym to get bigger, stronger and look better.
The problem was that I completely overlooked deadlifts.
Not incorporating deadlifts into my workout routine lead me to missing out on some serious strength and muscle gains (not to mention created a muscle imbalance issue).
After years of training 4-5 days a week and making little progress, I forced my serve to step back and evaluate why I wasn't getting bigger or stronger.
It finally clicked that I wasn't doing any deadlifts. How can you get bigger and stronger if you don't maximize the weight you lift? And deadlifts by far allow you to lift the most weight.
I figured what the hell, I've tried everything else so I added deadlifts once a week to my workout routine. After 12 weeks I gained 10 pounds of muscle and the amount I could deadlift skyrocketed.
The results were undeniable – My back got wider, my shoulders grew larger and my upper body started to take on a V-Shape taper. During that time I went from a 185 pound deadlift to 315 pounds in a few months.
AS an added bonus all of my other lifts improved. I could bench press, squat and barbell row more weight than ever!
Needless to say I didn't need much convincing after that – I've incorporated deadlifts into my workout routine ever since. And the results have been great.
How could adding just one single lift to my workout routine result in such massive strength and muscle gains? That's because deadlifts are aren't and ordinary lift – They are the perfect lift for adding muscle strength and size.
How I Gained 10 Pounds of Lean Muscle With Deadlifts
Two years ago I 're-discovered' deadlifts it was like my weight training entered a renaissance of new strength and muscle gains. Needless to say I haven't looked back since.
I didn't change much of my workout routine – just added deadlifts into the mix. I started slow and focused on frequency more than the amount of weight I deadlifted.
A typical deadlift worked started with one or two warm up sets of 135 pounds. I focused on using perfect form for every rep. I raised the weight fast with explosive power but left the weight down slow. This lets the muscles really work.
A lot of people think it's cool to blast the weight up then slam it down on the ground. If you're maxing out that fine, but it's better to control the weight on the way down. This will give you the most benefit.
As I added weight to the bar I would hold the weight at the top position and hold it there to really feel the weight. I made sure my posture was straight and my body was in the correct position. I also made sure to flex my legs, butt, and lats in order to engage all the muscles I could for this lift.
Then, I slowly lowered the weight back to the floor, keeping the bar lightly against me the whole way down until the weight touched the floor.
I did 5 sets of 8-15 reps twice a week. This helped me to develop good deadlift form. Use these workouts to really feel the muscles working.
My Deadlift Workout Routine Results
Over the next 8 weeks I worked up from 225 pound deadlift to a 315 deadlift. Within this time, I put on 10 pounds of muscle my muscles filled out more than ever. Not bad for a "new-beginner".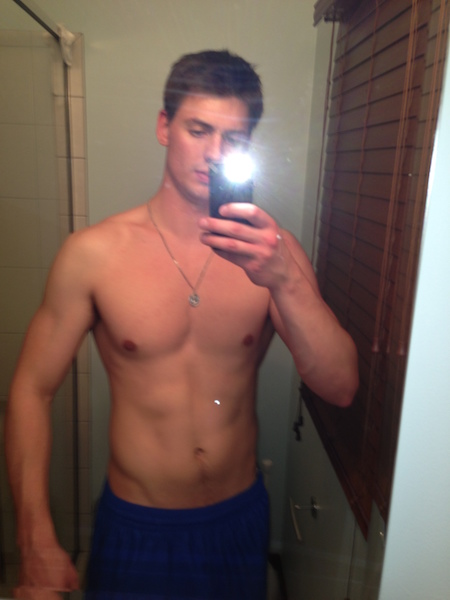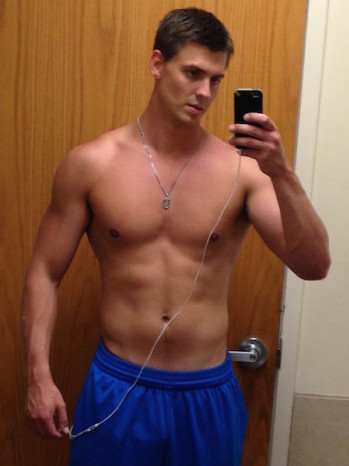 The photo on the right was taken 3 months after the left photo. You can see the gains that I made simply by deadlifting 1-2 times a week with moderate-heavy weight.
There were other benefits as well. My posture improved and I was able to do more pull ups without stopping. My back lifts like bent rows and cable rows increased as well as a result of doing deadlifts.
This was evidence enough for me to continue deadlifting indefinitely. I make it a point to deadlift once a week and am closing in on  my goal of 405 pounds.
My shoulders and back muscles grew like crazy. And my abs, arms and legs made significant progress as well even though I did little if any direct arm or ab workouts.
Not only was I getting bigger and stronger but I noticed other benefits too.
You have to use your legs, back,  arms and core al together in order to lift heavy weight from the ground.
How to Do Deadlifts as a Beginner
A lot of people are introduced to deadlifts through the 5×5 method. This isn't enough practice to learn how to deadlift before moving to heavy weight. Focus on nailing down form with light weight then slowly work up the weight week after week.
I went mostly by feel during this period of deadlifting. It's important to make sure you are really feeling the weight as you perform the lift so the right muscles are engaged.
I usually added 10 more pounds to the bar compared to my last workout. I stayed with the 8-15 reps range until I got up to 185 for 8 reps per set. It's important that you take your time between reps to reset and focus.
I continued lifting my 5 working sets like this for 4 weeks straight, deadlifting 1-2 times each week.
After I got my form down I loaded the bar more weight on the bar and did 5 sets of 12, 8, 5, 5, 3 reps. I made sure to increase the weight each week. I would load the bar enough to be just barely able to get 3 reps on my last set.
Sometimes I would fail at 2 reps. This is OK as long as you are adding weight. You're body will get used to feeling the weight and respond accordingly so next time you can lift it.
Deadlift Benefits
Improved Posture
I was standing taller as my posture improved. My shoulder no longer rolled forward and caved my chest. Now my shoulders a back and chest is higher.
As a result I'm walking taller and breathing better. The nagging pains in my neck and upper back went away.
Deadlifts Work Your Entire Body as a Single Unit
Deadlifts are dubbed the 'King of Lifts' for a reason. Barbell deadlifts work your entire body in one motion. Every muscle is engaged when pulling the barbell from the ground. Your legs, arms, shoulders, hands, chest and abs are all flexed during the deadlift.
Deadlifts Build Functional Strength
There's nothing more basic than picking something up from the ground. Our bodies are designed to do this. Deadlift is a natural body motion. Adding weight makes us stronger in this range of motion. Strengthening your muscles, bones and joints.
Deadlift was essentially the first exercises. Pick up something heavy from the ground this is how our ancestors built shelter and carried their kill back to camp. They picked up heavy logs, boulders and animal carcasses from the ground lifting 'dead weight'.
Moving things from place to place was necessary for survival and our bodies adapted accordingly.
Deadlifts Strengthen Weak Muscle Groups
No muscles can hide from the deadlift. Any weak point in your physique can be found with deadlifts.
Deadlifts Improved Grip Strength
A strong grip is necessary to lift heavy weights in other lifts.
Deadlifts Build Core Strength and Power
Deadlifts also improve your stability and core strength allowing you to transfer power to improve your lifts.
When it comes to overall strength and muscle gains, deadlifts are the undisputed king of weight training exercises. Deadlifts are hands-down and by far the single best thing you can do for overall muscle and strength development.
If you don't deadlift you are missing out on huge strength and muscle gains
If you're like most people then you don't deadlift. I avoided doing deadlifts for a while because  honestly, they where hard and time consuming. The real reason I didn't do them was because I didn't understand the benefits. Once I understood the benefits it was easy for me to start a deadlift workout routine.
Look around any commercial gym and you'll notice that less than 1% of people there ever attempt to deadlift.
Why don't they deadlift? Aren't they there to make the most of their workout? Is it a lack of effort?
The real reason many people aren't doing deadlifts is lack of education about the exercise. That must be true because if you're in the gym to look better deadlifts are one of the best ways to get in shape.
Deadlifts primarily hit your back. Your back has 70% of the muscle mass of your torso. It doesn't take a genius to realize that you can do all the curls and bench press in the world but if you don't deadlift then your upper body will never look as good as it could.
If you played football in high school or college you were probably no stranger to deadlifts. However most guys get out of the habit of doing deadlifts as soon as their coaches aren't making them do these lifts anymore.
A lot of people that skipped deadlifts when they started training tend to avoid them as well. Maybe they are embarrassed to lift such a light weight when they can bench press 90 pound Dumbbells for 10 reps.
How to Deadlift Using Perfect Technique
You will be moving a lot of weight and using your entire body, if you use bad form you will place too much a the weight on a weak body part and hurt yourself. Deadlifting incorrectly can be even worse then not doing them at all because you risk getting injured or creating a muscle imbalance.
Deadlifting Stance
 I place my feet about 12 inches apart. Pick a width that allows you to squat down while keeping your knees directly over and in line with your feet. I try to keep my toes pointed as straight as comfortably possible.
Deadlift Posture
Your starting position should be low. most of the work should be don't by your legs. Keep your butt out and down and your back tight with shoulders back and down, chest up. Your shins should be touching the bar and the bar should be directly in line and straight up from bar.
Deadlift Grip
Grab the bar with and over/under grip. This means one hand has palms facing away from you and the other has the palm facing away, and thumbs wrapped around gripping the bar. Your arms should be straight up and down with your shoulders directly over the bar.
Deadlift Barbell Position
The bar should be over the middle of your feet almost touching your shins. Once in position Take a deep breath and tighten your muscles. Create tension by pushing on the ground with your heels keeping your body tight.
Right before you begin the rep, act like you are lifting/supporting all but one pound of the weight. Like if you were to like with one more pound of force the weight would life off the ground.
By lifting all but one pound of the weight you will ensure that your body is tight, compact and in good form for the lift. This will help you lift more weight and avoid injury.
Building tension is key with deadlifts. You're body should be tense everyone. Each muscle should be engaged and feel like it's spring loaded. Like a Puma crouched and ready to pounce.
That means you're pulling against the weight of the bar. In fact if you're deadlifting 225 pounds, you should be lifting 224 pounds of it just before you pull the weight from the ground. That's how you build tension in your muscles to create the strength needed for deadlifts.
How to Maximize Your Deadlift Workout Routine
Here are some tips on how to make the most of your deadlift workout.
#1. Do Deadlifts First
Start your workout with deadlifts so you're fresh and focused. It's always a good rule of thumb to do the most taxing exercise first thing each workout
#2. Make Sure You Warm up
Do 1 or 2 warm up sets with just the 45 pound bar. Lift it up and put it down 10-15 times each set
Then do working sets of 10, 8, 6, 4, 4 reps. use the weight that's right for you. The right weight is the weight you can do with good form for all the reps but challenging enough that you're sweating during the set
#3. Do a Deadlift workout once every 4-5 days
Frequency is important. You want to fully recover from each workout but not wait too long to workout again. Make sure you get a surplus of calories, lots of quality protein and plenty of sleep.
Add 5-10 pounds to the bar each workout. Do this for 8-12 weeks straight.  The added weight will eventually make it hard to do all the reps you're supposed to. AS you fatigue, you're form breaks down. Be sure to take your time to regroup. Stop, reset, and finish the set one rep at a time.
If you need to rest then rest. Just make sure you get back to the bar and lift it. In other words, if you feel your back bend or your shoulders roll forward, or your weight starts shifting from your hells to your toes – stop, rest, reset back to perfect form then continue with he rest of your set.
You can expect a fast increase in your max deadlift in a short period of time.
It's not uncommon for beginners to gain 50- 60 pounds to their deadlift in the first month or two. Make sure you practice perfect form and use the appropriate weight to maintain perfect form.
You will also have the benefit of an better looking physique.  You back will get thicker and wider. you're shoulders will get bigger and you'll stand taller.
Use this knowledge to build the body you want. These are the same techniques, principles and programs I used to increase my own deadlift 225 pounds in under 9 months. There is not better way that the deadlift to gain raw strength and power? Check out my article to see the exact training program I used to deadlift 405 Pounds: How to Increase Your Max Deadlift.
You have the knowledge now you need to put it into action. A gym membership for deadlifts. You can build your own home gym and it will be cheaper in the long run.
Deadlift Equipment and Gear
Get a great deadlift workout with this gear.
Deadlift platform – perfect for you garage, basement, barn or spare bedroom.
Lifting straps – I don't use straps but some people like them. If you use straps make sure you train your forearms and grip.
Olympic Barbell and Weights – Iron weight will last you a lifetime.
The Best Deadlift Shoes: Hi-top Chuck Taylors
Weight Training Belt – Helps build abdominal pressure to assist with heavy lifts
Chalk – helps soak up sweat and improve grip.
Leggings – keeps you shins from getting chewed up by the bar.