Build Muscle, Burn Fat and Boost Testosterone, with the Old School "Steak and Eggs" Diet.
The Steak and eggs diet is the greatest fat-burning, muscle-building diet known to man.
It's simple, effective, and will get you into the best shape of your life faster than you thought possible.
The steak and eggs diet is different from other bodybuilding diets because there's no need to count calories, macros, measure your food or have to eat a ridiculous number of meals per day.
Just eat steak and eggs twice a day, hit the weights, and watch your body transform.
You will get shredded beyond belief with the steak and eggs diet. It will also save you time and money. It's the perfect diet if you have a busy schedule or have tried other diets in the past without results.
Vince GiRonda: Creator of the Steak and Eggs Diet
Legendary trainer Vince Gironda used the steak and eggs diet to get his clients ripped in record time.
Vince Gironda knew more about bodybuilding then anyone in his era, earning Vince the nickname – The Iron Guru. His training methods were light-years ahead of most people during his time.
For this reason people flocked to him for his knowledge. Many bodybuilders, actors where among the ranks of his pupils. His methods set a standard for bodybuilding that still exists today.
The steak and eggs diet was the best diet to achieve 'maximum muscle definition' according to Vince. Vince GiRonda's steak and eggs diet transformed the physiques of actors and bodybuilders since the mid-century.
Vince GiRonda was in his late 40's in the picture above. Vince's physique proved that proper training and nutrition can keep you youthful and strong.
Vince practiced what he preached. Vince Gironda used the steak and eggs diet to get great results and muscle definition.
The diet turned his body into a fat-burning furnace to melt fat and fuel his body when training using his intense 8×8 workout routine.
Vince lived and trained in a time before steroids were on the scene. So it's safe to say Vince build his physique naturally with innovative training techniques and perfect nutrition.
How to Get Ripped with the Steak and Eggs Diet
The Steak and eggs diet is extremely simple. Follow these five rules to get all the benefits of the steak and eggs diet:
Only Eat Steak and Eggs
Steaks can be baked, broiled, grilled, pan-seared or eaten raw if you want to be Paleo about it.
Eggs can be poached, scrambled, fried, over-easy or sunny side up. Or crack raw eggs into a glass and drink them like Rocky. Better yet, buy liquid eggs in a carton. They're patterned and won't make you sick.
Cook your steak and eggs in real butter and season to taste.
I recommend getting a nice non-stick skillet and a spatula if you don't have one already. It will make your life easier and cooking/cleaning much faster and enjoyable.
Eat Two Meals a Day
Meals can be at any time of day – Eat Breakfast and dinner, or lunch and dinner.
Meal timing doesn't matter with the steak and eggs diet. Eat at whatever time works best for your schedule. Steak an eggs diet is perfect for Intermittent Fasting to get even more results.
Eat as Much Steak and Eggs as You Want
Just eat the same two things, twice a day and you will see results.
Every 5th Day is a 'Cheat' Day
Eating the same thing every day can get bland. Luckily we are hard-wired to crave nutritious foods like steak and eggs. Typically eating steak and eggs for a month straight isn't that hard because you will be so hungry from training and only eating twice each day.
Cheat day is an opportunity to replenish muscle glycogen stores and get some flavor into your diet. eat lots of vegetables and fruit on cheat day.
Go to MacDonald's, Taco Bell or Dairy Queen if you want too. Smash an entire Domino's Pizza by yourself. Eat a gallon of ice cream, whatever. I don't care, go nuts and live a little.
Only Drink Water and Black Coffee
Except on cheat day of course, where you eat whatever you want. Drink pop, have a dirty martini, drink lamb's blood if you're a weirdo. It's all fair game and I won't judge.
You can use this diet for 2 weeks or 2 months. It's completely up to you. Most people see results within a week or two. Try the steak and eggs diet for at least 4 weeks for best results.
The steak and eggs diet results are significant. You can melt away fat and complete 'recomp' your body with steak and eggs.
'Recomp' is short for recompose, or to gain muscle and lose fat. Recomposition is challenging but it's what make the steak and eggs diet perfect for natural bodybuilders.
The Steak and Eggs Diet Benefits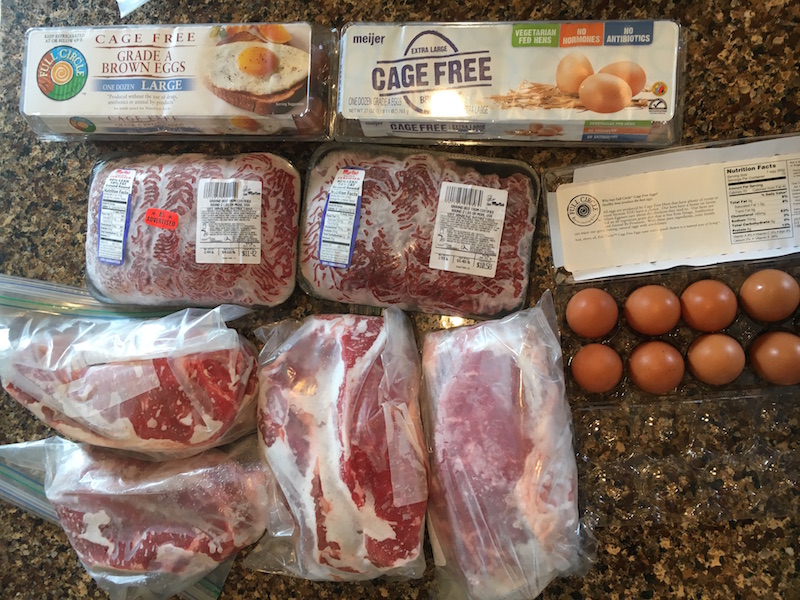 Serious trainers use the steak and eggs diet to get shredded fast while maintaining muscle mass. Several other benefits include:
You can lose weight and burn fat with the steak and eggs diet.
Some people say you can't lose fat and gain muscle at the same time. That is a false claim. Tweak you diet just right and you will gain muscle and lose fat.
The Steak and eggs diet is in essence a fat loss diet. However, it can be an effective muscle builder if you eat enough calories. If you already have some muscle mass, losing fat will allow those muscle to show.
The more fat you lose the more your muscles will show through and the better they will look. With this diet you will look like you're adding on much more muscle mass than you actually are because you're losing so much fat while maintaining muscle.
Meat and eggs is perfect for weight loss when cutting or staying lean for extended periods of time.
You can eat as much as you want and still get results.
We call this the steak and eggs diet but if you want to get technical you could call it the beef and eggs diet.
It doesn't really matter if you're eating filet mignon or ground chuck beef patties. On days 1-4 eat all the meat and eggs you want and on day 5 eat anything your heart desires. You'll rarely be hungry with this diet because the meals are so filling.
The steak and eggs diet is stupid simple.
The best diet is the one that works, and diets only work if you stick to them.
The steak and eggs diet is simple and easy to stick to. You don't count calories or "macros". Other diets require a lot of preparation and planning. All you do is eat meat and eggs cooked in butter and the rest takes care of itself.
The steak and eggs diet is cheap and effective. 
Replace steaks with ground beef to save money without losing any benefit. this diet calls for 1.5 – 3 pounds of steak/beef per day.
A pound of beef costs about $4-5 at a super market. You can buy in bulk much cheaper. You just need to shop around.
Get online and search for butcher shops. Find a good deal and load up your freezer with steaks.
I've found New York strip steaks for $3.99 a pound. I typically buy 20-30 pounds at a time.
This deal happens about 2-3 times a year at a local super market. I pick out a big chunk of meat I want and the butcher chops it into 1 pound steaks.
Most people spend at least $10-20 in food each day. Eggs are cheap, often less than $2 a dozen.
A pound of beef is $4. So, if you eat two pounds of beef and 12 eggs a day that's $10. That's less than a meal at most restaurants.
So, buy ground beef instead of steaks if you're on a tight budget. The leaner the beer the better.
I like ground beef that is a mix of 90/10 (the second number is the total fat percentage by weight of the package) as it's a good balance of flavor and quality protein and fats.
Every 5th day is a 'cheat day' where you eat anything you want.
The cheat day is important. Use it to eat a lot of fruits and vegetables.
Eat what ever you want this day. Load up on vegetables to get vitamins, minerals and fiber. Vegetables are a good source of carbs so the cheat day replenishes your glycogen stores.
The steak and eggs diet minimizes carb intake which forces the body to burn fat. Since vegetables contain carbs they a restricted to cheat days.
Although steak and eggs provides you with many essential nutrients to live a healthy life and get jacked, vegetables are a good source of fiber.
Fiber keeps your digestive tract clean and is necessary for good health. Take advantage of cheat day and eat whatever you want.
Eat pizza, burgers, cookies and cake. Make sure you load up on fruit, veggies, beans, rice and green leafy veggies to get in some extra nutrients and fiber.
This cheat day not only replenishes your body with essential nutrients, it's great for morale!
It's a Flexible Diet
Use the steak and eggs diet as long as necessary to reach your weight loss goals. The steak and eggs diet can be done for 2 weeks or 2 months.
You should workout regularly while on steak and eggs diet. You should also see results in less than 2 weeks. For best results, do it for a minimum of 4 weeks. You also eat less meals so you save time eating and cooking each day.
The steak and eggs diet is the ultimate intermittent fasting diet. 
The steak and eggs diet works perfectly with intermittent fasting. Intermittent fasting, or I.F. is a type of 'eating schedule' where you eat all of your food within an 8-hour window. Since you're only eating 2 meals a day, it makes perfect sense to eat a lunch and dinner within this 8 hour window.
Intermittent fasting benefits including fat burning, increased testosterone and growth hormone production, and detoxification of the body. These claims are backed by science. A good strategy to get shredded fast is to combine the steak and eggs diet with intermittent fasting.
The Steak and eggs diet results in a leaner, stronger body. 
Steak and eggs have every thing your body needs to grow healthy muscle. It will also strengthen your bones and other tissues. Steaks and eggs are loaded with protein and no fluff.
The Steak and eggs diet boosts testosterone and growth hormone.
Cholesterol and saturated fat are needed to produce natural growth hormones. If you're concerned about cholesterol use egg whites.
Not All Steaks and Eggs are Created Equal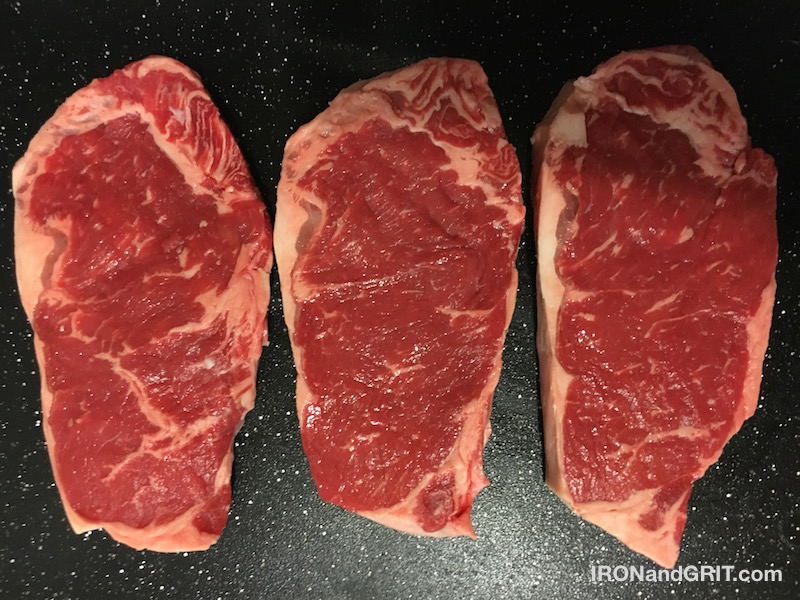 For most trainers any beef and eggs will get them ripped. For the more advanced trainers that require more finely tuned dietary needs The type of beef and eggs you use does matter slightly.
Health conscious trainers are strict about what they put in their bodies and might spend more on better quality meat and eggs.
Good: Steaks and beef from your local super market and eggs. Get meat and eggs from animals not treated with hormones.
Better: Fresh cut steaks and ground beef from your friendly local butcher and organic, free range eggs.
Best: Farm fresh organic eggs and grass fed beef.
The bottom line is any steak and eggs is fine if your goal is to get jacked. Most people use this diet for a month or two, get ripped, then maintain their gains from there.
It doesn't matter what beef and eggs you eat unless you eat this way for many months or years non-stop. Just stick to the diet plan until you reach your goal and you'll be alright.
Why is the Steak and Eggs Diet is So Effective at Burning Fat?
The steak and eggs diet is a ketogenic diet. A Ketogenic diet is high in fat, high in protein and has little to no carbohydrates. Carbohydrates are what your body typically uses for energy.
When you eat carbs your body breaks them down into glucose(sugar) and uses this sugar to fuel your mind and muscles.
When there are no carbs in your system your body must resort to burning fat for energy.
The slow burning fat creates consistent flow of energy to your body and mind so you don't experience the energy spikes and crashes causes by fast burning carbs/sugars.
You'll rarely be hungry on the steak and eggs diet but if for some reason you're hungry between/after meals, fry up some eggs or eat a few hard boiled eggs. It's good idea to hard boil eggs in advanced incase you need a snack or quick eggs for a meal.
Another reason the steak and eggs diet works so well is because it's a relatively low calorie load.
The steak and eggs diet you will feel full without filling up on empty calories or quick digesting carbs that flood your body with sugars. In short terms – the steak and eggs diet makes every calorie count.
Steak and Eggs Diet Calorie and Macro Profile
I'm not a fan of counting macros or calories. I think it's boring and a waste of time for most people. Unless you are a competitive bodybuilder or physique competitor trying to gain weight or recoup your body then there's no need to count calories.
One of the benefits of the steak and egg diets is that you don't have to count calories or macros. For the sake of illustrating a point i'll break down the steak and eggs macros so you can see what you're eating.
A typical steak and eggs meal consists of 12-20 oz of steak and 4-6 eggs. 16 oz sirloin steak has about 40g of fat and 85g of protein. 4 large whole eggs = 20g of fat and 28g of protein.
This meal has a combined 113g of protein, 60g of fat and 0 carbs.
If we add all it all up that's 990 calories for the meal. Add an extra 100 calories if you cook in butter and you're looking at 1,100 calories per meal, all from protein and natural fats.
Double that number to account for your second meal and that's a grand total of 2,200 calories per day consisting of 226 grams of protein and 120 grams of fat.
A typical day of steak and eggs is about 2200 calories and 200+ grams of protein with 0 carbs.
That's pretty low amount of calories for most trainers that workout out 5+ times per week but it will feel like you're eating 3,000 calories+ because protein and fat digest slowly and keep you feeling full longer.
So if we play this out, let's say you you train 4 or 5 times a week, you will be covering you protein requirements to build muscle but you body will be in a calorie deficit therefore it will have to use your fat reserves for the extra energy.
That's how you lose weight and get shredded on this diet. Full disclosure you may have low energy on this diet, but that's were the coffee comes into play, the caffeine will provide a nice boost of energy and mental sharpness.
Get Lean and Mean with Steak and Eggs
I like to know how stuff works. In a quest to find out what's so good about steak and eggs I dove in to google and looked for   everything I could to find out what steak and eggs are made of. (and how that 'stuff' affects our body).
To spare you of a boring lecture I've distilled my findings down to a few bullet points that illustrate why the steak and eggs diet is about as good as it gets when it comes to fat loss.
Steak and eggs are high in protein
There's something you should know and that's not all protein is created equally. There are different 'types' of proteins called amino acids.
Each amino acid is used by your body in different ways. Steak and eggs provide a complete amino acid profile meaning they provide every naturally occurring amino acid that your body needs to function properly.
Steak and eggs combined provide a lot of essential vitamins and minerals
They have everything you need to stay healthy and perform optimally. Most notably steak and eggs are a good source of Zinc, Magnesium, Selenium, B Vitamins, Potassium and Iron.
Steak and eggs are a source of saturated animal fat
Wait, isn't saturate far bad for you? Well yes, and no and it could be but probably not… Saturated fat is necessary for your body to produce testosterone and other hormones that keep you healthy and your body functioning properly.
Some of the saturated fat will be burned as you workout so a little extra won't hurt you.
To sum it up – Steak and eggs are true Superfoods
They provide all the stuff you need to build muscle and stay strong. (well maybe not all the stuff you need but damn near all of it – plus what the steak and eggs diet doesn't provide you can replenish it during the 'cheat' days of this diet).
It's still safe to say steak and eggs alone are better then any Acai Berry-Pomegranate smoothie-detox-energizer bullshit the marketers feed you.
But aren't steak and eggs high in fat and cholesterol?
Yes, it's true that the steak and eggs diet is high in fat and cholesterol. The majority of the cholesterol is in the egg yolks. To be fair we have to look at the fat and cholesterol from all angles to see what's valid and what's bullshit.
Fat gets bad rap in our society. Mostly because people believe fat will make you fat. The truth is that excess calories are what make you fat. Fat has more calorie per gram than the other macro nutrients – carbs and protein.
People think fat is worse and should be avoided. This is false and people should not avoid eating fat just because it's fat. You have been told the lie to keep your sugar intake high – but that's a story we'll take about another time.
Fat is necessary for your body to function properly. Fat keeps your joints and brain healthy. Natural animal fat contains building blocks for producing natural growth hormone and testosterone.
Both of these things are necessary to build muscle. The main thing that should be avoided is a sedentary lifestyle if your concern is getting fat.
Burn off all the fat calories and you won't get fat. On top of that you can cut out processed foods and snacks and you're on your way to a healthier lifestyle.
Calories are what the turns into fat. It doesn't matter much whether that calorie came from fat, protein or a carb 0 if you don't use it you'll never lose it.
Losing fat is essentially about taking in less calories than you burn. The steak and eggs diet takes it a step further and forces your body to burn fat instead of carbs and sugars.
Although the steak and eggs diet is relatively high in fat, it's also relatively low in calories. Calories are not created equal. Fat calories will keep you fuller longer than the same amount of calories from a carb source.
Fat calories digest slower so you stay full longer than if you trade out those calories for a carb source. Carbs break down faster and are easier to digest therefore you can become hungry again soon after eating carbs.
Fat has more calories per gram than carbs and protein, however the right kinds of fats keep you fuller longer and will provide you with energy throughout your day.
Saturated animal fat which is essential for your body to produce natural growth hormone.
Growth hormone does, you guessed it, helps you grow! But there's more to it than that. It helps you build and repair all your body tissues.
All your body tissues require unique nutrients, vitamins, minerals and amino acids and the steak and eggs diet provides all of these necessary building blocks to get and stay healthy and strong.
Not all cholesterol is bad. There's HDL and LDL cholesterol. HDL is the 'good' cholesterol HDL stands for High-density lipoprotein.
These guys are responsible for transporting fat throughout your body.  Studies have shown that HDL's can help clear fatty build up in your blood vessels and arteries.
LDL Cholesterol on the other hand is the 'bad' cholesterol which is responsible for clogging arteries and can cause varies cardiovascular diseases. LDL stands for Low-Density lipoprotein.
These guys are 'sticky' and can build up on artery walls causing your heart to work harder to circulate blood which can raise blood pressure. This can cause all kinds of health problems.
There are a lot of genetic factors that play into how your body handles cholesterol. Have blood work done regularly by your doctor and have your levels checked.
It's a good idea to keep an eye on this stuff. It's also a good way to see if what you've been told about diet is true or false.
If your worried about the cholesterol in eggs then use egg whites instead of whole eggs.
Most of the cholestorol in eggs lives in the yoke. You can either strain the yoke from whole eggs or buy egg whites by the carton to avoid the cholesterol.
The perk of carton egg whites is that you can drink the straight without getting sick. There's no salmonella risk with eggs from a carton because they are pasteurized.
How Should You Train While on the Steak and Eggs Diet?
If you're the ambitious type, you can training using Vince Gironda's 8×8 workout (also called the 'Honest' workout – created by the 'Iron Guru' to whip his pupils into shape) to burn even more fat and have your muscles show through more than you ever thought possible.
All you have to do is be disciplined and stick to the diet and workout routine that gets you in the gym 4-5 times a week for best results.
Should you supplement when on the steak and eggs diet?
Vitamin C would be a great idea since that's one of the only downfalls of this diet is that there's not much vitamin C. Other than that you should be getting everything your body needs.
Add in a fiber supplement. It's good practice for overall health but not necessary unless eating steak and eggs for a long time.
I wouldn't drink protein shakes unless it's your cheat day. You can drink egg white straight from a carton though if you want some extra protein. This is the better, healthier option anyway.
 The Steak and Eggs Diet is perfect for weight loss and muscle building
So there you have it – The steak and eggs diet is the perfect diet for fat loss. Straight forward and simple. Hell, it's even gluten free. Be sure to drink a lot of water on this diet. It will help your food digest and help keep you regular. Drink at least a gallon of fresh water each day.
I only recommend this diet for trainer that have at least a year of experience. If you have a year of training experience then you most likely have a good foundation of base muscle and can benefit from this program.
If you're a skinny guy new to training then i would eat steak, eggs, and everything else you can get your hands one. Train hard and eat hardy for a year to build a good foundation of muscle.
The steak and eggs diet is your secret weapon to get ripped fast. It's the perfect diet to cut before spring break, holiday or summer at the beach.
Happy Training,
Hoz