Subj: How to fix uneven muscles with intelligent training.
Nothing in bodybuilding is more frustrating than uneven muscle development.
You work your ass off in the gym to build a great body only to take off your shirt in front of the mirror and have your reflection show a mighty muscle on one side and a puny little clone on the other.
The rest of your physique can be great, but you fixate your uneven chest muscles.
This is natural. People have a preference for symmetry. It's in our DNA.
I have multiple uneven muscles groups and will tell you first hand that it sucks. Sometimes it's discouraging, other times it's madding.
For example: see a picture of my lop-sided pecs, below: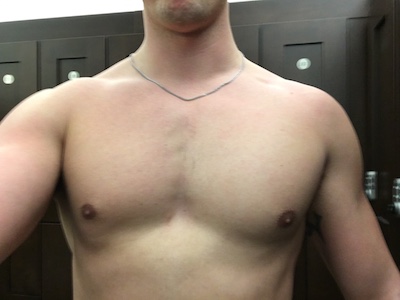 Here's a more recent picture of me after working hard to correct my uneven chest development: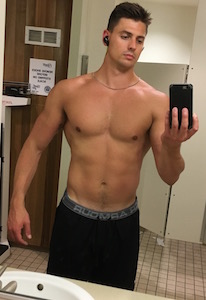 I think it's safe to say I've cracked the code for correcting uneven muscles.
Correcting my uneven muscles has been an obsession of mine for years.
My manic pursuit of perfection lead me to test, toil and try almost anything to fix my uneven chest.
I have finally cracked the code to correct uneven muscles. I'm now on track to build the physique I've always wanted, and will share my secrets with you here in hopes to help.
Know this before you start, though:
It takes a lot of focused effort over a long period of time.
How long you ask?
Well, that depends on the damage you've done –
What Causes Uneven Muscles?
Uneven muscles are caused by bad form. Bad form practiced over time causes bad habits. Bad habits create uneven muscles.
When you lift, you are training your body and mind in a certain way.
After a while, this way of training becomes natural. If you train with bad habits (i.e. bad form), your body and mind begin to think the bad form is natural.
So you train the same way, day after day, week after week, and on and on until one day you look in the mirror only to have one plump pec and one flat pancake on your chest looking back at you.
For example, I have uneven chest development caused by bad form. I always pulled my right shoulder back farther and higher than my left.
This caused tension to move from my chest muscle to my shoulder on one side. But the other chest muscle is constantly under tension.
Because the tension is constantly on my left pec and only partly on my right, my left pec has grown much larger, stronger and fuller.
On the flip side, now my right shoulder and arm is larger than my left arm! It's a double whammy.
Form is very hard to fix by fell because the right way will feel unnatural if you've been lifting the long way for too long.
This is why lifting with perfect form from the beginning is critical.
Avoid Bad Advice About Uneven Muscles
Post your blight about uneven muscles on bodybuilding.com and you'll receive a flood of terrible advice. At least that's what it seemed like to me.
I read things like: "Just use dumbbells instead of barbells, bro." or, "Just keep lifting and they'll even out eventually." and the classic, "Just get so big that you don't notice the difference!!! LOL".
This is terrible advice for correcting uneven muscles if it was caused by a form issue. You need to correct you form first before you make any progress.
If you just keep lifting, the size difference will only get more pronounced. You will go from bad to worse.
Living with Uneven Muscles
Living with uneven muscles isn't all that bad in reality.
Psychologically it can take a toll because you spend so much time, effort and energy in the gym. At best it's a minor annoyance and at worst it creates negative self image (body dysmorphia).
The good news is, most people won't notice your muscles are uneven. It's really only prominent in your eyes.
The better news is, uneven muscle development is fixable.
How To Fix Uneven Muscles
Uneven muscles are cause several factors: Injury, lesser mind-muscle connection, form or a weakness somewhere in your body that translates into a uneven muscle development somewhere else.
Correcting right-left muscle imbalance can be tricky.
Here are some things you can do to fix that:
In most cases, imbalanced muscles are caused by bad habits compounded over time. Bad form or not focusing your mind-muscle connection on the muscle being worked is one culprit.
For this reason, correcting imbalances takes a lot of focus and deliberate training effort to get the desired result.
#1. Bodyweight Training
Go back to basics with bodyweight training. Push ups, dips and pull ups should be a part of your routine now until your muscles even out. Perform these exercises in front of a mirror or video tape yourself so you can critique and correct your form.
#2. Balanced Base
For standing exercises, flex your calves and feel the tension build up from your feet to your knees in both legs.
#3. Flex Your Lats
Flex your lats 'Pull' your shoulders down toward your hips and keep you chest up. This will give you good poster and form.
#4. Never Do More Reps with Your "Stronger" Side
For example, if you're doing dumbbell curls and your weaker side reaches failure, stop the set. Don't keep repping with your strong side. This will only increase the imbalance. This should go without saying but I want to be thorough.
#5. Make Sure you fully contract the weaker side each and every rep
Mind-Muscle connection is critical to build muscle!
You can literally force your muscles to grow just by thinking! Every rep you perform, concentrate on flexing your muscle to move the weight.
Flex your muscle as hard as you possibly can at the top of each rep. Hold maximum contraction for 2 or 3 seconds – "one thousand one, one thousand two…", then slowly lower the weight while focusing on allowing your muscle to sllloooowwly de-conctract.
#6. Isolate the weaker side with dumbbells
Do an extra set or two (just a couple, not too many) targeting just your weaker side at the end of the workout. You can do this with free weights or machines depending on the muscle group your targeting.
Try to do dumbbells though if possible. Perform a movement that puts the most tension on the muscle you want to grow.
Be careful not to the secondary muscles too much or you'll just have another imbalance to deal with!
#7. Train Uneven Muscle Groups with Dumbbells
If form isn't the issue, training with muscles can help fix uneven muscles.
Barbells allow the stronger side to bare more of the weight load. Naturally making your weaker side less engaged.
Address this issue by using dumbbells when training.
#8. Train One Leg at a Time to Fix Uneven legs
Training legs one leg at a time is a great way to even out imbalances quickly. Lunges, hack squats and one leg press are the best.
#9. 'Think' with a Side
If your right side is smaller than your left. Always think right. Visualize your ride side contracting it's muscles while lifting.
#10. Lift with Perfect Alignment
Uneven muscles are caused by something 'off' in your form. Maybe you're flexing your right obliques and leaving your left looser. This will shift weight to one side more than the other creating an imbalance.
Always keep your back flat on the bench, or keep your back against a pole or wall when training arms.
The idea is to keep your spine in perfect alignment. Same with your head, shoulders, hips and feet.
My chest imbalance was caused because, when performing bench press, I over-emphesized packing my right shoulder into the bench  which caused my torso to roll slightly to the right.
This gave me a slight 'tilt' to the right when pressing and shifted the weight to my right shoulder and tricep more then my pec.
My left pec however was fully engaged and contract so grew terrifically, but my right pec lacked development.
This was caused by my bench press form. I used a classic power lift bench form with feet planted firmly on the floor, an arched back and shoulder dug into the bench. Somewhere I was off and it caused big problems over time. Even one degree difference in your knee or hip could make an exaggerated problem in your upper body.
So I took opportunity for errors out of the equation. I lifted my legs up in a 'crunch' position' and put my back fully on the bench , then pretor my bench press and flyes.
So, there's two parts to this point, make sure you have the proper setup and form before you start your set. Make sure your body is balanced and even, then do your set.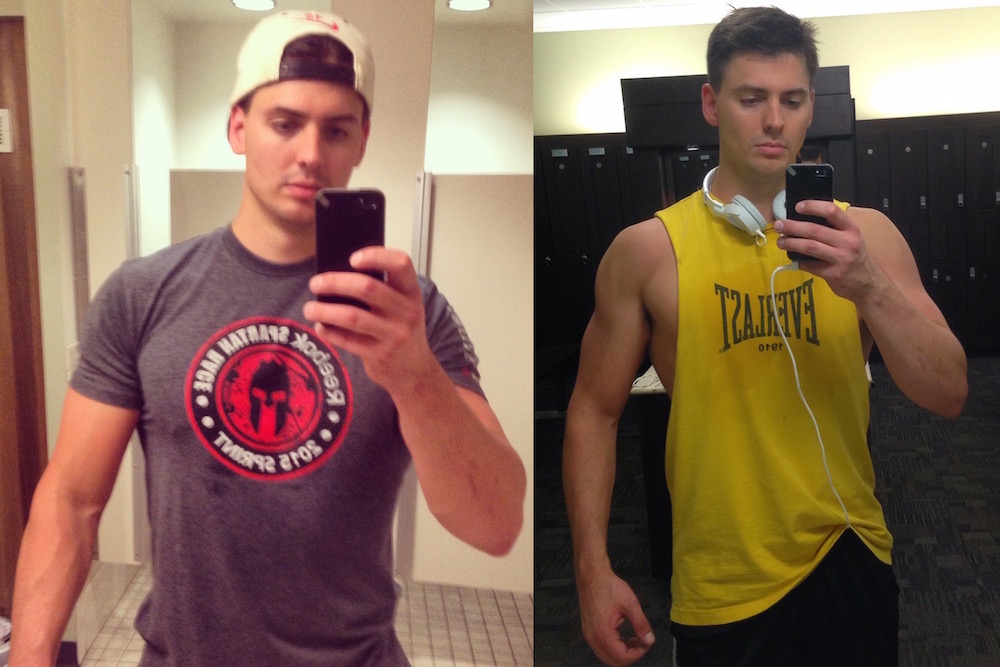 How to Build Up Lagging Muscle Groups
You might have an imbalance or a underdeveloped muscle group. For most people it's their legs, back, forearms and shoulders.
A lot of people skip leg day. Your back gets overlooked because you can't see it. Forearms and shoulders are stubborn muscles and need to be specially trained.
The simplest way to build up a lagging muscles is to train the lagging muscle group between sets of your normal workouts. Basically, a superset targeting your 'weak' muscle group.
For example, if your back is lagging behind do a set of pull ups or barbell rows between every set of your workout.
Not just your back workouts, do back exercises every workout. It doesn't have to be until failure but enough to where you feel your muscle working. Really focus on contracting them hard and pausing for a second or two at the point of peak contraction.
If that's too much back action and you're too sore all the time, then hit your back between sets every other workout. Do this for as long as you have to until your back is up to snuff with the rest of your muscles.
If you have a dedicated back day just do back workouts more often then anything else. Your back to chest to arm training should be 2:1:1.
Make sure you're doing rows, deadlifts and pull-ups for your back workouts. You want to hit the muscle at all angles so it grows fully. Keep this up for a few months and you will notice significant progress.
I trained my forearms this way and added an inch to each arm.
My forearms were skinny so every workout I did reverse curl between sets.
This means I was doing about 8 sets of reverse barbell curls 4 times a week for about a month. During this time my forearms grew an inch in circumference. (Click here for a great forearm workout)
No protein and no supplements whatsoever. Just hard work and consistency and my forearms grew and inch around.
Repeated this process for shoulders and now they are fuller, rounder and more balanced after a few months. (Click here for a great shoulder workout)
This works with every muscle group, If you want better shoulders, do dumbbell raises between sets for a few weeks straight. Your shoulders will get bigger, rounder and more defined if you keep this up. For triceps do the french press or overhead dumbbell press.
Use an exercise that is easy to do and that uses free weights that you can take with you to each workout station. This is the best way to build up those lagging muscles!