Subj: Part #1 – How to fix Muscular Imbalances. Part #2 How to Build up Lagging Muscle Groups
You work your ass off in the to build a great body only to have one arm smaller than the other or one pec a different shape or size from the other…
This can be frustrating and discouraging, and in my case, maddening.
I spent years in the gym only to have my left arm smaller than my right and my right pectoral muscle smaller than my left. I  was beyond frustrated and it got to the point that I obsessed over it.
Muscle imbalances are cause several factors: Injury, lesser mind-muscle connection, form or a weakness somewhere somewhere else in your body that translates into a muscle imbalance somewhere else.
Correcting right-left imbalances can be tricky.
In most cases, imbalanced muscles are caused by bad habits compounded over time. Bad form or not focusing your mind-muscle connection on the muscle being worked is one culprit. For this reason, correcting imbalances takes a lot of focus and deliberate training effort to get the desired result.
5 Ways to fix muscular imbalances
#1. Never do more reps with your "stronger" side
If you're doing dumbbell curls and your weaker side reaches failure, stop the set. Don't keep rapping with your strong side. This will only increase the imbalance.
#2. Make Sure you fully contract the weaker side each and every rep
My chest imbalance was caused because, when performing bench press, I over-effesized packing my right shoulder into the bench  which caused my torso to roll slightly to the right.
This gave me a slight 'tilt' to the right when pressing and shifted the weight to my right shoulder and tricep more then my pec. My left pec however was fully engaged and contract so grew terrifically, but my right pec lacked development.
So, there's two parts to this point, make sure you have the proper setup and form before you start your set. Make sure your body is balanced and even, then do your set.
#3. Isolate the weaker side with dumbbells
Do an extra set or two targeting just your weaker side at the end of the workout. You can do this with free weights or machines depending on the muscle group your targeting.
Try to do dumbbells though if possible. Perform a movement that puts the most tension on the muscle you want to grow. Be careful not to the secondary muscles too much or you'll just have another imbalance to deal with!
#4. Only train the imbalanced muscle group with dumbbells
Barbells allow the stronger side to bare more of the weight load. Naturally making your weaker side less engaged. This is obvious counter productive. Address this issue by using dumbbells when training.
#5. Correct Leg imbalances with lunges and hack squats
Training legs one leg at a time is a great way to even out imbalances quickly.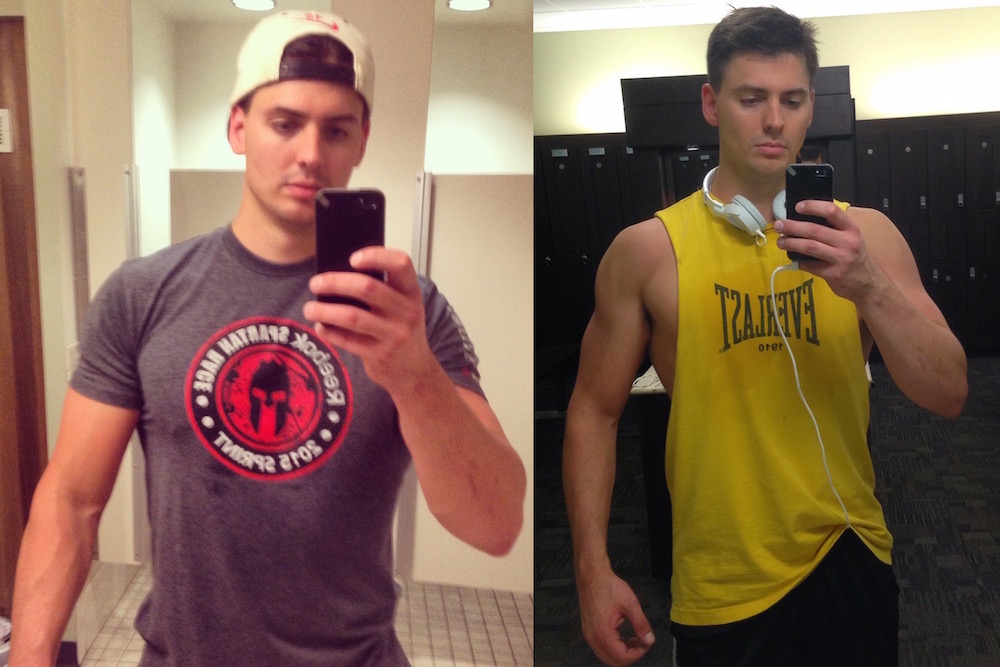 How to Build Up Lagging Muscle Groups
You might have an imbalance or a underdeveloped muscle group. For most people it's their legs, back, forearms and shoulders.
A lot of people skip leg day. Your back gets overlooked because you can't see it. Forearms and shoulders are stubborn muscles and need to be specially trained.
The simplest way to build up a lagging muscles is to train the lagging muscle group between sets of your normal workouts. Basically, a superset targeting your 'weak' muscle group.
For example, if your back is lagging behind do a set of pull ups or barbell rows between every set of your workout.
Not just your back workouts, do back exercises every workout. It doesn't have to be until failure but enough to where you feel your muscle working. Really focus on contracting them hard and pausing for a second or two at the point of peak contraction.
If that's too much back action and you're too sore all the time, then hit your back between sets every other workout. Do this for as long as you have to until your back is up to snuff with the rest of your muscles.
If you have a dedicated back day just do back workouts more often then anything else. Your back to chest to arm training should be 2:1:1.
Make sure you're doing rows, deadlifts and pull-ups for your back workouts. You want to hit the muscle at all angles so it grows fully. Keep this up for a few months and you will notice significant progress.
I trained my forearms this way and added an inch to each arm.
My forearms were skinny so every workout I did reverse curl between sets.
This means I was doing about 8 sets of reverse barbell curls 4 times a week for about a month. During this time my forearms grew an inch in circumference. (Click here for a great forearm workout)
No protein and no supplements whatsoever. Just hard work and consistency and my forearms grew and inch around.
Repeated this process for shoulders and now they are fuller, rounder and more balanced after a few months. (Click here for a great shoulder workout)
This works with every muscle group, If you want better shoulders, do dumbbell raises between sets for a few weeks straight. Your shoulders will get bigger, rounder and more defined if you keep this up. For triceps do the french press or overhead dumbbell press.
Use an exercise that is easy to do and that uses free weights that you can take with you to each workout station. This is the best way to build up those lagging muscles!