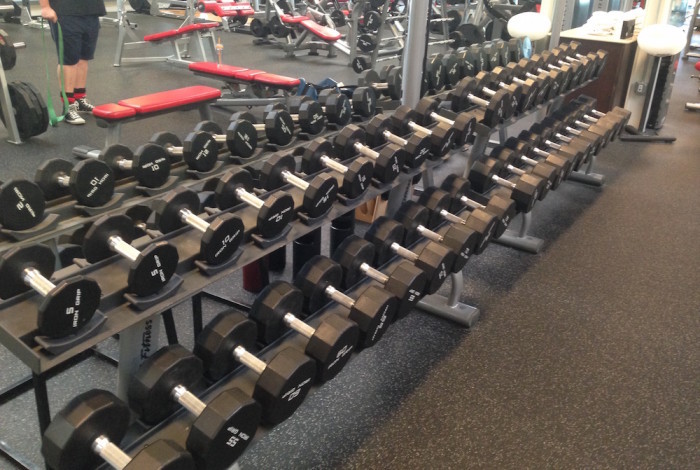 Subj: Pyramid Set Training for Hypertrophy and Fat Loss.
The longer you lift, you'll find that your gains slow down.
When this happens you need to mix things up.
'Pyramids' are a weight training technique used to stimulate new muscle growth when linear progression progress slows down.
Pyramid sets are when you ramp up the weight for each set until you can only do 1 or 2 reps, then you ramp down to the weight you used on your first set, or less.
The benefit of pyramid set technique allows you to lift high volume and high weight within a short time frame. This ensure all muscle fibers in the muscle group being trained are being stimulated completely.
An example of a pyramid rep and weight scheme for Barbell Bench Press:
10 Rep / 135 Pounds
8 / 155
6 / 175
4 / 185
2 / 205
1 / 225
2 / 205
4 / 185
6 / 175
8 / 155
10 Rep / 135 Pounds
You can see how the reps decrease as the weight increases. You may have to adjust the weight depending on fatigue.
Running the Rack is the term for working the dumbbells from low weight to high weight in 5 pound increments. Then doing the whole thing in reverse starting with high weight and going to low. This technique is great for building full, defined and strong arms.
I particularly like running the rack for my bicep workouts. I start with 10 pound dumbbells and do about 20 reps with each arm, nice and easy. Focus on working the muscle and squeezing at the top of the movement.
This set serves as a good warm up to get the arms ready and the blood pumping into the biceps. Don't let the small weight fool you, this is a working set so treat it like one.  (Note: I always warm up before doing a dedicated arm workout. Do some pushups, jog or use the row machine for 10 minutes to get nice and warmed up. What ever you do, break a little sweat. Don't go into your workout cold. That's a good way to get injured).
Example Pyramid Set example weight and Rep Scheme:
How to Run the Rack
Once your arms are nice and warmed up. Move onto the 15 pound dumbbells. Do as many reps as you can with each arm. Then go right to 20 pound dumbbells and do as many reps as you can for each arm.
Repeat this process, moving up in weight by 5 pounds each sets, until you get to a weight that you can't do 1 rep with. For me it's usually 45 pounds for this type of workout.
The key here is to rest as little as possible between sets. Also make sure you are using strict form to get the most benefit from this workout.
Now, once you reach a weight that you can't rep, move down 5 pounds and run down the rack in the same fashion. From 40 pounds to 35, to 30, etc., all the way down until you get to 10 pounds.
Go to failure each weight and move down in weight each time you can't do another rep with the current weight.
The pump from this workout is fantastic. You can run the rack 1 or 2 times a month. You can also supplement with 1 or 2 addition bicep exercises. I usually choose between seated curls, reverse curls and hammer curls.
You can use this technique for shoulders and triceps as well. I sometimes run the rack doing lateral raises and overhead tricep extensions. Be careful doing dumbbell overhead tricep extensions. Don't drop the weight on your neck. Use barbells instead for triceps.
Running the rack is a great way to stimulate growth in your arms and one of the best arm workouts out there.
If you like this workout try the Iron and Grit Arm Workout