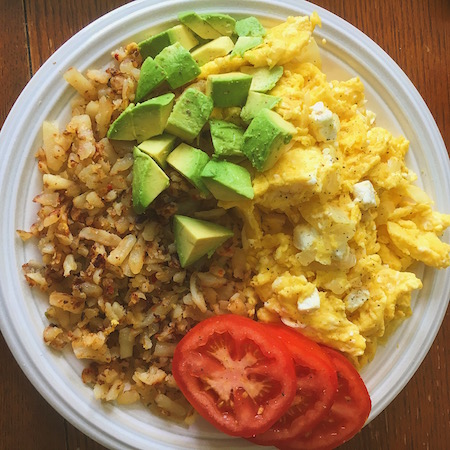 Subj: Three breakfast meals for bulking. Each with over 30 grams of quality protein.
I go in spurts where I eat breakfast in the morning and other times when I don't.
I typically don't eat breakfast only when I'm intermittent fasting to lose some extra fat before beach season.
When I do eat breakfast, I make it quick, protein packed, satisfying but not too filling because, like Ben Franklin said "A Full Stomach Makes a Dull Mind." And I hate feeling lethargic when there's work to do.
A good breakfast is protein based, all natural and won't spike your blood sugar.
Breakfast is the most important meal of the day.  It's important because you're body is craving nutrients after fasting for 8-10+ hours while you slept.
It's essential that you feed it with the good stuff it needs.
Greek Yogurt with Oats, Granola and Chia Seeds
I'll eat two greek yogurt cups and mix in some granola, oats or chia seeds. Two greek yogurts is about 25 grams of protein, plus a serving of chia seeds is 10 grams of protein, equals 35 grams total.
Pro tips: Buy greek yogurt. It's thicker and has more nutrients. Only buy brands that use all natural ingredients.
Eggs!
If you know me personally, you might think I have an egg fetish. I love eggs and eat them daily. Sometimes more than once.
Cook 6 large eggs any way you like for 35 grams of the best protein nature has to offer. Scramble or fry eggs with grass-fed butter on a non-stick skillet. Poached eggs are fast, easy and have no clean up.  Or, eat hard boiled eggs on the go if you're pressed for time.
Oatmeal with Natural Peanut Butter, Chia Seeds and Protein Powder
Bob's Reb Mill Old Fashioned Rolled Oats – They have a firmer texture and just taste better than other oatmeal.
One serving each of oatmeal, peanut butter and chia seeds combined is 25 grams of protein. Add 1/2 scoop of quality protein powder and now you have a delicious breakfast bowl with over 35 grams of muscle building protein.
Bonus: Weekend Breakfast – Protein Pancakes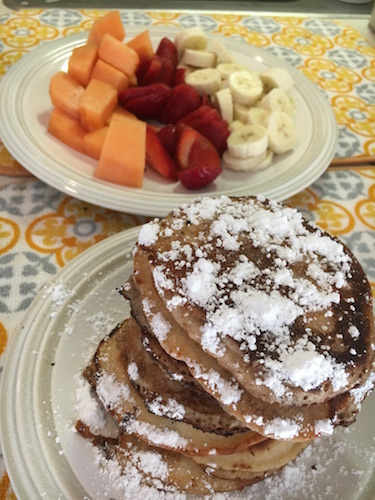 You will need: Kodiak Pancake mix and Protein powder
Optional: Powdered sugar, syrup and fruit.
Mix up the batter in a ninja blender (same one I use for my protein shakes.)
Melt some grass fed butter in a heated skillet and pour in the batter. Make 3-4 pancakes at once for easy flipping.
(optional, but you'd be nuts not to add it.)