Subj: Two Egg Diets for Building Muscle Mass.
Raw Fertile Eggs = Nature's Steroids
Vince GiRonda said that eating 36 fertile eggs a day was equivalent to a mild steroid cycle of dianabol. Which apparently was the steroid of choice during the 60's and 70's, A.K.A. "The Golden Era of Bodybuilding.
The Iron Guru didn't give much supporting information about why this works.
Often the case with his eccentric style. He knew things worked but rarely explained why or how. Definitely not in a comprehensive manner.
Eggs are in fact the most anabolic food you can eat. A common sense analysis tells me that eggs have everything necessary to create life. Within the shell are the building blocks for organs, tissues and muscles.
These properties, I believe, translate to your body when you ingest eggs. The proteins, vitamins, minerals and amino acids are absorbed by your body and used in the best way.
36 eggs seems like an extreme number, and it is. Remember, he's comparing eggs to steroids. When you think of it in terms of a steroid cycle in terms of it's potency, 36 eggs isn't too far fetched since it would seem necessary to megadose a natural food in order to have it be on par with steroids like dianabol.
The fact is that fertile eggs contain a certain amount of bound and free testosterone
A portion of which will survive digestion. Free testosterone is a factor for muscle building. The more free testosterone you have in your body, the more muscle you can build.
It would seem reasonable that even if you ate 6-12 fertilized eggs a day you would glean some benefit from the free testosterone and other properties that make eggs great.
Vince prescribed eggs to be eaten raw for best effect. If you eat them that way, mix raw eggs in a protein shake or with heavy cream so they go down easier.
If raw eggs aren't your jam you can try the boiled egg diet, or simply, the egg diet for similar results.
The Boiled Egg Diet
The boiled egg diet is a great way to burn fat and build muscle. You can add pounds of healthy muscle with this technique.
All you do is eat 1 hard-boiled egg every hour that you're awake. So if you wake up at 6 A.M. and go to bed at 10 P.M. you eat 24 hard-boiled eggs total. Spaced out evenly throughout the day, each and every hour.
Pair this diet with a 4-Day workout split that include heavy squats and total body workouts and you'll gain weight and muscle like never before.
Eating all those eggs can be a pain. I find it easiest to boil dozens of eggs at one time and peel them all at one.
I've provided and easy way for you to peel hardboiled eggs so you don't go insane picking off the shells.
Easy Peel Hard Boiled Eggs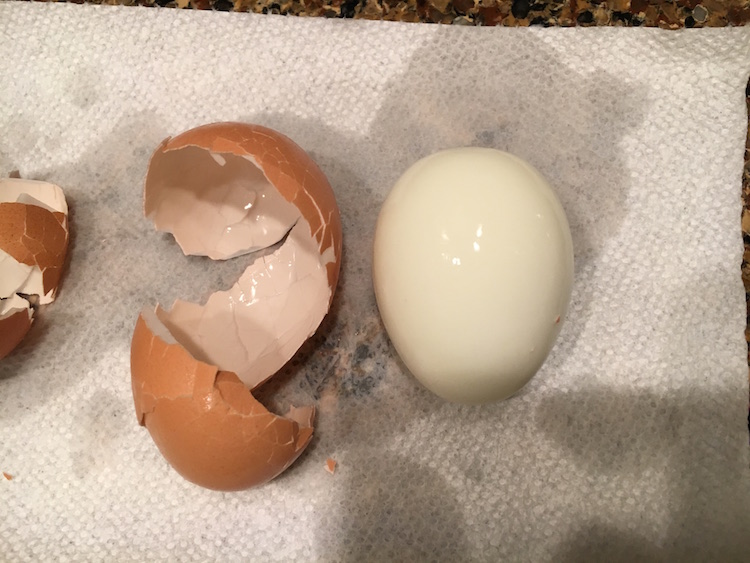 Hard boiled eggs are an easy way to get protein in your diet. Eggs are also one of the best foods you can eat. Each egg contains 7 grams of protein, zero carbs and just enough healthy fat.
All that plus crucial vitamins and minerals. Eggs are natures perfect protein. When you think about it, eggs have everything needed to create life.
Eggs are a great way to get all the good stuff nature intended into your diet. But sometimes peeling eegs is a chore. That's why I'm sharing an easy way to make easy peel hard boiled eggs.
The easiest way to eat eggs is to hard boil them. They are the perfect snack or meal. Put 3 or 4 hard boiled eggs in a zip lock baggy and take them to work for a snack or an easy breakfast on the go.
Need a quick pre-workout snack? Have a couple hard boiled eggs.
Hard boiled eggs can sometimes be a pain to peel. This is their only draw back. I have perfected the art of peeling the hard boiled egg which I will share with you today.
How to Make Easy to Peel Hard Boiled Eggs
First boil the eggs for about 12 minutes.
Then rinse the eggs with cold water until the pot you cooked them in is cold. (Don't burn your hand by touching the pot too soon after boiling your eggs. The trick is to touch the pan through the water were the eggs are).
After the pot is cold dump out the water and fill the pot with ice. Then fill the pot the rest of the way with cold water. Let the eggs chill for 20-30 minutes.
Pull one out and crack it open. roll it on the counter top to get it nice and cracked. them peel You can peel the shell in one piece in a matter of seconds.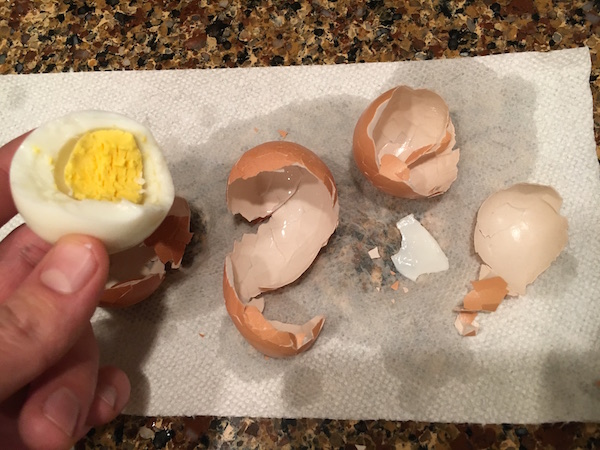 No more peeling eggs bit by bit tearing your eggs apart in the process. This drove me nuts so I had to find a way to peel eggs better or give them up. Try this technique next time you hard-boil eggs.
If you need some flavor in your live put salt or mustard on your eggs to mix things up. Be sure to make hard boiled eggs part of your weekly meal prep routine.