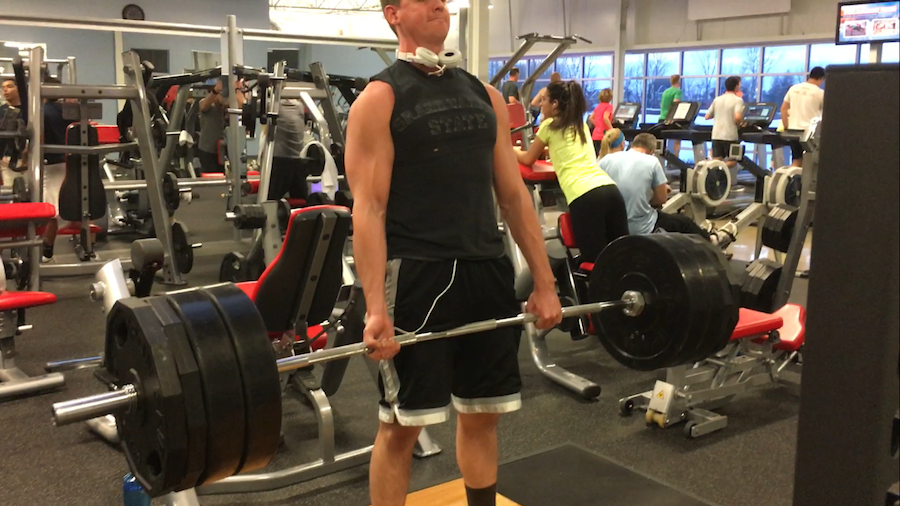 Subj: Training tips to Increase Your Deadlift 1-Rep Max.
When I started a deadlifting routine, I gained 10 pounds of muscle in a few months of training.
Within that time I added over 100 pounds to my deadlift. Beginners can make significant progress quickly with the deadlift.
Once progress slows, you need to change your approach to keep making progress.
In this post I'm going to show you how to increase the maximum weight you can deadlift.
How to Increase your Max Deadlift
There are 3 things to keep in mind when training to increase your max deadlift:
Use the Right Program
Vary Your Deadlift Grip and Stance
Train Accessory Lifts to Aid Deadlift Strength
#1) Train with the right program
If you want to increase the amount of weight you can lift, you should train for strength. anything other then this will slow your progress.
For example, you can't train to maximize muscle endurance and maximize strength at the same time. The methods to achieve maximum endurance and strength are different and cannot be achieved at the same time.
My advice is to focus solely on strength until you reach your goal, then train for muscle density or size.
For most people, especially beginners, is a linear strength program like Starting Strength. I provide sample deadlift workouts below for those that want something different to follow.
Deadlift Workout for Strength and Increasing 1-Rep Max
First pick the deadlift position you prefer: conventional, sumo, or hex bar.
Deadlift 2 times a week for 6 weeks straight (I like Mondays and Thursdays because it gives you 2 full days of rest between workouts).
The first workout is a Heavy deadlift day, the second day is a lighter workout with more reps.
After 6 weeks of deadlifting take 7-10 days off from deadlifting.
After taking 10 days off from deadlifts, load up the bar and hit a new personal record.
Since I go for hypertrophy as well as strength, I use more reps. When I lower the weight I do so in a slow and controlled manner. Most people just let the weight drop. That's cool if you're going for pure strength or push yourself to the absolute max. Just make sure the bar is clear from your legs before your drop it.
To give you an idea of how many sets and reps you should do I recommend the following (this is the program I followed to increase my deadlift max).
Set 1: 135 lbs x 10 reps
Set 2: 225 lbs x 8 reps
Sets 3 – 5 : 275 -315 lbs  x As many reps as possible (3-5 reps)
Sets 6 and 7: 225 lbs  x As many reps as possible (10-15 reps)
This is the weight that worked for me – be sure to pick the right weight for you. The right weight for you is whatever weight you can lift within the rep ranges above.
Every second workout I would do heavier sets with less reps.
Set 1: 135x 8 reps
set 2: 225×5
sets 3: 275×3
Set 4: 315×2
Set 5: 365×1
Sets 6: 405×1
Set 7: 425×1
Each workout add 5-10 pounds each set. You will inevitable hit a plateau where your strength gains start to slow and it will take longer to make progress. In this case you can buy some fractional weight plates to slowly but surely make progress.
#2) Use Deadlift Variations
Conventional deadlift is the true deadlift. However, you should use various deadlift stances and grips to increase you're overall benefit from deadlifting.
Deadlift Variations
There are many variations of deadlifts. Each provides unique benefits. It's important to incorporate deadlift variations into your training. Training in one way too often will cause your muscles and liniments to get strong in one motion but leave them weak in other motions.
As cartilage strengthens around the bone it effects how your bones connect in the joints and determines flexibility and range of motion at certain angles. If you move in one direction, your cartilage strengthens to support movement in that direction.
You need to train using a lot of different stances, grips and positions. adding variety ensures your joint stay healthy and develop fully to in order to help avoid injury and to ensure you will be deadlifting for many years to come.
Training with deadlift variations is also a great way to break through stubborn plateaus in your training when your stuck at a weight.
Conventional Deadlift
Sumo Deadlift
Sumo deadlifts help my engage my glutes and hamstrings more. A weak point in my conventional lift was driving with my legs and generating power with my hips to achieve lockout at the top of the deadlift motion.
To perform the Sumo deadlift, start with a wide stance with your toes pointing out. My toes almost touch the plates on the bar I'm lifting. Maybe an inch away from the plates. Sumo deadlifts make it.
Hex Bar Deadlift
are great for your posture as the allow you to stick out your checst and pull your shoulders back. They put your arms and shoulders in a more neutral position that's conducive to good posture. Training your muscles in the position is key to maintaining that good position and posture.
I train all three variations of deadlifts. Mostly conventional but I have been incorporating my sumo and hex bar into my routine for the additional benefits they provide.
#3) Accessory training
Training accessory lifts that target your back, legs and glutes will translate into more power and strength for deadlifting, resulting in an increase in the maximum weight you can deadlift.
5 Exercises that Improve Deadlift
Training with accessory lifts is a great way to improve your max deadlift. Exercises that target the glutes, legs and back are best for improving deadlift strength.
Back Extensions
Back Extensions target your lower back which needs to be strong in order to keep your back straight while deadlifting. Keeping your back straight keeps your back muscles safe by preventing rounding.
3 sets of 10 once a week is a good start. If you can do more than 10 rep, hold a weight to your chest while performing this exercise.
Romanian Deadlifts (RDL)
Romanian deadlifts are deadlifts performed with your legs 80% straight at the bottom of the motion. RDLs keep tension on your hamstrings and make you focus on keeping you hips engaged throughout the entire motion.
Elevated Deadlifts
Elevated deadlifts are great for generating power from your starting position. This will help you have a more powerful heel drive and create momentum to carry the bar through the lift.
Hip Trusters
Helps with glute engagement and heel drive.
Squat
Front Squats or Back squats will improve core and leg strength, both of which are vitally important to increase your deadlift. And to increase stability.
Recovery Between Deadlift Sets
On heavy deadlift days, I typically rest 3-5 minutes between sets. This gives my body time to recover and replenish energy stores.
I drink a lot of water, sit down and log my previous set on my phone (important to track your progress), or walk around a little bit to stay loose. Take big, deep breaths between sets. Deliberately fill your lungs with as much air as possible. Oxygen is the most important thing your body needs when training. It helps with recovery, nutrient delivery to your bodies cells, and is a key component to many biologic process that rebuild muscle and other body tissues. Recovery is important.
Deadlift Tips
It's important to control the weight completely and maintain good form – even when putting the weight down.
I recommend using a double-overhand grip when deadlifting. Your grip will give out before your legs and back. Once your grip gives out you can move to alternate grip. This is a great way to increase your grip strength, build muscle symmetry and will benefit you the most overall.
When you go for your maximum weight however, I recommend an alternate grip. This way the bar won't slip and crush your shins.
Follow this program to make quick progress with your deadlifts. In the mean time check out a video of me deadlifting 405 pounds (finally).
Breaking Through Deadlift Plateaus
A plateau is when your progress slows significantly or stops. When you do a linear strength program you will eventually reach a point where your progress begins to slow.
You'll no longer be able to add 5-10 pounds per set every workout. When this happens you need to change your approach. You're body starts to reach it's limit in a sense and requires a more sophisticated approach to continue making progress.
When I started deadlifting I plateaued at 365 pounds. My goal was to get to 405 pound deadlift. 8 45-pound plates on the bar total. 4 "big wheels' on each side of the barbell. That was my goal but when I reached 365 pounds, my progress stalled.
I tried loading the bar with 365 for I did my normal workout , steadily increasing weigh used on each set but when I reached 365 pounds
I continued to train with Heavy singles, doubles, and triples using 85-90% of my max deadlift weight. Every week or so I would try for a new PR. Eventually I broke through my plateau and worked my way up to 405 pound deadlifts.