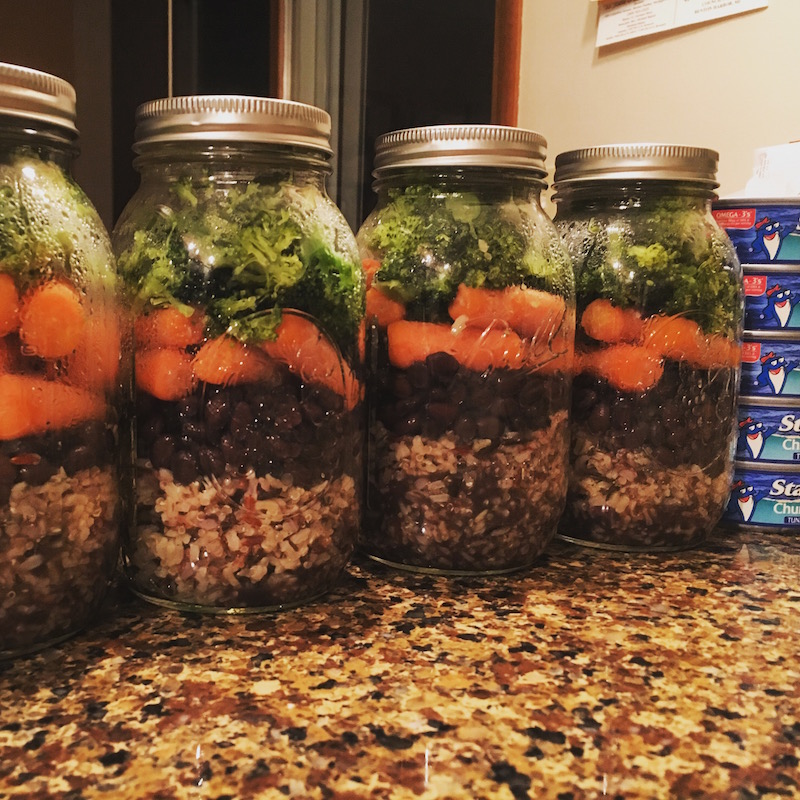 Subj: Mason Jar Meal Prep for Bodybuilding.
Getting in shape requires two things:
Lifting weights and eating clean.
You'll find that lifting is easy compared to eating clean.
Meal prep makes eating clean easier by having healthy meals ready to eat.
There are many benefits for meal prep. The best is that it ensures you get your nutritional requirements to reach your fitness goals.
I use Mason jars for meal prep because they are durable, leakproof, microwavable (take the lid off first) and airtight, keeping your food fresh.
I've been preparing healthy mason jar meals to save time, save money and to eat healthy, clean food.
Every Sunday, I cook lunches for the week ahead. My lunch is usually a mix of rice, beans, steamed veggies with beef, chicken, or fish.
I used to spend $8+ per lunch per day. I cook all the food and portion it out into mason jars. This whole process takes me an hour and and cost about $15 for food. These meals have the best nutrition you can get per dollar.
The food used to eat was dog shit compared to my prepared mason jar meals. I also saved time by not having to go find food for lunch everyday.
Now I just bring my mason jar meal to work with me, put it in the fridge until I'm hungry. When lunch time comes around, I grab my meal from the fridge and heat it in the microwave for 2 minutes and lunch is served. I spend 20 minutes eating and have an extra 40 minutes each day to work. That means I get done with my workday 40 minutes sooner or I can put more effort into a task or project.
Plus I have more money in my pocket and I'm eating at least one healthy meal each day. What would you do with an extra 40 minutes a day?
Benefits of Meal Prep
Save Money
Save Time
Eat Healthy
Benefits of healthy mason jar meals
All of the above benefits +
Leak-proof container
Easy transportation
A Microwavable lunch that won't taint your food like plastic or styrofoam containers will.
This is the simplest way to get a better grip on your day and it only takes one hour each Sunday (and a half dozen mason jars).
The Verdict: Just try it. What do you have to lose? Nothing. Well, maybe a few pounds if that's your intention. What do you have to gain? All the time and money your were wasting searching for and eating garbage food
Until Next Time,
Hoz
Bonus pictures of mason jar meal prep in action: