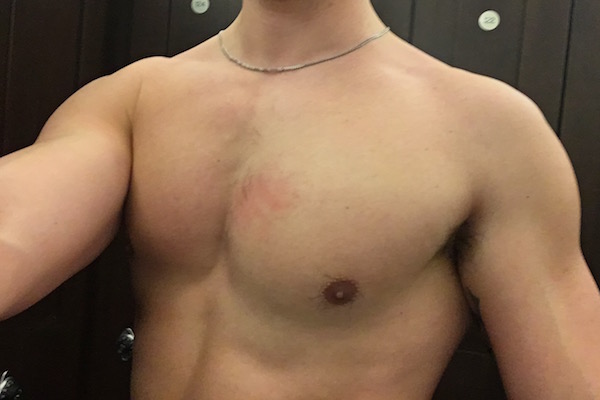 Subj: How to build a Big Chest that Projects Strength, Power and Makes You Look Like a Super Hero: The Beginner Chest Workout Routine.
Millennial males are referred to as a generation of "men without chest". As a warm-blooded man, this should piss you off.
I'm not going to get into the politics or sociological reasons this came to be but look around you:
People are softer and more out of shape than ever. How can you be assertive without energy?
Having a nice chest alone doesn't make you a hard-ass, but it will make you look and feel better.
Looking and feeling good leads to confidence, and a little bit of confidence goes a long way. Confidence leads to conviction, conviction leads to influence, influence leads to power, power leads to more confidence. And so the cycle continues. You just need to get the ball rolling. Once you pick up steam you'll have more moment than a fully-loaded locomotive, hauling ass to whatever's next.
Weight lifting is the catalyst for many men to reclaim their masculinity, vitality and health. Smart people know this. How else to you explain places like Silicon Valley, Austin Texas and other Tech-Mecca's experiencing a health revolution?
The most brilliant people in this Great Country of ours realize the importance of physical activity to overall health, well-being, and the ability to perform at high levels. Even Mark Zuckerberg, creator and CEO of Facebook, is in great shape. Especially considering his workload.
Bottom line is, hit the weights and you'll be uplifted, optimistic, positive and more productive.
How to Build a Big Chest
I broad, strong chest is synonymous with confidence and pride.
To build a big chest, you must understand how the chest muscles work. Your chest (pectoral) muscle connects from your sternum into your shoulder joint and stretches across the front of your rib cage.
Chest muscles are designed to move your Humorous (upper-arm bone) forward, out from your chest, and across your chest.
Chest muscles respond best to pushing, pressing, and 'fly' motions that squeeze the chest muscles. For this reason Bench press and flies make up the majority for this chest workout routine.
You CAN shape your chest depending on the exercises you perform, your form, and mind-muscle connection. Don't worry about shaping the chest until you've been training a long time and have solid chest muscles. Beginners should focus on building full pectoral muscles first, then shape them later if needed. I'm just telling you upfront that it's possible to do.  But forget about that for now and focus on perfecting your basic lifts, building a foundation, and getting stronger.
The best way to train the chest to by ensuring maximum contraction on every rep for every exercise.
How well you can flex and contract your chest muscles will determine how well your chest will develop.
How to Build a Big Chest like Captain America
Chris Evans from Captain America is a good goal to shoot for physique wise. The photo above is what most people can obtain naturally with a few solid years of training.
The Best Chest Exercises for BodyBuilding
Every great chest workout revolves around a few basic chest exercises. There are best chest exercises for building a bigger chest.
You'll notice they're a combination of Barbell, dumbbell and bodyweight exercises. The variety plays a key role in building a fully developed chest.
Barbell Bench Press
The Grand Daddy of all chest exercises. The bench press adds thickness and fullness to your chest. Variations of the bench press include, flat bench, and various incline and decline angles. Each angle works the chest differently.
Dumbbell Bench Press
Same as barbell bench press with more range of motion to stimulate growth. Dumbbells allow a greater stretch and tighter squeeze/contraction at the top of the lift. Dumbbells and barbells are a tag team to keep your muscles guessing by stimulating them differently. Varying stimuli is a key component to making constant progress.
Dumbbell Flyes
Flyes chisel your chest muscles and give them a good shape. They also work the inner and outer chest extremely well, allowing you to get a great stretch at the bottom of the motion and good squeeze at the top.
Close Grip Bench Press
Close grip bench press is perfect for building your entire chest and teaching you how to contract your chest muscles.
Push Ups
Don't neglect bodyweight exercises. push ups are important to build a balanced upper body.
Dips
Dips are like squats for the upper body. They work your chest, back, core, shoulders and triceps. Dips are a great exercise to shape the pecs, and give you the lower chest line. They are necessary to build a nice looking upper body that flows together.
Chest Workout Routine for Complete Chest Development
This chest workout routine should be followed for 12 consecutive weeks. There are three chest workouts: A, B and C. Each workout is designed to help you build an impressive chest.
Chest Workout A
Flat Bench Press 4 sets x 6-8 reps
Inline Bench Press 4x 6-8 reps
Dumbbell Flyes 4x 8-12 reps
Pushups 3 sets to failure
Chest Workout B
Flat Bench Press 4x 6-12 reps
Inline Bench Press 4x 6-12 reps
Incline dumbbell flyes 4×10-12 reps
Dips 3 sets to failure
Chest Workout C
Decline Barbell Bench Press 4x 4-8 reps
Incline Barbell Bench Press 4x 4-8 reps
Flat Dumbbell Bench Press 4x 6-12 reps
Dips 3 sets to failure
Chest Training Schedule
For this chest workout routine you should train chest every 4th Day. So if you start you routine on Monday, your workout schedule will look like this:
Week 1
Workout A: Monday, B: Thursday, C: Sunday
Week 2
Workout A: Wednesday, B: Saturday
Week 3
Workout C: Tuesday, Workout A: Friday
Week 4
Workout B: Monday, C: Thursday, A: Sunday
You get the idea – carry out this routine, training chest every 4th day, alternating workouts just like this for a total of 12 weeks.
10 Workout Tips for a Bigger Chest
Make sure you incorporate all these guidelines into your chest workout routine.
#1. Consistency
It takes many months, even years to build a nice chest. Commit to working out several times a week.  It takes years of continuous effort to build a nice body. Know that before you start and always remember why you started in the first place!
#2. Training Frequency
Train chest x2 a week. Training chest 1 day a week isn't enough to reach your potential. With the right program (this one) you can train 2-3 times a week for maximum effect.
#3. Train with Compound Movements using Heavy Weight
The Barbell Bench Press should be a part of every chest workout. Focus on bulking up first then work to build muscle density and shaping your muscles. 80% of your chest training for the first year should be with a barbell with the goal of building as much muscle a possible.
#4. Master the Basics
Mix up your workouts. This ensures your chest develops fully with no lagging parts. Train from multiple angles and rotate the exercises you use each workout.
#5. Use 4-12 Repetitions per Set
Pressing motions should be kept to 4-8 reps and flyes to 8-12 reps. The exception being bodyweight exercises like pushups and dips where you should do as many reps as possible each set.
#6. Train with Intensity
Training intensity separates the freaks from the average Joe's. no matter what the exercise, how intensely you train is the common denominator for getting jacked.
You want to use enough weight to stimulate muscle growth. If you can bench press 135 pounds for your 1 rep max, then you should be training with 85-115 pounds for this workout routine.
Get psyched to workout! Go in the gym and hit the weights with a purpose. Your body doesn't care if it has a nice chest or not. It's up to you to make it grow!
#7. Add Weight Each Workout
Be sure to add weight each workout. Even if you have to do 1 or 2 less reps per set with the heavier weight. Part of bodybuilding is about struggle and failure. You need to push to your limit in order to grow! Eventually you will be strong enough to get 12 reps with that weight. Then add more weight and repeat this process to keep growing bigger and stronger.
You will inevitably hit a plateau, and when you do, use fractional weight plates to push through them and continually get stronger.
#8. Recovery is Important
Get enough food and rest between workouts. This is what will make or break you. Nutrition is important if you're trying to gain weight eat as many calories as you can and get over a gram of protein per pound of body weight. (pick up some quality protein powder here). Sleep 8 hours a night or as much as possible.
#9. Workout your chest every 4th day
So, if you train chest Monday train chest again on Thursday. Again on Sunday, Then Again on Wednesday. You don't have to get stuck on the 7-day schedule like most people do. Just train chest every 4th day regardless of what day it is.
#10. Mind your 'A,B,C's': What I mean is 'Always Be in Control'. Always control the weight when working out. that means:
Lower the weight slowly and evenly.
Don't bounce the weight up.
Don't jerk the weight.
Use your muscles to move and support the weight through out the ENTIRE range of motion for each rep.
#11. Keep Your Chest Out and Shoulders Back
Pull your shoulders back and squeeze your shoulder blades together. This 'packs' your shoulders into a safe position and allows your chest to bear most of the weight. While keeping your back muscles flexed tightly, puff your chest out by taking in a big breath. Fill your lungs with as much air as possible before starting each rep. Hold it in while lowering the weight, and blow out the air as you push the weight up.
Note to beginner trainees: After you can do 10 pushups in a row without stopping, you can move on to weight training to further improve your strength and muscle gains. Don't touch weights until you can do 10 perfect pushups.
Chest Training Tips
Mix up your bodyweight exercises. Use different pushup variations: Wide, narrow and diamond. As push ups get easier start moving your hands in closer together. This will make the exercise more challenging and target your shoulders and inner chest more.
Add weighted dips once you can do 12 regular bodyweight dips. Dips build your chest extremely well. Dips also work your shoulder and triceps, bringing your upper body together and making your muscle flow together.
Go through the full range of motion for each exercise.
Always keep your chest out and shoulders back. When Performing chest exercises, imagine squeezing a grape between your shoulder plates. Keep this position throughout the entire set. This will keep your shoulders in a safe position and maximize your chest muscle activation.
DON'T NEGLECT YOUR OTHER MUSCLE GROUPS!
You will train chest frequently with this routine. Make sure you are training your legs, arms, back and shoulders as well. Other muscle groups should get the same amount of work as your chest. Trust me on this, guys.
Make sure you are training your Back at least as often as you are training your chest. Do lots of deadlifts, pull ups and rows. A strong, wide back will actually make your chest look better.
The most important thing is to build a healthy, balanced symmetrical physique. If you have these three things I guarantee you will have a great looking chest that you can display proudly.