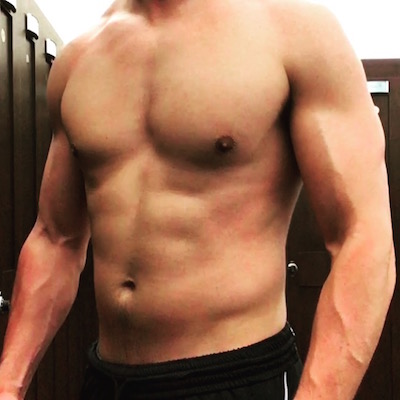 Subj: The Skinny Fat Transformation Workout for the Skinny Fat Guy.
Transforming your physique takes hard work. But it's much easier to build the body you want if you know what you're doing.
I wasted a lot of time getting my training routine and diet right. Once I cracked the code major results followed.
I wrote this article for skinny fat guys that want completely change their physique.
If you want to lose the fat from your middle and gain muscle all over, this article is a must read.
In this article I will show you how to go from skinny fat to lean and jacked.
Skinny fat guys have unique challenges they need to overcome to achieve a good physique.
Here I will show you how to eat and train to have your own skinny fat transformation.
The Skinny-Fat Body Type
Skinny fat is a male body type with the following characteristics:
Narrow shoulders
Skinny arms
A 'Boney' or Soft Looking Upper Body
Wide, feminine looking hips
Love Handles
Flat Chest and Back
Fat Around the Gut
Little or No Muscle Definition
Skinny fat is a common body type. Even I could have been considered skinny fat before I started hitting the weights and eating right.
I had a narrow back, no chest muscles, flat shoulders, thin arms and love handles. My arms had a little muscle definition but that was about it. Even though I was in sports and did some bodyweight training like push ups and crunches.
The reason I was skinny fat was because I didn't know how to train or what to eat to get the results I wanted.
After years of trail and error, I learned how to train and eat the right way to go from skinny fat to jacked.
I wasted a lot of precious time – countless hours in the gym and many years looking less than my best.
All because I didn't have the knowledge. I didn't know anything about nutrition or hypertrophy.
The 3 Main Causes of the Skinny Fat Body Type
To fix the problem, You need to know what causes the problem. People are skinny fat for 3 reasons:
Poor Diet
Lack of Physical Activity or Lack of Proper Training
Low Testosterone
Skinny Fat Cause #1: Poor Diet
A poor diet is one that doesn't contain enough nutrition and/or has too many 'empty' calories.
You need enough protein, carbs and healthy fats and vitamins and minerals to maximize muscle growth and reduce workout recovery time.
Eating too many empty calories will fill you up with the wrong stuff that makes you fat and drains your energy, and won't help build muscle.
The modern American diet is atrocious. Our food is loaded with artificial ingredients, preservatives, added hormones, and genetically modified foods.
The food we eat is destroying us from the inside out. Killing us slowly by sapping our precious energy and lowering our quality of life. If gone unchecked, a poor diet leads to diseases like diabetes and other serious health conditions.
I get it – we live in a fast-paced society and want food that's cheap and convenient. Well this convince has a cost and it's your health.
Our bodies can't metabolize unnatural ingredients efficiently.
You can't use them as fuel so they build up in your body as toxins causing our organs to work overtime just to process and cleanse them from your body.
Metabolizing these additives this takes a lot of energy. There's only a finite amount of energy and if you use it up trying to digest and clear poison from your body, you are going to feel tired and run down.
Get on the right track by eating freshly prepared food. The Rule of thumb is – If you cook it yourself it's probably good for you. Avoid foods that are fried or frozen.
Try meal prep to always have healthy meals on hand.
Skinny Fat Cause #2: No Training or Incorrect Training
The average skinny fat man never workout or does not workout the right way.
Pair this with the average 10-12 hours Americans sit each day and you have a formula for a weak upper body and wide, fat ass.
The right way to workout is with weights. Weight training is the only way to transform your body.
I should stress, proper weight training is the only way to transform your body.
Heavy, compound barbell exercise with strict form and slow, controlled reps builds muscle. Muscle will change the shape of your body and burn fat.
Squats, Deadlifts, Bench press, and Chin ups are some of the best exercises for building muscle and boosting testosterone.
Which bring me to my third point:
Skinny Fat Cause #3: Low Testosterone
Low Testosterone, or "Low T", will cause skinny fatness.
Testosterone is the male, or 'masculine' hormone and is produced by your body naturally.
The amount of testosterone produced is influenced by your training and diet.
Heavy compound lifting boost testosterone levels. Our bodies are designed to adapt to our environment. When we train muscles with heavy lifting, this stressor is perceived by our biology as a threat.
We must get stronger to survive this stress. So the body produces more testosterone to support increased strength and muscle mass to deal with this received threat from our environment.
They will either amplify to work for you or amplify to work against you.
Poor diet leads to low testosterone. High testosterone = more muscle and strength potential.
Avoid estrogenic foods like soy. Eat a lot of fresh meat, eggs, and vegetables. To boost testosterone and shed fat, eat Steak and Eggs.
The Best Exercises for Skinny Fat Guys
The best exercises for transforming a skinny fat physique are compound barbell movements with Heavy weight. Nothing is better for building muscle and burning fat.
The best lifts for skinny fat guys to transform their physiques:
Deadlifts – Add thickness and width to your torso. You want wide lats to make your waist look narrower.
Pull ups / Chin ups – The best for wide lats and round shoulders. Pull ups make your back wider which makes your waist look slimmer in proportion to your big back.
Barbell Rows – Many say barbell rows add thickness to your back, and they do. But they also add width if you preform them correctly. Make sure your lats stretch as you lower the weight.
Squats – You need a strong back to hold a few hundred pounds across your back. Squats strengthen your abs, lower back, glutes and abs.
They burn a lot of fat plus flood your muscles with natural growth hormone and testosterone that your body releases when you weight train.
The more muscle fibers you train, the more growth hormone that get released. No other lift train more muscle fibers than squat.
Military Press – Build your shoulders to make your upper body wider.
Incline Bench Press – Build your upper chest and banish man-boobs.
The Skinny Fat Workout Routine
With this routine you will workout 4 times a week: Monday (Workout A), Tuesday (Workout B), Thursday(Workout A), and Friday(Workout B).
Skinny Fat Workout A
Back or Front Squats  5 sets of 6-8 reps
Pull – ups 20 – 50 reps total in as few sets as possible
Military Press 5 sets of 6-10 reps
Skinny Fat Workout B
Deadlift 5 sets of 5 reps
Bent Over Barbell Rows 5 sets of 6-10 reps
Incline Bench Press 5 sets of 6-10 reps
Do this workout for 8 weeks straight. Increase the weight used each workout.
Always start workouts with the hardest exercise. So start workout A with Deadlift and Workout B with Squats.
If you can't do a pull up, do pull-downs on the machine.
Another way to pull yourself up to the top position (chin over the bar) and hold yourself there. Use a chair to step up is needed.
Hold yourself up there as long as you can. This will build your 'pull up strength'.
When you start to get tired and can't hold yourself up anymore, fight gravity as long as you can and drop down as slow as possible. These are called negative reps and will build muscle and definition.
Skinny Fat Bodyweight Workout at Home
You don't need a gym to transform your body. You can get in shape at home with these three exercise:
Push ups – Build your chest, shoulders, back, arms and abs with pushups. Start with 10 and add more each and every day until you do 50 total.
Bodyweight squats – You need strong legs to have a strong body, and strong bodies are not skinny fat.
Do 50-100 each and every day to strengthen your legs, core, and burn fat.
Pull Ups – build your back and shoulders to create a V-Shape torso: The Hallmark of a muscular physique.
Do as many pull ups as you can each day and work your way up to 50. Don't get discouraged if you can't do many pull-ups. Pull ups are a challenging lift that takes time to master.
If you've never done them before it might be slow at first but you will get there if you work at it!
You don't need a gym to do pull ups you can buy a portable pull up bar for less than $30 or install a more stable wall-mounted pull up rig in your garage or basement.
Or build your own home gym.
Skinny Fat Myths
The Genetics Myth
Genetics does not cause a skinny fat physique. Skinny fat is not a body type.
Look at a picture from the before the 1950's.
How many skinny fat people do you see?
Zero?
That's right. You are decedents of people from this era. You carry their genetics. How can you say you're skinny fat because of genetics? It would take many, many generations to see a noticeable genetic change.
Our ancestors ate natural foods, did manual labor and walked daily. As a result, non of them were skinny fat.
The Cardio Myth
Cardio is a waste of time if you want to transform your body. It can only go from skinny fat to skinny with cardio. And it will take a long time plus you will need to diet.
Don't bother running if you're skinny fat and lift weights instead. Lifting weights will add muscle chest, back and arms, and burn fat from your belly.
Now that we've cleared up any objections, we can talk about training. (If you still have reservations, leave me a comment telling me why).
Skinny Fat Training Plan
Do pushups every day
Do 10 push ups today, 15 tomorrow, 20 the next day. Work your way up tp 50-100 pushups a day. DO them every day for 4 weeks and watch your body transform. You can do push ups in as many sets as it takes put try to push yourself to get them done as fast as possible.
Train your legs!
This may seems counter intuitive but training legs is a must. Many beginners and 'advanced' trainers alike neglect their legs.
This is a huge mistake:
Your legs are the biggest muscles in your body. Training legs burns a ton of calories releases growth hormone. Leg training has the added benefit of strengthening your core and improving posture as well due to the nature of the workouts.
Start out doing bodyweight squats everyday. do 50-100 each day. When that get easy start doing them slow and holding yourself in the down position. This will further strengthen your legs and build more muscle.
What no ab exercises? Nope, they are not necessary, but if you're gung-ho about this and have the extra time/energy go ahead and do sit-ups and leg lifts. This will help strengthen your abs and make them more defined.
The main thing though is to build muscle in the right places, strengthen your entire body and burn off the extra fat. And the 3 exercises I mentioned above are perfect for that.
Keep a training log – track your progress. It will ensure you keep making progress. Without it, it's too easy to loaf.
Skinny Fat Diet Plan
Eliminate refined sugar and reduce carb intake – Cut out soda pop and snack foods like twinkles and chips. The best carb sources are sweet potatoes, quinoa, and oatmeal.
Increase your protein intake –  Don't just start slamming protein shakes. Make sure you're getting 80-90% of your protein from natural food sources. Get a quality protein powder if you need a little something extra. Make sure you get a gram of protein per body weight.
Try intermittent fasting to boost growth hormone and burn fat 
Try meal prep to get good meals in without spending a fortune.
Drink at least gallon of water a day -Don't drink anything other than water and black coffee. I typically drink over two gallons of fresh water everyday.
Don't drink calories – other than protein shakes.
Cut out refined carbohydrates and sugars from your diet.
Food that comes in a can, box or wrapper is usually loaded with salt and sugar. Scientific studies link excess dietary salt and sugar to health issues.
Avoid processed foods with refined carbohydrates, artificial flavors and other additives. If you can't read an ingredient on the package, or wouldn't use the word in normal conversation, don't eat the contents.
The first thing you notice when you start eating better is an increase in energy and mental alertness. Then the fat starts to drop.
Beware of food labels they never tell the whole story. You need to take a holistic approach to health. Never trust a marketer 😉