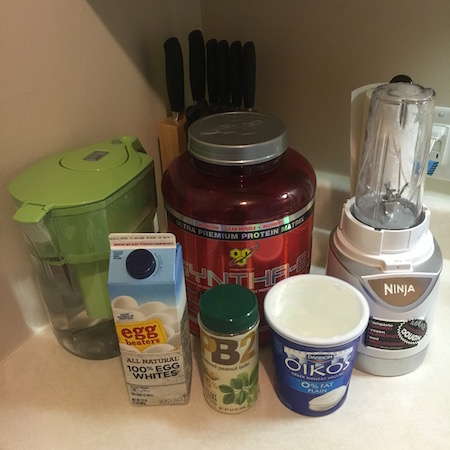 Subj: Homemade Meal Replacement Shake recipe for weight loss and lean muscle: All natural Peanut Butter protein shake that will help you lose weight, build muscle and that tastes awesome.
We live in a microwave society where we want things NOW.
The truth is that is takes time to lose weight, just like it takes time to gain weight. It doesn't happen over night.
One thing you can do is make this quick and easy homemade meal replacement shake to help lose fat and add some lean muscle.
You need lean muscle mass for many reasons. But, two of the most important are:
#1. Lean muscle is correlated with overall health and vitality
#2. Lean muscle mass burns fat. Yes, you read that correctly. Having lean muscle mass actually burns calories while you are at rest.
Anything that is not lean mass is fat. Your body needs fat, but having too much leads to health issues.
Having excess body fat leads to health problems:
Makes your heart and organs work harder.
Leaves you tired with low energy.
Puts you at risk for diseases like diabetes and heart attack and cancer.
Getting to a healthy weight can be hard. But meal replacement shakes can help. These shakes can be used as a meal replacement or a snack if you're trying to gain weight. The shakes are low in fat and carbohydrates and high in protein , so it works great for building muscle.
I've tried a lot of protein shake recipes but this one is my favorite. It's quick to make and tastes amazing.
It's smooth, tasty and easy to drink any time of day. It uses all-natural ingredients (Don't mind the Syntha-6 protein in the picture below. I usually use Optimum Nutrition Natural Whey Protein Powder for my shakes. Both are good, but I prefer Optimum Nutrition.)
The Best Meal Replacement Shake: My Peanut Butter Protein Shake
This meal replacement shake is better than others because it contains natural ingredients. Most processed and massed produced shakes are garbage – full of additives, artificial ingredients and sweetness, dyes, and other things that are detrimental to good health.
This homemade meal replacement shake is east to make and only requires a few ingredients:
I recommend a Ninja Single-Serve Blender. I've had mine since college and love it. It's the only accessory appliance I own.
You blend the shake right in the cup you use to drink the shake. Plus, the blender comes with a lid you screw onto the cup so you can drink your shake at work or the gym.
The peanut butter powder is one of my favorite food item discoveries. It taste like peanut butter but has 95% less fat and almost all the protein per serving.
Egg whites in a carton are a close second. You can even drink them straight from the carton. 0 fat, 0 carbs, 0 cholesterol and all the protein of a regular egg. Eggs are one of the best protein sources on Earth. Definitely use eggs in your protein shakes.
How to Make a delicious Peanut Butter Protein Shake
Add 4-6 ounces of water into blender cup
4 tablespoons of peanut butter powder
1/2 cup Non-fat Greek Yogurt
1/4 cup egg whites
1 scoop Protein Powder
1 Banana (Optional)
Blend it all up in your Ninja
Enjoy.
How Do Meal Replacement Shakes Work for Weight Loss?
There's fewer calories yet it still contains all essential nutrients for optimal body function and health. Excess body fat is caused by excess consumption of things you don't need. Cut out what you don't need and you will lose weight. Meal replacements shakes have everything you need and nothing that you don't.
Peanut Butter Protein Shake Macros
This shake has 50 grams of protein and very low in fat and carbs. It also comes in under 300 calories of clean energy. This shake is 25% of my total daily protein intake and makes it easy to hit my macro numbers by drink one of these a day.
This shake has a complete protein profile because it uses peanut butter, eggs and whey protein. Complete protein sources are essential for getting all your BCAAs.
Branch Chain Amino Acids, or BCAAs, are what make up protein. There are many different BCAAs and they are found in different food sources. Each BCAA is important and has a unique function. Some are better for building muscle, some are better for energy. But you need enough of all of them to maximize your muscle and strength potential. This protein shake helps cover all your bases.
It's also perfect for dieting or making lean gains. Using peanut butter powder instead of regular peanut butter cuts out 20+ grams of fat. It's also quite filling and serves as a good breakfast shake, bedtime snack or meal replacement.
The egg whites add a nice texture and flavor to the shake. It tastes a little like cake batter. Everybody knows momma used raw eggs in her cake recipe.
You could easily turn this into a bulking shake by using real peanut butter instead of peanut butter powder. Or for you skinny guys that want to bulk up quick, splash in some heavy cream for extra calories.
Chocolate or Vanilla protein powders work best for this shake.