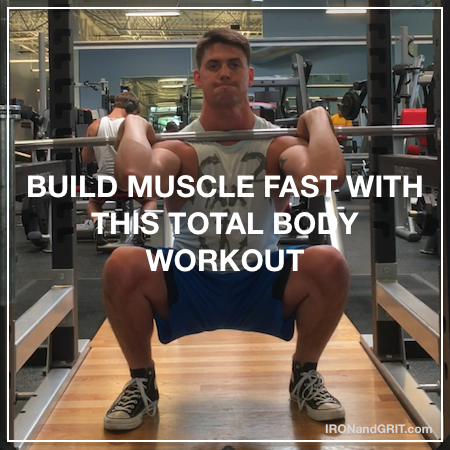 Subj: Get Maximum Results in Record Time with my Full Body Workout.
There are only 24 hours in a day and finding an hour to get the the gym is a luxury some people find hard to afford.
When you do get to the gym, you want to make the most of your time there.
I designed this full body workout routine to maximize both hypertrophy (muscle gains) and fat loss.
Most people can't live in the gym, let alone find the time to workout.
Work, family and life in general will fill up most of your time and leaving you wishing for more hours in a day.
For this reason, you need to make every minute count.
This is my summer workout routine because it keeps me fit and gives me a great pump without having to be in the gym more than a hour a few times a week.
My Hyper-Efficent Full Body Workout Routine
The workout is 40 Sets total and is to be completed in less than 60 minutes. It can be done a minimum of 3 times per week.
There are eight exercises. Each pair of exercises are put together based on convince. Whatever allows me to move from one lift to another fastest is how I pair them together. This might vary depending on your gym.
Each pair of exercises is done in superset fashion. After each superset try not to rest more than 1 minute. Keep the pace up. This is how you burn fat and get shredded.
Focus on your workout. Keep the chatter to a minimum. I set a timer on my phone that counts down from 55 minutes. When he timer goes off I leave the gym. This gives me about a minute per set 40 sets x 1 minute = 40 minutes of work.
This leaves 30 seconds between sets. There's no rest because you're loading weight on the bar or moving from one lift to another. This workout keeps your heart pumping and makes you sweat. It's an effective cardio/fat burning workout as well.
Obviously, you won't be maxing out with this workout due to the high volume. Use a weight that's challenging to complete the prescribed rep range.
Training Tempo and Frequency
My workout can be done 3 times a week for maximum effect. I you can get in the gym more that three times a week then do any accessory lifts as needed.
The Best Full Body Workout Routine
There are two workouts in this bodybuilding routine 'Workout A' and 'Workout B'. Workouts are to be performed every other day in alternate order.
Each exercise is paired together with another exercise. Paired exercises are to be done as super sets, meaning back to back with no rest in between. After the superset you 'rest' for 30 seconds until you start your next superset.
For optimal muscle building perform 6-10 reps each set.
Increase the weight used each set and each workout.
Get stronger within the 6-10 rep range.
Alternate Workout A and Workout B.
Space each workout a day or two apart. Workout at least 3 times each week.
Workout A
Do a 5-10 minute warmup – I do either assisted pull ups and dips using a combo machine, a kilometer on the rowing machine, 30-40 pushups or a light jog.
Once I'm warmed up I move on to my workout:
Front Squat / Shoulder Press
5 sets of each in superset fashion – Sometimes I'll use the same weight for both lifts. I'll do my front squats then immediately do shoulder press.
Leg Press / Calf Press
5 sets of each in superset fashion – I do a few sets using the same weight. Then I ramp up the weight for Calf Press. Load up the weight for calf press.
Calfs are a tough muscle and can take a lot of volume and heavy weight. Most guys have skinny calves. Don't be one of those guys. Lift heavy with your calves to make the grow.
Pull ups / Incline Dumbbell Press
5 sets of each in superset fashion (sometimes more pullup sets if needed to hit my day's numbers. I typically do 50-75 pull-ups each workout. If you can do more than 15 pull ups in a row without stopping you need to add weight with a weight belt.
Another method to make pull-ups more challenging is to pause at the top for 2-5 seconds. Or, you can do one-and-a-half reps. Where you pull all the way up then go half way down, hold for a second then pull all the way up again, then go all the way down. That's 1 rep. one-and-a-half reps are great for adding muscle density and definition.)
Reverse Curls / Overhead Tricep Extension
5 sets of each in superset fashion. Do reverse curls with a barbell or EZ curl bar. Keep your elbow pointing straight up and stationary during tricep extensions. Oh, and don't drop the weight on your spine/neck.
Each set is 6-10 reps. The first set is a light set the middle 2-3 sets are medium weight and the last 1-2 sets are heavy.
'Workout B'
Perform this workout after workout A.
Same rules apply as workout A: 5 sets, 6-10 reps, increase weight each set, complete each pair of exercises as supersets.
Back Squat / Upright Row
Perform five sets of low bar or high bar back squats and five sets of upright shoulder row. Since you'll back squat much more than you will row, position the bar you will use to row near the squat rack so you can move quickly from one exercises to the other.
Lunges / Calf Raise
You can perform lunges with a barbell across your back or holding heavy dumbbells. Completely up to you. In fact, it's best to alternate the way you perform lunges each workout to work different muscles.
Calf raises can be done on a seated or standing machine.
Bent Over Barbell Row / Bench Press
Combining Barbell rows with bench press will add serious width and thickness to your torso.
Dips / Preacher Curls
Dips are like squats for the upper body. They train everything from the waist up. Preacher curls are a great isolation movement for your biceps and forearms.
Everyone can find 3 hours a week to workout. No need to live in the gym to get in great shape.
This workout will give you the most bang for your buck. Try my total body workout – Get in the gym, get out and get on with your life.
Remember, hitting the weights is half the battle. The other half is nutrition. Make sure you're meal prep is on point and try intermittent fasting if you want to lose fat or stay lean.