Subj: The Best Wireless Headphones for Working Out and Running.
There's nothing like a song that gets you pumped up and ready to hit the weights. The right song gets you in the zone and gets you focused on the task at hand.
On the flipside, there's nothing more frustrating than your headphones slipping off mid-set during a lift. It's distracting, uncomfortable and annoying as hell. Nothing breaks your concentration like faulty headphones.
During workouts I used to wear typical over-the-ear headphones that plugged into my phone. My headphones would slip off my head or the wire would get caught on the weight I was lifting.
Over-the-head headphones got loose when I sweat. They fell off when I moved too much or when I laid on the bench or leaned forward. They fell on my face on multiple occasions and they bounced around when I ran.
I used to keep my iPhone in the pocket of my gym shorts and put the headphone wire under my shirt while wearing my headphones.
When I did this I would catch the weight on my headphone wire when doing deadlifts and curls. It would break my concentration and ruin my set.
I had enough frustration and started researching wireless headphones. After comparing a few models I picked one to try out. I fell in love with them the first time I wore them.
The Best Workout Headphones are TaoTronics Wireless Earphones
These headphones stay in when I run, bench press, squat, and deadlift. They are comfortable and fit snug. I can run, jump, do cartwheels and backflips and these headphones stay put.
Volume is controlled via your phone and/or the headphones.
The ear 'hooks' look sharp and painful but they're not. They are made of a steady rubbery material that's actually quite comfortable. I don't actually use the hooks. I use a different ear 'fitter' that comes with the headphones.
The Tao Headphones kit comes with different size ear pieces in case you have freakishly big or small ears.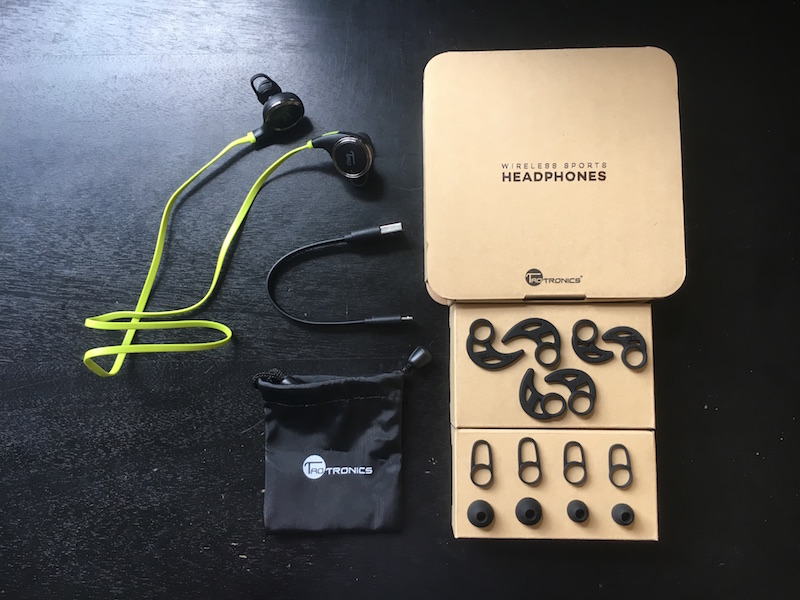 Tao Wireless Headphones

USB Charger

Carrying Sack with Drawstring

Ear plugs and stabilizers (3 different sizes)

Silicon Ear-hooks (3 different sizes)
These headphones are nearly perfect. The only minor draw back (so minor it's almost negligible) is that the cord is a little long. But there's an easy fix – tie a knot in the cord:
Put the headphones on, then pinch the cord behind your head to get out the slack so that there's a very slight tension on the cord you can barely feel on your ears. Then take the slack and tie it around itself. Voila, a perfect fit that's comfortable and won't damage your headphones.
For the money, there's no better headphone.
Tao Wireless Headphone Features
Plays audio for 5 hours on a single charge

Holds a charge for 170+ hours on standby

Sweat-proof

Noise-cancelling

Built in Microphone for taking calls
Tao Wireless Headphone Rating
Comfort = 9/10
Sound Quality = 9/10
Connectivity = 10/10
Value for the money = 10/10
Overall Score = 10/10
I would recommend these headphones to anyone that wants great headphones. Best value for the money I've spent this year and without a doubt that best headphones for working out I've ever used.