Subj: Fit Guy Style Guide Vol. #1. The Best Dress Shirt for the Athletic Body Type: Mizzen + Main.
Bonus Content: The Best T-Shirt for the Athletic Body Type – The Perfect Undershirt.
---
Best Men's Dress Shirt For The Athletic Build
You work hard to earn a well-built physique so you might as well dress to compliment it.
But, it's hard to find dress shirts that fit athletic builds.
Clothes off the rack are designed for average Joes with average physiques. Meaning that if you wear clothes made for average Joes you will look like Average Joe (soft like dough).
Take pride in your appearance and people will notice. Poor fitting clothes look sloppy. Proper fitting clothes look sharp.
Dress better to look better immediately. Look good and you will feel good. When you feel good, good things happen.
It's worth investing time and money into quality clothes. Especially clothes that complement your physique.
The Athletic Build
Broad shoulders, large chest, arms, back with a 'V-Shaped' torso are the hallmarks of the athletic build.
For years it was nearly impossible to find dress shirts that fit right off the rack. Most men resorted to tailored clothes for the fit and finish they look for. This is expensive and time consuming.
Conventional Dress Shirts Suck
I have broad shoulders and a (relatively) thin waist. Normal dress shirts make my gut look soft. Fabric hangs down off my shoulders like a curtain making my waste look as wide as my shoulders. As an added kick in the nuts, extra fabric puffs out at the waist when tucked. I like my shirts form fitting. They need to be clean and sharp when tucked – no extra fabric.
I've tried 'Slim' and 'Fitted' dress shirts from many brands and they don't fit right. They are too tight in the arms and chest.
At least one dimension seems off for each shirt I've tried – either the sleeves are too long, too tight, or the shirt is too baggy.
I've been on a quest to find the perfect men's dress shirt and I have found it.
After listening to a podcast, I heard about Mizzen + Main dress shirts. They are exactly what I was looking for and great in every way. All-around best dress shirt for guys with an athletic build. In fact, Jake Arrieta and J.J. Watt are models for Mizzen + Main. Meaning you know how shirts fit based on their dimensions.
Mizzen and Main Dress Shirts Were Designed for the Athletic Build
They were also designed with the athletic physique in mind. In fact, Jake Arrieta and J. J. Watt are poster children for M&M dress shirts.
This dress shirt is extremely versatile. You can wear it at the office, a night out, or even suit-up with it.
The Best Dress Shirt for Nearly Any Situation
Here's why I love these shirts:
Versatile
These shirts are light weight and breathable. Super comfortable.
These dress shirt layer up well. So you can wear a sweater over them. Which I do on occasion and it looks great. Nice for a night out or fancy dinners.
Or your can just wear it to shrub around town or explore a new city like I did here.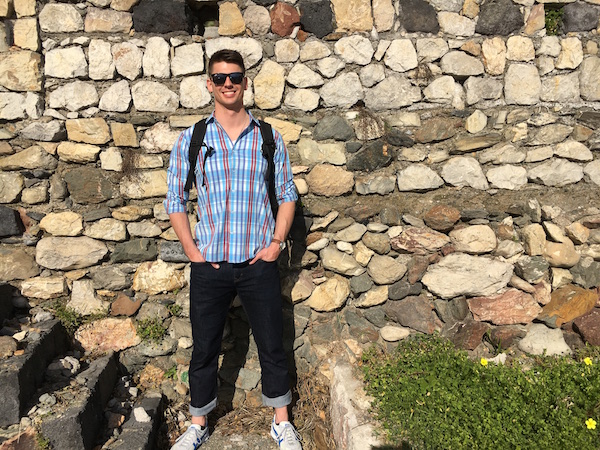 Wrinkle Resistant
These dress shirts are wrinkle resistant. Which makes it a great dress shirt for travel.
I took 4 Mizzen + Main dress shirts with me on that trip to Europe.  All I took was a backpack and carry-on for a 10-day vacation to Italy, in January.
After over 24 hours or being packed tight with all my other stuff, I pulled my Mizzen and Main shirts out expecting it to be wrinkled.
It was hardly wrinkled at all. Even after being stuffed in my tiny carry-on, with 10 days worth of clothes and other items, it barely had a crease in it – just a few minor wrinkles that wore out after wearing it for 30 minutes.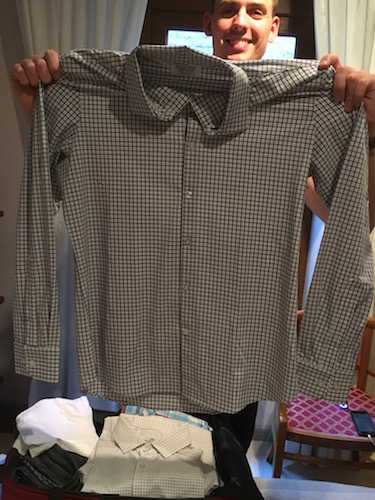 Stain Resistant
Another awesome thing about Mizzen and Main performance dress shirt is that they are stain resistant.
I found this out by accident. I was always super careful not to spill anything on them because they are expensive. But no matter how hard you try, eventually it will happen.
I was out with some friends at a bar and I spilled beer on my shirt.
This wasn't a wimpy light beer either. It was full bodied, hoppy, dark IPA and I dumped it down my front.
It left a wet spot the size of a an iPad and soaked through my undershirt till my skin was wet. So I know my dress shirt was thoroughly drenched.
I was annoyed at myself, momentarily – i was drinking  and it's hard to kill my vibe. So I forgot about it until i got home and took it off my under shirt was still wet and my Mizzen +Main shirt still had a damp spot on it.
Then I threw it over a chair and fell asleep to let future Jordan worry about it.
I woke up the next morning to assess the damage. To my surprise the spot vanished.
I took it into the next room and looked over in the sunlight at all angles to make sure my eyes didn't play a trick on me.
The spot was indeed gone.
Awesome. I thought I just through $125 down the drain.
It's not just liquids either.
I was eating pizza and got red sauce on my white dress shirt. Shit. I thought for sure it was done for.
I rinsed the spot out with water and it was fine. No permanent damage or spots.
These shirts are officially klutz proof.
Low Maintenance
Wash them and hang dry for 15 minutes and you can wear it. So easy.
Form Fitting and Flexible
Mizzen and Main shirts feel tailored for me. Stay tucked in even when I'm moving around a lot. Are 'streamlined' when tucked in to slacks or jeans.
No 'Spare tire' or extra fabric hanging around your waist.
These shirts give you a nice outline and not a fake gut. These shirts fix everything that sucks about other shirts.
Performance and Style
The perfect blend of performance and style. Style is important because it's distinguished.
Mizzen and Main Performance Shirts are the Best Shirts I own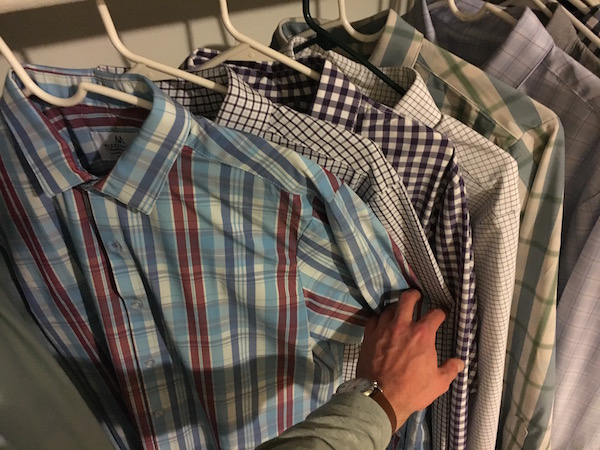 Mizzen and Main Dress Shirt Pros:
Versatile
Stain Resistant
Lightweight
Wrinkle Resistant
Form Fitting
Flexible
Low Maintenance
Style
Mizzen and Main Dress Shirts Con:
Pricey but worth it. Could barely be considered a draw back because the quality of these shirts is so high.
They are pricey but you get what you pay for. I own 6 Mizzen and Main Dress shirts and plan to buy more soon.
You can check out Mizzen + Main's collection of men's dress shirts here.
Final Verdict: Mizzen and Main dress shirts fit perfect. They are stylish and look and feel amazing. 10/10
The Best T-Shirt For the Athletic Build
A great Dress shirt needs a great undershirt. You need a form fitting undershirt to provide a base layer. The best t shirt I've found is the Mr. Davis T shirt.
 Considered the 'World's Best Undershirt'. Mr. Davis undershirts are undoubtably the best undershirts I've ever worn. Here's why I bought this shirt:
All the white undershirts I've ever worn fit right around my chest and arms but very loose around my waist.
They never stayed tucked in so I had a crumpled end of my undershirt pushing out my dress shirt making my stomach look soft.
Not cool when you spend many hours trying to look the opposite of soft.
So I googled the best undershirt and guess what popped up? That's right. Mr. Davis. I bought two of them to try.
After my shirts showed up in the mail I tried them on and immediately bought three more and subscribed to automatic shipments of 2 new shirts every 2 months.
Mr. Davis is as good as advertised. Soon all my undershirts will be Mr. Davis brand.
As far as durability, they seem to hold up pretty well. I haven't had them long enough to see if they will stand the test of time.
Mr. Davis T Shirt Pros:
Mr. Davis T Shirt Cons:
I haven't found one yet. I've owned mine for 7-8 months and they hold up great. I own about 10 of these shirts.
They are so white and bright that if they show through they make your teeth look yellow. Sounds gross. I took this as a signal to whiten mine with provide and baking soda!
So get the V neck style if your undershirt shows through and you're teeth aren't pearly white.
Save $5 off your first Mr. Davis Order: Click Here!
My Mr. Davis undershirt collection: