Subj: The Fit Guy Style Guide: The best dress shirt to complement your athletic build.
You work hard to sculpt your physique so you should dress well dress to compliment it.
A V-shaped torso with broad shoulders, proud chest, thick arms, and wide back are hallmarks of an athletic build.
An athletic physique look great shirtless but unless you're Tarzan you need to cover it up.
The problem is that it's nearly impossible to find dress shirts that fit well. Every shirt I bought from any department store looks terrible on me. The shirts come untucked, the arms are baggy, and the waist crinkles up and puffs out making me look fat and sloppy.
Clothes off the rack are designed for average Joes with average physiques. Meaning that if you wear clothes made for average Joes you will look like Average Joe (soft like dough). Even though you look like an athlete, it doesn't matter if no one can see it.
Fit is number one when it comes to clothing. Poor fitting clothes look sloppy. Proper fitting clothes look sharp.
Finding clothes to fit your chiseled physique is a good problem to have but a hard problem to solve (until recently).
Sure, you can resort to custom tailored clothes for the fit and finish you're looking for but that is expensive and time consuming.
So if you want to level up your wardrobe but don't know where to start, I'm going to give you the Holy Grail of dress shirts.
They are the perfect fit for any occasion and setting – Formal, casual, date night, bar night, job interview or anywhere you want to look damn good.
Mizzen and Main dress shirts are perfect in every way. I own 9 Mizzen and Main dress shirts and haven't found one flaw.
These shirts fit perfectly. They are low maintenance, don't fade, are versatile and stain resistant (big, big plus).
Not to mention, they were designed to cater to athletic builds. In fact, Jake Arrieta and J. J. Watt are poster children for Mizzen and Main.
The Best Dress Shirt for Any Situation
Mizzen and Main shirts are classic style with modern versatility. Like I mentioned before, these shirts can be worn anywhere.
These shirts are proof that clothing and fabric technology finally caught up with the rest of the world.
Mizzen + Main dress shirts are light weight, breathable, super soft and comfortable and the best fitting dress shirts on Earth. Not to mention wrinkle resistant, stain resistant and low maintenance. They hang dry in about 20 minutes.
It's the perfect travel shirt because it's so versatile and low maintenance. Perfect for the busy professional or avid traveller. I was able to travel 10 days in Italy with just a carry-on and have a different outfit every day.
I crammed my tiny carry-on suitcase with clothes and gear until its contents were the density of a cinder block.
After being packed tightly for over 24 hours straight, I pulled out my Mizzen and Main shirts out and they barely had a wrinkle.
The wrinkles weren't very noticeable and wore out after 30 minutes of wearing it.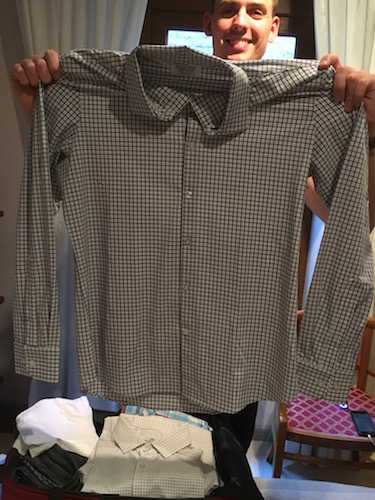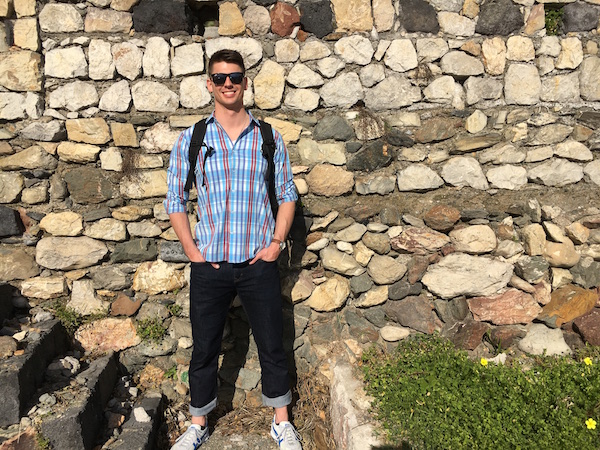 Here I am with my girlfriend in Phoenix celebrating (sporting a Mizzen and Main button up that was in my carry on luggage prior to wearing it. No ironing needed and it still looks fresh, clean and crisp.)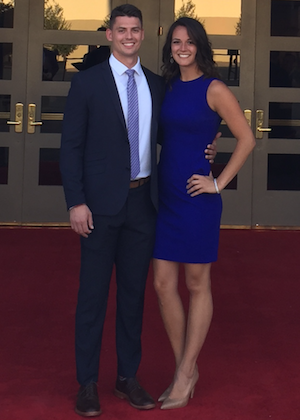 There's a long list of reasons why I love these shirts. I look for style and utility in my clothing.
Mizzen and Main are high quality dress shirts with extreme durability. They are stain resistant – A feature that I've personally tested.
I'm always super careful not to spill anything on my clothes. But no matter how hard you try, eventually it happens.
I've splattered pizza sauce, enchilada sauce and beer on the front of my dress shirts. Each time the stain came out completely.
This wasn't a wimpy light beer either. It was full-bodied, heavy, hoppy and dark IPA.
I dumped it down the front of my shirt leaving a brown spot the size of a an iPad that soaked all the way through until my skin was wet.
I was annoyed at myself, momentarily – I was drinking and it's hard to kill my vibe. So I forgot about it until I got home and took it off my under shirt. There was still a large damp spot on the front.
Then I threw it over a chair for future Jordan deal with and fell asleep. I woke up the next morning to assess the damage. To my surprise the spot vanished.
I took it into the next room and looked over in the sunlight at all angles to make sure my eyes didn't play a trick on me. The spot was indeed gone.
Awesome – I thought I just threw $125 down the drain.
The same thing happened while I was eating pizza and got red sauce on my white dress shirt. Shit. I thought for sure it was done for.
I rinsed the spot out with water and it was fine. No permanent damage or spots. These shirts are officially klutz proof.
Mizzen and Main: The Best Dress Shirts for Men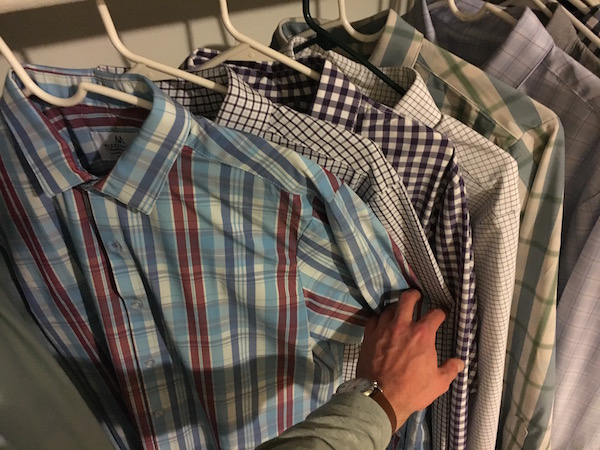 Mizzen+Main shirts are a great way to upgrade your style.
You'll get your moneys worth because you will love them and wear them often.
They are form fitting and flexible.
Mizzen and Main shirts feel tailored for me. Stay tucked in even when I'm moving around a lot.
The fabric fits close to your body and moves with you so allows you to move freely in comfort.
The cut is perfect and looks 'streamlined' when tucked in to dress pants or jeans.
No 'Spare tire' or extra fabric hanging around your waist.
These shirts give you a nice outline and not a fake gut.
Mizzen and Main fixed everything that sucks about other shirts.
Mizzen and Main Dress Shirt Pros:
Versatile
Stain Resistant
Lightweight
Wrinkle Resistant
Form Fitting
Flexible
Low Maintenance
Modern Style
Mizzen and Main Dress Shirts Con:
Pricey but worth every penny. I hardly consider the price a drawback because of the superior quality.
I own 9 Mizzen and Main Dress shirts and plan to buy more soon.
You can check out Mizzen + Main's collection of men's dress shirts here.
Final Verdict: Mizzen and Main dress shirts fit perfect. They are stylish and look and feel amazing. 10/10
What Does Your Style Say about You?
Your style is an extension of you. What message do you want to send to people about you?
Dressing well tells people you're proud and mean business. It tells them that you take your self seriously and they should too.
It can be dressed up or dressed down. Tucked in or left out casually and still look great. Pay to play. Quality over quantity. I would rather spend twice as much on something I love then half as much on something I like.
Take pride in your appearance and people will notice. Show up, be sharp and you're half way to make a killing.
Dressing well is the only way to look better immediately. A stylish, well fit shirt goes a long way. Hell, you don't need to be ripped or lean to reap the benefits of good clothing. Anyone can dress to complement their body type and look and feel better as a result.
It's worth investing money into quality clothes that complement your physique. It's part of who you are and what you present to the world.
The Best Dress Shirt Needs the Best Under Shirt
A great Dress shirt needs a great undershirt for a couple reasons:
Undershirts protect your over shirt so they last longer and stay looking fresh. Not wearing an undershirt leads to pit stains that discolor your button downs and make them look dingy.
Wearing the wrong under shirt in uncomfortable and makes your belly look soft. regulate white T's come untucked and have too much extra fabric. This extra fabric bunches up under your shirt and looks bad.
Traditional white T-shirts also wear over time and become rough and scratchy on your skin. Not to mention they get dingy after a while.
That's why I wear a form-fitting undershirt to provide a base layer. The best t shirt I've found is the Mr. Davis T shirt.
If Mizzen and Main dress shirts where an undershirt, they would be Mr. Davis.
Considered the 'World's Best Undershirt'. Mr. Davis undershirts are undoubtably the best undershirts I've ever worn.
i bought Mr. Davis because all the white undershirts I've ever worn are very loose around my waist and never stay tucked.
They always crumple up at the bottom and push out my dress shirt making my stomach look soft.
Not cool when you spend many hours trying to not look soft.
So I googled the best undershirt and guess what popped up? That's right. Mr. Davis. I bought two of them to try.
After my shirts showed up in the mail I tried them on and immediately bought three more and subscribed to automatic shipments of 2 new shirts every 2 months.
Mr. Davis is as good as advertised. I've never worn a more comfortable shirt in my life. It really feels like I'm not wearing a shirt at all. They stay tucked in and look and feel great. Soon all my undershirts will be Mr. Davis brand. All my undershirts are Mr. Davis Brand. I now own over 2 dozen.
As far as durability, they seem to hold up pretty well. I've had some for over a year and they still fit snug and look bright white.
Mr. Davis T Shirt Pros:
Great fit
Comfortable and soft
Durable
Stay Tucked and Tight
Mr. Davis T Shirt Cons:
I haven't found one yet. I've owned mine for over a year and I don't have any complaints.
Save $5 off your first Mr. Davis Order: Click Here!
My Mr. Davis undershirt collection: