Subj: Develop stronger hands, wrists, forearms and upper arms with "Fat Gripz".
Old School bodybuilders and strongmen trained with thick bars to build impressive upper body muscles and raw strength.
Thick bar training builds strong, dense muscle because it puts more muscle fibers under tension compared to conventional bars.
Thick bar training is a lost art, and these days is reserved for elite athletes, special forces, law enforcement, and serious strength competitors.
The reason being is that most gyms don't provide thick bars for their members. Unless you join a hard-core powerlifting gym, you're out of luck.
The solution?
Take Matters into your Own Hands with

Fat 

Gripz
The "Fat Gripz" team has hacked arm training. These blue guys give you all the benefits of thick bar training (there are a lot) without having to actually buy a thick bar (also called and Axel Bar, because it resembles a car axel).
Fat Gripz are a muscle building tool that you clamp onto conventional barbells to simulate thick bars. Try them once and you'll notice the difference immediately.
Increased Muscle Fiber Recruitment
Insane Muscle Pumps
Harder Muscle Contractions
They also fit dumbbells and lifting attachments for versatile training:
Fat gripz are made of an industrial-strength plastic/rubber compound that is extremely durable, keeps is shape, and lasts forever.
Benefits of Thick Bar Training with Fat Gripz
The benefits of Fat Gripz significantly outweigh the cost. They are convenient, versatile and flat out work. All you have to do is snap  the grips over the bar and workout like normal and watch your muscles grow. Other benefits of Fat Grips include:
Gain Raw Strength
Raw strength is the maximum force you can exert. You maximize raw strength by putting your body in a position that uses as many muscle fibers and uses them as much as possible. Any weak point in your physique will reduce your raw strength.
Training with fat grips eliminates weak points a improve raw strength. Thick bars develop raw strength
This is due to Greater neuromuscular activation in forearms with fat grips. You hands are in a constant state of contraction. particularly in the lowering, or  eccentric range of the motion. Thinner bars are easier to 'hook' grip and not squeeze hard. Fat Gripz make you grip hard or the weight will slip out of your hands. This places extra tension on the extensors and flexor of your forearm thus increasing forearm strength.
Strengthen Grip
Your hands and forearm muscles are contracted 100% of the time you hold a weight with Fat Gripz.
Your grip strength will shoot through the roof. I'm able to grab 45-pound Rouge bumper plates with one hand while the plates are vertical and I do so with ease. I couldn't do this before fat grips.
My grip no longer gives out while weight training. A strong grip ensures you hold on to the weight long enough to get those last few reps that are critical for reaching hypertrophy.
Grip strength is important. A strong grip will benefit every other lift. Especially pulls like deadlift, rows and pul ups.
Strong hands and grip strength carries over into everything from the weight room to your every day life:
Need to carry 20 bags of groceries up three flights of stairs? Not a problem anymore. No need to set the bags on the ground to rest. You get them all up in trip.
Fat Gripz played a huge role in my ability to deadlift 455-pounds without straps or a belt.
Build Thicker Wrists
Thicker wrists mean more pushing power and stability, and reduced injury risk. There's not much you can do to increase the size of your wrist if you're naturally lean, however, fat grips will increase your wrist size faster than anything else.
Don't worry you won't get buff wrists, of the forearm of cankels. But you will get thicker wrists that grow proportionately with your forearms. Thicker wrist mean more pushing power and stability, and squeeze and tension to increase pressing power.
Increase Muscle Mass
Thick bar training builds more muscle mass due to increased muscle contraction and muscle activation.
Not just in your hands and forearms but your upper arms and upper body as well. This happens through a process called irradiation. When you Time under tension is increased.
Not just your forearms but your entire upper body, including your chest and back. Through a process called irradiation
The harder you contract a muscle, the harder the muscles around that muscle contract. Flex your bicep as hard as you can and your forearm and shoulders will flex too.
Greater Muscle Fiber Activation
Not only in your arms, but chest and back as well. When I bench press using Fat Gripz, I feel more tension in my chest muscles.
Thick bar training improves mind-muscle connection since it fires stronger signals from the brain through the nerves to the muscles. I'm able to really feel my muscles working and focus on muscle contraction throughout the entire range of motion. My muscles have gotten larger, more dense and more defined as a result.
Fat Gripz Training Results – Before and After
You'll notice the difference immediately. You can feel fat gripz working and see the difference  after one set. Your muscle pump will be insane and you will see muscles in your arms that you didn't know existed.
Stronger Grip, Stronger wrists, Bigger forearms with better shape
More feeling and more focused on concentration. Helps build mind muscle connection.
Grip and Forearm Training no Longer an Afterthought
A strong grip improves nearly every other lift and has practical application as well. Grip training is built into my routine with Fat Gripz. This saves me 10-15 minutes a day because I don't have to do direct forearm and grip training.
Better Muscle Pumps
The pump you get from Fat Gripz is insane. Like nothing else I've experienced. 3 or 4 sets and your arms are toast.
Larger Forearms
My forearms have gotten larger. The part of the forearm by the elbow is wider than my upper arm. They are also thicker, have a better shape and are more round looking. Aesthetically this is good.
Fat Gripz train your forearms while you're already training other muscle groups. This is a huge benefit especially when forearm training is often overlooked. Direct forearm training is often misunderstood.
People see forearm training as tedious work without much benefit. However, all serious athletes have well developed forearms as a direct result of their training.
Aesthetically speaking, well built forearms are necessary for best looking arms. Male models and Hollywood actors know this. Skinny models and actors will often have large looking forearms. They train for a specific look for the camera.
This is because forearms are one of the 'show' muscles used to gauge strength. Have large forearms and people perceive you as strong or fit even if the rest of you is frail.
Bigger, More Muscular Arms
Biceps, Triceps, Forearms and Shoulders have increased in size since training with Fat Gripz.
They work by making the bar fatter and harder to grip, thus forcing you to recruit more muscle fibers when lifting.
No more tingling or discomfort in my hands and wrist
I'm a technology systems analyst and spend a lot of time on the computer. Sometimes this causes pain and discomfort in my wrist that is often accompanied by a tingling sensation.
Since thick bar training with Fat Gripz, I experience no more wrist pain, discomfort and tingling sensation in my hands or wrist. It has essentially cured my tendentious and wrist discomfort. These could be the beginning stages of carpal tunnel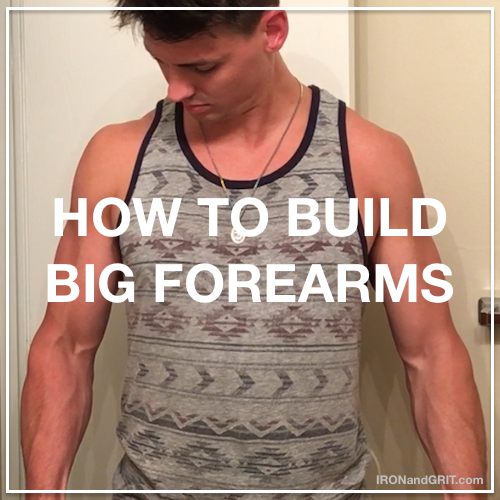 How Do Fat Gripz Work
All you do is wrap Fat Gripz around a barbell, squeeze the grip and perform your lift like normal.
They don't seem like much but Fat Gripz pack a huge punch.
Fat Grips gave me a muscle pump like I've never experienced before.
After just one set of curls using Fat Gripz and my muscles bulge and my veins popped through my skin. I feel a burn deep in my biceps and forearms that cannot be achieved by other means.
Since training with Fat Gripz, my arms are larger, fuller, and more defined.
My grip is stronger too. I was recently able to double overhand deadlift 365 pounds without straps.
I also deadlifts 455-pound raw. No belt and no straps.
My hands don't get tired when doing pull ups or heavy rows either.
Train with Fat Gripz for a few weeks, then go back to lifting with a regular bar and you'll notice a big difference.
Fat Grip Arm Workout At Home
How do Fat Gripz Work?
Bodybuilding is about training your muscles at a disadvantage.
Fat Gripz put your hands at a mechanical disadvantage by putting them in a weak position. This position requires more muscle fibers to sustain.
Just like you bicep is weakest when your arm is bent at 90 degrees and strongest at the top, peak contraction.
Putting muscles under tension at their weakest point, forcing them to grow stronger to compensate.
You can grip thin bars tight. The higher your grip the more 'locked in' and the less effort you need to maintain your hand in that position.
Fat Gripz make you hold the bar in a naturally 'weak' position. Training in this position forces your muscles to be fully engaged and struggle to support the weight. Add in some volume and it's the hypertrophy sweet spot.
Close your first tight and have your friend try to pull your hand open. Almost impossible. Now close your hand half way and try to hold your fingers there while your friend pulls them open. It's much easier to open. Fat Grips keep tension on your hands and forearms while they are in a naturally its weak position, causing increased muscle recruitment elsewhere.
My Experience with Fat Gripz
I heard about Fat Gripz a few years ago on a fitness blog.  I liked the idea and thought they would work but never bought them.
It wasn't until I went to a gym out of town that I used Fat Gripz.
They were laying on the floor by the dumbbell rack so I slapped them on a barbell and did some curls.
My arms ignited.
My arm muscles pumped up after one set. Veins popped out of my arms and shoulders. My forearms had a deep burn that I've never felt before. I did a few more sets and my arms felt like they might burst.
After it was all over my arms were sore for several days. My arms can take a beating and recover quickly.
When I still felt soreness in my biceps and forearms on day three, I was sold.
I bought a set of Fat Gripz on Amazon and keep them in my gym bag.
Fat Grips are the best training tool I've used. Not just for arm training but for everything. Nothing else comes close in terms of effectiveness.
I was sold on Fat Grips the first time I used them.
Fat Grips primarily target your forearms but also work your entire arm. Because your upper arm must flex hard to support your forearms since they are in a 'weakened' position.
Two people at my gym have since bought their own set of Fat Gripz after trying mine.
Fat Gripz are one product I can endorse 100% without a shadow of a doubt that they work and get results.
Fat Gripz are the poor smart man's thick bar.
Fat Gripz Workout and Exercises
Fat Gripz are the perfect way to enhance any workout.
Super charge your Back, Arm, Shoulder and Chest training with Fat gripz:
Back Exercises
Deadlift, Chin ups, Pull downs and Rows.
Chest Exercises
Bench Press, Incline Bench Press and dumbbell Flyes.
Arm Exercises 
In truth, Fat Gripz will turn any workout into an arm workout. You'll know what I'm talking about when you try deadlifting or chin ups with Fat Gripz.
Biceps – Straight bar curls, EZ bar curls, dumbbell curls
Triceps – Pull downs
Forearms – Reverse barbell curls
Shoulders – Shoulder press, shoulder raises
Everything – Farmer Carries
This means I'm training forearms almost every day. Just like Bruce Lee and Arnold Schwarzenegger. Since training with Fat Grips my forearms have gotten thicker from elbow to wrist.
How to Use Fat Gripz for Complete Arm Development
#1. Do all your pulling exercises with Fat Grips.
#2. Buy bigger shirts that fit your massive arms (link to Iron & Grit Apparel coming soon).
Many commercial gyms do not carry thick bars. So I keep Fat Gripz in my gym bag and use them every workout.
The verdict:
Fat Gripz get results. They are as good as advertised. You will see and feel it the moment you try them.