Subj: The Push Up challenge – 100 Push ups every day for 30 days – Upper Body development with Push ups
I recently completed doing 100 push ups a day for 30 days in a row. Also, know as the "Push Up Challenge".
I was at the beach with my girlfriend and decided to crank out 100 push ups. While doing them I remember thinking "what If I did 100 push ups every day for 30 days straight?". I made up my mind right then and there to find out.
When the 30 day challenge was complete, I gained upper body muscle, my chest become more balanced and my arms got bigger.
The 100 Push Ups Challenge Results
Here's what happened to my physique after doing 100 pushups every day for a month:
Bigger Muscles and Larger Upper Body
My chest shoulders and arms got bigger and more defined. I can see muscle fiber striations in my chest and shoulders when flexing.
my shoulders triceps and chest got larger and more defined. upper arms became thicker. My chest muscle became fuller, with more mass to the middle and inner portion of my pecs.
Improved Mind-Muscle Connection
I notice better pectoral engagement since doing the 100 push ups a day for a month. Better mind muscle connection increases the benefit I see from Bench press and fly exercises.
Increase Muscle Endurance
I went from doing 20 push ups in a row to 40 push ups in a row without stopping.
Balanced Chest Muscles
I've had imbalanced pecs my whole life. Within a few weeks I noticed my lagging muscle catching up.
Push Up Challenge Tips
Just do 100 Push ups a day in as few sets as possible.
Once you can complete all the push ups in 4 sets or less, add variety:
Slow down your reps
Take 3 seconds to raise and lower your body. Slow reps keep tension on muscles.
Do diamond pushups 
Position your hand with your thumbs and index fingers touching your thumb and index finger on your opposite hand. Diamond push ups make your inner chest muscles work extra hard. Diamond pushups also allow you to squeeze your pecs hard.
Use Perfect Form
If it's not a perfect push up rep, it doesn't count toward the challenge.
100 Push Ups Challenge Tips
Do Push Ups First Thing in the Morning.
It's much harder to do push ups as the day goes on. Don't give yourself a chance to miss a day. Finish them as soon as you wake up. The longer you wait, the harder it gets.
I remember coming home from the bar one night and knocking out 100 pushups in my girlfriends living room while inebriated. Life happens, just get them done somehow. I kept track of how many push ups I did each set by typing them into my google sheets app on days that I worked out in the gym, and used my calculator app on my phone to track reps on 'off' days.
Breath Deep
This expands your chest and naturally gives you good form. Especially if you favor one side over the other.
Engage Your Core
Push ups are essentially a 'plank' press. You get the most benefit when your abs are tight.
Rest Only 30-60 Seconds Between Sets
Short rest periods make the workout more intense. Intensity makes muscles grow.
100 Push Ups a Day for a Month Before and After Photos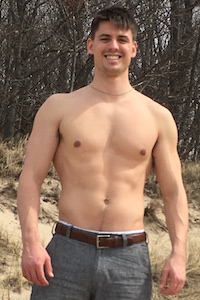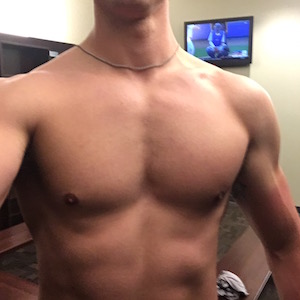 100 push ups a day can make a big difference.
Push ups can be done anywhere at anytime. You have no reason not to.