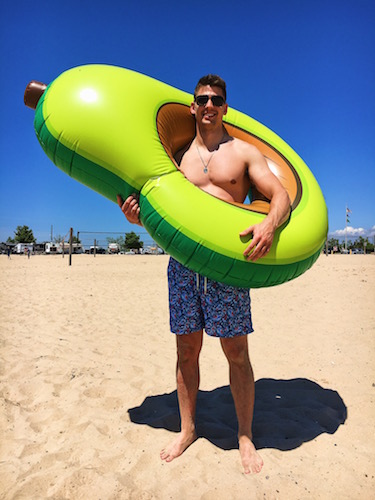 Subj: Build a Beach Ready Body in 8 Weeks. This beach body workout was carefully designed to stimulate your muscles enough to grow and recover within 72 hours. This way you can get in the gym 6 days a week without being to fatigued or worn down.
This requires using the right amount of weight for each exercises which I explain below in the "Beach Body Training Principles" section.
Beach Body Workout Plan
You will train 6 days a week on this program. The workouts are as follows:
Day 1: Legs and Abs
Squat
Leg Extension
Calve press/raises
Leg Lifts
Day 2: Chest and Triceps
Bench Press
Dips
Incline dumbell flyes
Overhead Dumbell Tricep Extension
Tricep Cable Pressdown
Day 3: Back, Biceps and Shoulders
Deadlift
Bent Over Barbell Rows
Standing Military Press
Lateral Raises
Standing Dumbbell Curls
Day 4: Legs and Abs
Squat
Lunges
Leg Extension
Leg lifts
Day 5: Chest and Triceps 
Incline Bench Press
Close Grip Bench Press
Dips
French Press
Flat Bench Flyes
Day 6: Back, Biceps and Shoulders
Pull ups (or Pull Downs)
Bent Over Row
Seated Dumbbell Shoulder Press
Preacher Curls
Day 7: Rest
Take the day off and relax to let your body recover.
Beach Body Workout Training Principles
Rest Less than 1 minute Between Sets
Keep your heart rate up and core body temperature high to burn calories. Keep the tempo up – it is critical if you want to see results.
4 Sets Per Exercises
Use the same weight for each working set
6-8 Reps per Set
With the exception of Cavles and abs with you should train in the 10-20+ rep range
Stimulate Don't Annihilate
You don't need to train to failure. Train using 70-80% of you one-rep maximum weight. Just make sure you're breaking a good sweat each workout. If your set is 6 rep, use a weight you couldn't rep more than 8 times. This puts tension on the muscle but won't kill your recovery.
Add Weigh Each Workout
You must add weight each workout. Even if it's 5 pounds, be sure to lift more than the previous workout.
Beach Body Diet Plan
Follow these guidelines and the fat will melt off while your muscles grow!
Get Enough Protein
Protein build muscle and you should get one gram of protein per bodyweight. Most protein should come from natural whole foods. Animal sources like fish, beef, chicken and eggs are perfect. Chia Seeds, beans and low-fat greek yogurt and cottage cheese are prime sources of protein.
Eat Quality Carbs in Moderate Amounts
Quality carbs only while on this diet. Stick to quinoa and rice (white or brown) in moderate portions. Eat just enough carbs to have energy for workouts.
Try Intermittent Fasting to Turbo Charge Fat Lose
Intermittent fasting is eating only with a 'feeding window', usually 6-8 hours, each day. I practice intermittent fasting and eat between 12PM-8PM to burn through body fat.
Avoid Processed and Refined Foods
No simple sugar, cakes, pies, frozen pizza, frozen 'health meals', etc. Only eat freshly prepared foods.
Try the Beach Body workout plan and diet for 8 weeks and watch your physique transform.