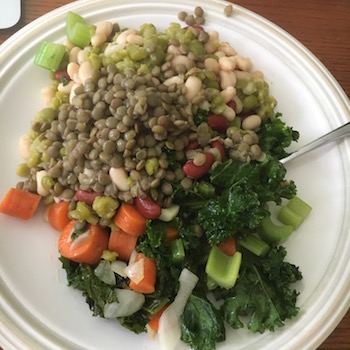 Subj: Vegan Bodybuilding Meal Prep Recipe with all natural plant-based ingredients.
I used to have no interest in anything vegan or vegetarian. It wasn't until I saw the Forks over Knives documentary that I started thinking about the benefits of a plant based diet.
I did some research and critical thinking then decided to give vegan meals a shot.
I'm not going full vegan, in fact I'm experimenting with vegetarian diet because I still eat eggs and some dairy products.
I reduced my meat intake from 2-3 times a day to once a day and limited the meat portion size significantly.
I used to eat Steak and eggs for dinner every night. Almost a pound and a half of steak each night. Now it's less than 8 ounces a day. Many days much less.
For those that want to try vegan bodybuilding meals for themselves, here's and easy recipe that makes the transition painless.
This vegan recipe is packed with tons of protein, fiber, vitamins and minerals. Plus it taste amazing.
It's simple to prep and cook. I cook a huge batch for meal prep.
Vegan Bodybuilding Recipe Ingredients:
Celery
Onion
Carrots
Split peas
Kale
Olive oil
Lentils
Beans – I use a combination of black, kidney and great northern beans to enhance the taste.
Boil the split peas and lentils in separate pots. chop and sauté the kale, carrots, onion and celery
in olive oil using a large sauce pan.
Vegan Bodybuilding Meal Prep
Just make more of what I mentioned above. Use two large pots and frying pans.
MMmmm…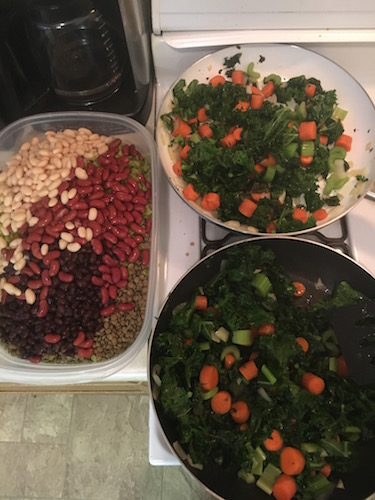 For those of you that haven't ( or refuse) to convert to veganism, you can add steak tips to this dish for some added meat protein.