Subj: How to Reduce Gynecomastia Naturally without Surgery or Pills.
I have a confession: I would have man boobs if I didn't lift weights.
I know this because I have fatty deposits around my nipples despite being 'ripped'. Even after losing 20 pounds and drastically reducing the appearance of my gynecomastia, I have to keep good posture or else the fat on my lower chest droops down, creating a "Man Can".
Not cool, especially when I work so hard to be lean.
Gynecomastia can wreak havoc on your confidence. A saggy lower chest with puffy nipples makes a man's chest look feminine.
This can lead to ridicule and poor self image.
However, you don't need to live with gynecomastia. And you don't have to spend a fortune on surgery or countless Doctor visits to fix the problem.
You can reduce gynecomastia naturally, like I did, using natural techniques.
Gynecomastia Before and After
Below are a few pictures of me before and after gynecomastia.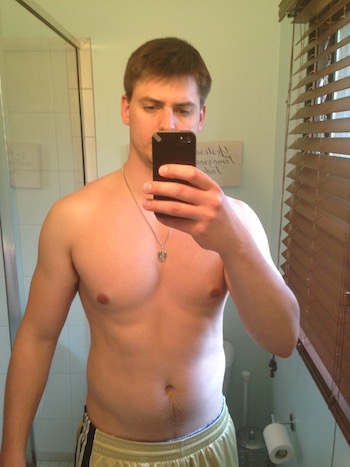 Side view of my man boob (side moob. Ha.)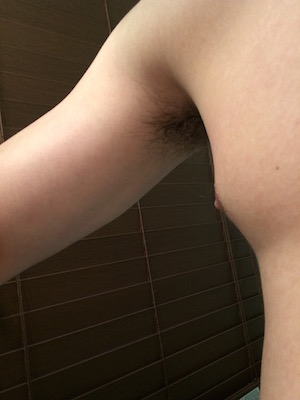 Below: Exhibit B, me displaying ripped-ness after gynecomastia.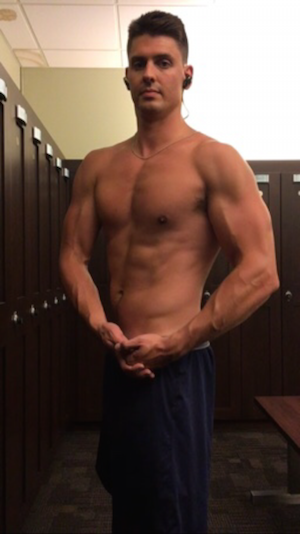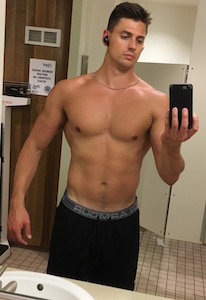 After many months of training I was able to make my gynecomastia un-noticable.
Below: Exibit B, yours truly looking like a sloppy mess. You can't tell very well from this angle but I have man boobs in this picture. You can see some puff age around the nipples:
I know I'd have man boobs because when I flex my chest muscles I can feel fatty deposits around my nipples and lower pec that feel like jell-o. You can't notice it on me because my pecs are developed so they don't look misshaped.
Man boobs, also called 'bitch tits' or 'man cans' is a condition known by the medical community as gynecomastia.
Symptoms of gynecomastia are cosmetic in nature and not physically harmful but can take a psychological toll.
Gynecomastia is often accompanied by puffy nipples that look large and swollen and stick out or droop down.
What Causes Gynecomastia?
Gynecomastia is caused by several factors – including genetics, diet, body fat percentage and hormone levels.
High Body Fat percentage – The number one cause of gynecomastia is high body fat percentage. Too much body fat and your skin will stretch and sag everywhere, including your chest. Thus, reduce body fat percentage and you will reduce gynecomastia.
Low Muscle Mass – Muscle mass gives your body shape. It also lifts and firms your skin and tissues. Increase your muscle mass with weight training to improve the shape of your chest.
Genetics – Each of us is genetically predisposed in ways that determine where we deposit body fat. If you got the short end of the genetics stick, you have more power than you think to reverse it.
Hormone Imbalance – High estrogen and low testosterone will reduce muscle mass and increase body fat. If your hormones are out of whack, your body responds accordingly.
Poor Diet – Poor diet leads to excess body fa and worsened hormones. If you eat better you will and excess body fat all make gynecomastia worse.
Not Moving Enough – Your body needs to move to 'keep the juices flowing' without movement your body becomes less efficient and loses muscle mass. You will also add more body fat if you just sit around all day.
Now you know the causes of gynecomastia, here's how you can fix it naturally.
How to Get Rid of Gynecomastia
The two main things you can do immediately to reduce puffy nipples and banish your man boobs is to eat clean.
Stop consuming pop, fast food, frozen meals, and soy 'health foods'. Go to your kitchen and through them all away and never buy them again.
Only eat food you cook yourself for
Follow the advice below and you will reduce gynecomastia in a matter of weeks.
Gynecomastia can even affect skinny people and especially effects skinny fat people and regular fat people.
Reducing your body fat comes down to eating a diet high in protein with low carbs. (Try the steak and eggs diet for a total biological reset to blast fat and build muscle).
I'd be willing to bet that most guys with gynecomastia eat mostly carbohydrates. Cut out refined sugars completely. No more pop, twinkies, or ding dongs. Eat all natural foods free of synthetic hormones and additives. Eat some meat and something green with every meal.
Train with heavy weights. Total body workouts are best because they elicit more natural growth hormone production and testosterone.
If you're never trained with weights before, try the starting strength workout to learn how to handle yourself in the gym.
Building muscle will help reduce gynecomastia in three ways:
Working out burns calories and fat.
Building and maintaining muscle burns calories and fat. Muscle is expensive and requires a lot of energy to build and maintain. Your body uses fat and calories to maintain this muscle. Muscle burns calories every second of every day. The more muscle mass you have, the more calories you burn. This is how lean and muscular people stay lean and muscular. Once you're ripped, it's easy to maintain a good physique by just hitting the gym a few times a week.
Muscle mass increases testosterone. Testosterone is the male hormone. You need it to build muscle. When you do manly stuff like bail hay, chop trees and lift weights, your body responds by producing testosterone. More testosterone in your veins means less estrogen. Which means less fatty tissue building up on your chest.
Pro Tip: Focus on squeezing the chest muscles hard when doing push ups or bench pressing. this will strengthen the muscles, lift the chest, tighten the skin and burn up the fat in the chest area.
You have to correct your hormones and reshape your chest. The only way to do this is with weight training.
Start with push ups. Do as many as you can do. If you're really serious, do 100 push ups every day. try that for 30 days and watch your man boobs start to disappear.
Gynecomastia Exercises and Workout
The best exercises to reshape the chest muscles are Push ups, bench press (incline, using a barbell), dips and dumbbell flyes.
Push ups work your entire chest and give your chest a nice shape. Incline bench press is preferred to flat bench press because incline targets your upper chest.
Adding thickness to your upper chest pulls your lower chest up and also make your lower chest less pronounced..
Dips are great to shape your lockets muscles and reshape and refine your muscles. Dips will carve out rock hard pecs from underneath your man boobs.
Flyes are great learn how to do flyers and get a good stretch in your chest at the bottom of the movement then squeeze your chest muscles hard all the way back up.
Do three sets of each exercises for 10 slow, clean reps. Keep tension on your chest muscles at all times. Tension is the only thing that makes muscles grow.
Get a set of dumbbells and do presses from your floor at home during commercial breaks on TV.
Tips on How to Reduce Gynecomastia Naturally
Don't just focus on chest training.
Make sure you train your entire body, Especially your legs and back!
Your legs are huge muscle groups that burn a lot of calories, more than any other muscle group due to their sheer size.
You need to train your back because back muscle make out 70% of torso muscle. And remember what i said before about building more muscle to burn calories. training your back has another advantage. Back training give you a strong back with good posture. You will stand tall with shoulders back. this will stretch your chest up and back and reduce the amount of sag.
Bottom Line:
You can reduce gynoclosia naturally in most cases without surgery.
All you need to do is weight training regularly with full body workout. Add in push ups, incline bench press, dips and flyers each workout. At the very least, do pushups and run everyday. Run for 10 minutes and do 20 pushups every day for 30 days and you will see an improvement.
Reduce bodyfat percentage – this will shrink the fatty deposits.
Cut out sugar and eat eggs and meat and veggies often to get protein into your muscles and force your body to burn fat as fuel. Check out my bodybuilding meal prep ideas to ensure you always have healthy, protein-packed meals to eat.