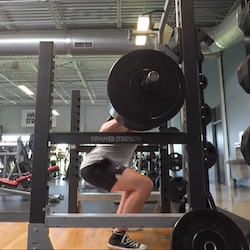 Here's a list of items that will make your life easier and enhance your muscle building pursuit.
It takes organization. Staying fit can be a challenge. Getting to the gym is hard enough for most folks.
Make it easier on yourself by investing in some things I use to stay on top of my game.
For some people this might be "too much too soon" but bookmark this page and come back to it when you need it.
You don't have to boil the ocean here and get everything listed below right now, but I know you'll find something here that will make your life better and easier while on your fitness journey.
Muscle Building Gear
No, not gear as in steroids. I'm talking about equipment that will set you up for maximum success in the in home and at the gym.
Gym Gear
Lifting/Workout Shoes
A great workout starts from the ground up. You need stable, comfortable shoes that work with you.
Great all around gym shoe for bodybuilding. good support, ergonomic and suitable for heavy barbell training.
The flat sole makes Chucks great for squat and deadlift training.
Training Shorts/Bottoms
Under Armor 7" Training Shorts
Training shorts should fit close to your legs. Too loose, too baggy, or too long and it will interfere with your training. Getting your shorts caught on the bar sucks.
You don't want your shorts getting caught on the weights. This breaks concentration and is very annoying. You need to be laser focus on training at the gym, not worried about your clothes.
Workout Headphones
These headphones are great. I've used them for a few years and they have never slipped out while training.
They are the best headphones I have used for the gym and don't plan on changing anytime soon.
Video Recording Device
GoPro Hero 5 or cell phone will work fine.
Anything with instant play back to analyze your form so you can improve each set.
I started filming my deadlift and front squat to ensure proper form. My back tends to round due to bad habits I didn't know I had!
I now video tape all my barbell training to improve my form and gains!
The video doesn't lie and is worth it's weight in gold.
Water Bottle
Always always always have a water bottle with you. In and out of the gym.
Stay hydrated. Being adequately hydrate will help you stay energized and keep your body functioning optimally.
Training dehydrated is a surefire way to crash and burn.
I use a Nalgene Tritan 32oz – because it's almost indestructible and easy to carry with it's cap connector. (i've owned like 4 of these. I've lost two and keep the other two on hand. Great for day trips, hiking and the beach.)
Portable Protein Shake Mixer
Blender Bottle 28oz I own two of these – I add protein powder to both blender bottles each morning. Then add water to one, and put the other with dry powder in my gym bag for later. I drink one on my way to work and the other after my workout in the afternoon.
The large 28oz size cup is best because it encourages me to drink more liquid. I drink a shake in the morning on my way to work. Two scoops of protein powder and water.
Quality

Protein Powder
Optimum Nutrition Naturally flavored Whey – Try the Strawberry or Vanilla. Both are naturally flavored.
My favorite protein. It's a good blend of quality and price. I wouldn't use anything from a lower price point if you care about your overall health.
I take in 4 scoops a day which equally about 100 grams of protein to aid with muscle building and recovery.
A five pound tube of protein powder will last me about a month.
The Ultimate Arm Builder. Not only are they the ultimate arm builder, they are also a chest builder, tricep builder, shoulder, forearm and back builder. But that all doesn't fit on the box.
I've used Fat Gripz to strengthen my grip to deadlift 405 pounds using a double overhand grip. Since I've started using fat grip, I've referred them to friends and gym goers. Many have bought them and are reaping the benefits.
Oh, and let's not forget:
The Best Damn Workout Shirt on the Face of the Earth!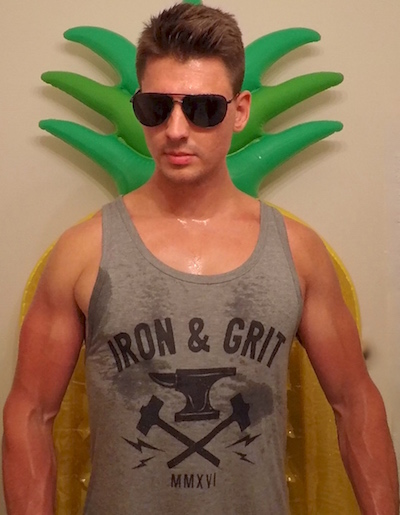 Click here to get your swell on in style.
Muscle Building Gear for the Home
Stock up on water filters too because you should be pounding down water.
Large Non-Stick Frying Pan
Make your life easier and meal prep. get a large frying pan or wok. Better yet get two so you can cook a lot at once.
Chef Knife Set
Get good in the kitchen. Learn how to slice, dice, sear, bake, broil and chop. Your taste buds and waist line will thank you. and so will any female friend of yours you want to impress.
Get a cutting board. Learn your way around the kitchen. Buy a knife set with a lifetime warranty and that include blade sharpening service to keep your tools in prime condition.
It's amazing how much of a difference having the right tools makes cooking enjoyable. I own a Chicago Cutlery Knife set and love it.
Tub-o-ware Food Storage Containers
I have two giant 24-cup rubbermaid containers that I use for my meal prep. I just scoop out what I need when I need it.
Mason Jars
I use big Ball mason jars as water glasses mostly. I also use them to store hard-boiled eggs and other food items in the fridge. You can use the to store coffee beans, pasta, grains etc.  They are pretty much air tight and moisture resistant.
Glass Food Storage and Meal Containers
I use Pyrex Glass food containers to take lunch with me to work. They are easy to wash, seal tight and I can microwave food at work.
I always get rectangular containers because they stack and store easier. The round containers take too much space.
Muscle Building Gadgets
Appliances, devices and electronics that improve my life by saving me time and energy.
Hard boiled eggs are perfect snack and mass builder. I eat on average 6 a day. so this machine makes my life way easier. The eggs are cooked perfectly and the shells peel right off.
Perfect for blending tasty protein shakes or protein pancake batter.
For meal prep, chicken, stew, chili, pt roast, Italian beef, and anything else you can think of.
I don't own a microwave. I haven't in over a year. Everything I eat hot is heated in my toaster oven. It makes food taste better and improves texture compared to a microwave that pushes and melts and breaks down the molecular structure in unnatural ways. Toaster over is just heat.
Muscle Building Groceries
Keep these items on hand and you will perpetually be anabolic.
obviously meat, fish, eggs and fresh veggies should be the stables of your diet. Here are a few additional items that will enhance your gains:
Chia Seeds – Chia seeds are awesome. They are packed with protein and increase your endurance. I mix them raw with greek yogurt for added protein.
Bulk Almonds (No shell) – munch on almonds in between meals for a healthy bulking snack.
Sardines – Wild caught sardines are a stable food item in many 'blue zones' where people live long happy lives well into their 100's.
Tuna Fish – Mix up some tuna salad with celery, onion and light mayo and scarf down with whole wheat crackers for extra protein to stay anabolic.