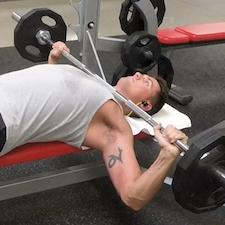 Subj: The guillotine press for upper chest development.
The guillotine press is the perfect exercise to build your upper chest.
Guillotine Press, also called neck press, provides many benefits such as building and shaping
Bench presses from the neck develop wide, sweeping pecs with rock-solid muscle definition.
If you want to build a chiseled chest, the guillotine press is how you do it.
The Guillotine press gets it's name from the old execution device, the guillotine, made famous by French Revolutionaries in the 1700's when they got a bug up their ass and started chopping people's heads off.
Now, Imagine bringing the bar down to your neck like it's a blade cutting your head clean off!  That's the Guillotine press. Sounds sinister yet is aptly named because it will build a lethal set of pecs. (It can also kill you if you're not careful. Like really kill you. We'll cover that in a moment.)
Guillotine Press Benefits
The guillotine press is unique because it builds the upper chest muscle better than any other lift.
The upper chest is notoriously stubborn and resists growth. Upper chest muscles are hard to target are often overpowered by the lower chest.
An underdeveloped upper chest give chest muscles a saggy appearance. Building the upper chest evens the muscle mass and creates full, smooth chest muscles from neck bone to nipple. Developing upper chest muscles adds depth to your frame making you appear stronger.
The neck press is great for building an aesthetic upper body because it produces wide chest muscles that stretch smoothly across your rib cage.
It builds the muscles that join the chest and front delt so your muscles flow together. So, if you want nice square shaped chest the guillotine press is your secret weapon.
Performing the Guillotine Press
To perform the guillotine press, you lower the barbell until it touches your neck. Bring the bar to the space between your collar bone and Adam's apple.
To set up the guillotine press, grab the bar wider than normal. Place your feet firmly on the ground and pull your shoulder blades back like you're pinching a grape between them.
Inhale a big breath, and while keeping your shoulders pressed against the bench firmly, expand your ribcage up as far as you can. Unrack the weight.
Your elbows should stay directly below the bar during the entire range of motion. Lower the bar slowly until the bar touches your neck and you've achieved maximum muscle stretch, then, using your pecs,  press the bar back up until you're an inch from total lockout.
Hold this top position for 2-3 seconds and squeeze your chest muscles as hard as you can. Then proceed the lower the weight again (and again and again and again…and again).
Perform 4 sets of 5-15 reps.
Some neck press variations have you lift your feet off the ground and pull your knees over your stomach like your doing a crunch.
I like to keep an arch in my back. I feel like it gives me a better stretch in my upper chest since my rib cage is fully expanding upwards.
However, the legs-up position will help you get better range of motion while keeping your elbows under the bar.
Start with the bar and gradually add weight. Go slow and use a spotter.
How Much weight to Use for Guillotine Press
First of all I want to stress the fact that the Guillotine press is for advanced weight lifters who have above average strength and muscle mass that have been training for 2+ years.
After two years you know your body and what you can and cannot do.
Even still, neck presses are dangerous. If your shoulder gives out you're in trouble. It doesn't take much weight to crush your windpipe and do permanent damage. So perform at your own risk. Always use a spotter and never compromise form.
Go very light at first.  Start with just the bar and do 15-20reps. Get used to the motion. It will feel awkward at first.
Work on increasing flexibility with light weight undid you're able to comfortably bring the bar all the way to your neck and hold it there with perfect form.
I personally like to end my chest workouts with guillotine press for two reasons: Neck presses stretch my chest muscles giving them a good shape and two, because I use high reps to 'pump' blood into my upper chest to stimulate recovery and growth.
Here's a video of me finishing up a chest workout with neck presses. (Don't mind the fact that I look lanky as hell in this video. It's a weird angle.)
Here's another version of the guillotine press with legs pulled to chest using a Smith Machine.