Alternate Title: Your Desk Job is Wrecking Your Body (here's what you can do about it).
Subj: Sitting is the new smoking
America is the fattest and sickest nation on Earth.
It's no coincidence that the average American sits over 10 hours a day.
Our sickness is self induced, mainly caused by sitting too much.
There are two things wrong with our sedentary lifestyle:
First of all –
Our bodies are not designed to sit 10 hours each day; our bodies are designed to MOVE.
People need to MOVE. We evolved to move, and to move a lot! Up until the last century or two, people walked over 10-15 miles a day. As a result, our ancestors were lean, healthy and ripped.
We are designed to walk, run, jump, climb, drag, carry, and throw – Not sit in a chair all day.
Movement was necessary to find food, build shelter, explore new lands and literally move our species forward.
Our bodies crave versatility and MOVEMENT IS REQUIRED to be healthy.
Now days, with the industrialization of our world, we no longer have the same concerns that we used to: We don't have to forage for food and we don't have to build our own homes.
Instead, we go to the grocery store for food, and buy a home instead of build a hut out of sticks and leaves.
You don't even have to walk anywhere, in fact you can live without ever leaving your house.
People are energy conservative and will do as little as possible unless pushed. Meaning you must push yourself if you want to improve your health.
Not Enough Movement Means You Get Fat and Sick
Sitting too much without proper exercises leads to a long, dirty list of negative health effects such as:
Poor breathing
Genreal discomfort
Shoulder Pain
Rolled shoulders
Crook in the neck
Hunchback
Neck Pain
Headaches
Caused by holding your head forward or down. The muscles in the back of your neck tighten and become strained.
Hands and Wrist Problems
Tingling and numbness sensations
Carpal tunnel
and many, many more problems
No amount of posture-pedic, corrective apparatus and braces in the word will fix these problems.  They will only provide temporary relief while you atrophy further.
Eventually, quick fixes will offer no relief and it may be too late to fix anything at that point. So, you need to take corrective action now before it's too late.
Start now by 'standing up' for your health! If you're sitting down reading this, stand up straight and tall. Bring your phone to your face to read it, don't hang your head down.
You're Not Sitting Correctly and It's Killing You
Even worse than the fact we are sitting 10+ hours a day, we are sitting the wrong way!
The car seat, la-z-boy, couch, desk chair – every 'normal' thing to sit on is ruining your health.
Sitting in a chair puts stain on the back. This causes it to bend out of shape creating tense and tight muscles.
The human body was designed to squat-sit: Legs bent at the knee and thighs resting on the calfs. This cushions and decompresses the back.
Early humans didn't sit on chairs, they didn't sit on anything. They 'sat' in a squatting position, like a baseball catcher, with hamstrings resting on the calves.
Squat-sitting keeps your spine aligned and joints healthy. It also prevents loss of flexibility and muscle atrophy (break down).
Look at the kid below. He has perfect sitting form and puts most adults to shame.
That is how early humans sat, and as a result they had long, lean limbs and were flexible, agile and extremely mobile.
When you sit in a chair, you slouch, which stains your spline, neck and back muscles, you muscle weaken and things start to go wrong.
Sitting with good posture takes effort. It takes work every day to correct the damage done over countless previous days.
Are Americans Over Worked or Just out of Whack?
I don't buy into the notion that Americans are overworked.
I think our work ethic is great (for the most part). To get a head and stay ahead you need to be ahead of the competition. And the long way to do that is to out-work them. Work is healthy, if it's the right work.
However, I think our priorities are f*cked up. We need more emphasis on personal health and need to take responsibility for our health. When you sacrifice health for wealth, your priorities are mixed up.
What is Health without Wealth?
All of our wealth and prosperity has a cost. And that cost is our health. Without health, what good is wealth?
If we don't do something soon, all our extra wealth will be absorbed by inflating health care costs.
Seem people blame working long hours at jobs they hate creates stress and makes them sick, tired and miserable. The main culprit however is sitting for too long and not doing anything about it.
Stop Sitting so Much!
If you're like me, you sit in a chair for 8+ hours a day. The majority of working Americans fall into this category so it's probably true for you, too.
Sitting in this position is stressful for your entire body. Sitting at a desk all day wrecks havoc on your muscles, joints, and bones.
Your muscle just tight can tense which causes head aches and sore muscles. You're posture begins to decline.
Your joints lock up and lose flexibility. Your muscles atrophy and causing your body to weaken. You lose strength and mobility.
Your bones begin to move out of alinement because muscles are pulling them as they are placed in unnatural positions day after day.
To make matters worse, most people are too tired or too busy to workout in order to reverse the damage that is being done.
Instead of getting on a workout program, they sit on the couch, lay in bed, watch TV or play video games.
There's nothing wrong with these activities and what you do in your free time is completely up to you.
However, It's also up to you to take care of yourself and be aware of your lifestyle and the effect is has on your body and health.
The Average American Lifestyle Makes Me Sick (literally)
For the record, Americans are overweight, don't move very much, are on some sort of medication by age 40 and eat terribly.
Whenever I eat fast food or order a pizza from a chain restaurant I get a sore through and overall feel like shit. I get bloated, gassy and tired.
If I don't workout for a few days in a row, I begin to feel even more shitty. I suffer from the previous symptoms plus feel anxious, irritable and more negative. (Hmm, I'm starting to sound like people I know who eat terribly and don't workout. Weird.)
There is hope if you suffer from these ailments. And the solution is easier than you can imagine. So easy that you probably won't believe it. (or else you'd do it).
Here it is. Are you ready?
Many conditions cause by the Average American lifestyle that can be essentially 'cured' and prevented with weight training.
Ailments like back pain, shoulder pain, neck pain, joint stiffness, high blood pressure, being overweight, etc. will be fixed by even the simplest weight training program.
Weak Muscles translate into Weak Health
Weak muscles create bad posture, joint pain, muscle tension, strain, and soreness.
Most people seem to write these health problems off as old age. I get it. That makes sense. But the amount of kids and young adults with high blood pressure can't be attributed to old age.
In fact I just talk to a Doctor who told me that 1 in 5 young men has heart disease. And that he sees men in there 30's in the hospital that have suffered from heart attacks. They are usually overweight.
It's never to late to start but better to start while you're young to replace bad habits that kill you with good habits that could save your life.
Sure, as you get older it takes longer to recover and things just don't work like they used to but you can take measures to prevent and even reverse the creeks and cracks 'caused' by old age.
Getting older is inevitable, but aging is something that you can take measures to do so gracefully.
Hitting the weights and eating well is the majority of the battle.
Ever see old guys in the 50's and 60's with full heads of hair and a lean frame, energy and fire in their eyes? They are always active and always watch what they eat.
Chairs Are the Enemy!
Chairs are too comfortable and entice us to conform to them. Throw your chair away and get a standing desk or exercise ball to sit on.
Chairs are also terrible for blood flow. They make us not want to get up which further reduces our movement.
Blood fills the feet and calves ankles swell feet swell. This effect is worsened by our sedentary lifestyle. Our heart is a muscle and needs to be worked out to get stronger.
Your heart weakens the less you move. Your heart is a muscle and needs a workout! rigorous weight lifting (like 8×8 or High Intensity Training) You body becomes less efficient at functioning and health inevitably degrades.
Heart attacks, high blood pressure, cancer, everything has a starting point, and sedentary lifestyle is a HIGH RISK FACTOR for serious health problems.
The best chairs to own are rocking chairs and recliners because they keep your legs moving/elevated. Just don't sit in them too long.
What can you do the turn things around?
Get Up and Move!
Get up and walk 300 steps every hour. At work, walk while taking the next conference or phone call. Have a moving meeting, walk and talk.
It's better for you, you'll think more clearly and you'll communicate better.
Get a Standing Desk
Another thing you can do to take control of your health is get a standing desk. I own a Gladiator Workbench and use it as a desk.
It's adjustable up to 48′ inches tall.(Full disclosure – I work for the company that produces Gladiator. But it doesn't sway my discussion to buy one at all. It's an awesome, versatile desk that looks bad ass.)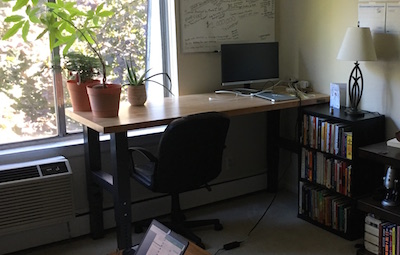 Start Weight Training and Start Living Better!
A simple total body workout routine done 3 days a week will radically improve your life.
Nagging aches an pains will disappear. Fat will melt off your body. You will feel better and have more energy. IT NEEDS TO BE EXPERIENCED TO BELIEVED. Many people are so used to feeling shitty, they don't know any better. It's not until they reclaim their health they realize how good they actually feel!
Contact me and I will help you get started and transform your body and life for the better.