This is not your typical boring-ass hotel workout post. I'm not going to tell you to do 1000 jumping jacks or a million burpees in your jail cell hotel room. That's boring and should only be done as a last resort.
I'm going to show you how to make the most of your limited travel time to explore and stay fit!
You're probably traveling for one of two reasons – Work (or other obligation) or for adventure.
I've travelled for both. And I've found ways to stay fit even when I'm in an unfamiliar location for a week or two.
So wether you need a vacation workout without a gym, or the perfect way to exercises while traveling for business, this post has you covered.
No matter what you're traveling for, you can use these tips to stay fit on the go. Just take what you need and tailor it to your unique situation.
How to Stay Fit While Traveling
Here are 10 travel fitness tips to stay lean, strong and healthy without a gym!
Be on the Move!
One way to stay fit while traveling is to cover as much ground as possible on foot!
When I went to Italy, I wanted to see as much as possible so I walked 4-5 hours every day. Only stopping to eat or take in the sights.
If you're in a foreign land, take advantage of it and see all that you can! Go out and explore on foot.
I also recommend packing light. Too much stuff is an anchor. It slows you down and just gives you more to worry about.
I traveld 10 days and nights in Italy with a backpack.
Check into your hotel or AirBnB and hit the road to take in the sight, smells, tastes and sounds of somewhere new!
Pack Your Running Shoes
When you arrive in your new destination, go for a run!
You've likely been in a plane, train, boat or cab and now finally have an opportunity stretch your legs.
Lace up your running shoes and take a jog into the unknown.
You will see much more, much faster. You are also getting a workout in at the same time. Win-Win.
Wave to other runners. Its a great way to open interaction, strike up a conversation and learn about the area. The locals know the best spots to eat, see, and party.
Get a pair of stylish running shoes that you can wear casually so you don't need to pack an extra pair. I own a pair of On Clouds that Are comfortable enough to wear all day. and Stylish enough to wear to a nice dinner.
(Related: On Cloud Running Shoes Review)
Improvise Your Workouts
Have the mindset that The World is your gym.
Do pull ups on monkey bars in the city park or on a sturdy tree branch. Dips can be performed on benches and chairs. Do pushups with your backpack on. Jump up onto a tree stump or ledge for a polymeric workout.
A little creativity goes a long way. It's refreshing and fun to try something new and unique.
You might get lucky and find a dedicated workout park like I did in Venice, Italy:
Get a day pass at a Local Gym
Some gyms don't let you workout if you're a visitor, but sometimes they do if you ask them nicely. When I was visiting Knoxville for a week for work, I reached out to a few gyms before leaving.
One got back to me and said they would let me workout for free for the week. The manager was really cool and hooked me up! because he knows the struggle!
He knows what it's like to be a loyal iron slinger and not be able to sling iron. It's maddening at times. So, moral of the story – talk to people, tell them what you want and see if they can help you out. Ask enough times and eventually someone will.
And if they do let you in, treat their facilities like a Chapel. You are a humble guest and should treat their House with utmost respect.
If you can't get in for free, buy a day pass. They are usually good for 24 hours so you can use it twice if you time it right.
Don't want to pay? That's fine too. You don't need a gym. You just need to work your muscles and maintain some strength, muscle mass, and most of all, keep the discipline.
Try This Travel Workout Routine
This travel workout is boring but effective and can be completed in under 20 minutes.
Body squats – 100 reps
Push ups – 100 reps
Sit ups – 100 reps
All exercises need to be complete as fast as possible in as few sets as possible.
It's a great workout that's will have you sweating and panting in a matter of meetings.
For extra credit, perform this routine morning and night.
Do a physical Activity
Hiking, Snorkeling, white water rafting, rock climbing, whatever. Do something new and rigorous and I GUARANTEE you will be sore the next day no matter how good of shape you are in.
Austin has bikes you can rent by the hour/day. Just grab one and go explore!
Kayaking and other water sports are perfect for staying in shape while traveling somewhere warm.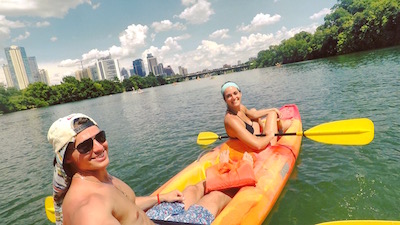 Get a Gym Membership at a National Chain
Anytime Fitness and Planet fitness are two gyms that come to mind were if you have a membership you can train at any of their facilities nation wide.
Stay at a hotel with a gym
This seems like an obvious solution but is sometimes overlooked. Check out the amenities of the next hotel you stay and and make sure they have a gym.
If you're traveling on a budget you might have to make sacrifices like proximity to work /meeting, free breakfast, etc. But usually, the nicer hotels have gyms.
If it's not in the budget, there are still ways to get your workout in.
Travel Fitness Gear
A lot of people what to know a good travel workout with no equipment. While that's very doable, with bodyweight workouts, You can take it up a notch with simple bodyweight workout enhancers.
The following two items are great bring-a-lons for calisthenics training:
Pull up rings –  I've heard of a guy that takes his pull up rings into a parking garage and finds a big pipe or support beam to attach them.
Strap these on a STURDY beam or STONRG pipe. I'm talking very sturdy, if you question if it's sturdy enough, don't do it. Do this at your own risk!
Parellettes – Get a workout anywhere with these.
Both are easy to pack and take up very little space.
What to Eat While Traveling
Bring Healthy Snacks
Plan ahead and bring healthy snacks like nuts or beef jerky. They last a long time, are lightweight and portable. High protein and full of goodness.
Avoid fast food and Chain restaurants
You're traveling for for heaven sake, why the hell are you eating at a chain restaurant? Get out and have some local flavor. Take full advantage to try something new and out of the ordinary.
If I go to Louisiana I'm not stopping at Burger King for lunch. I'm going to Uncle Clem's Gumbo Shack for some authentic cajun cuisine that's so good you wanna smack your grandma.
These local joints have food that's homemade, locally sourced, fresh, all natural – good for your health, and a once in a lifetime experience.
Fuckin' Burger King. Give me a break.
If you're taking a road trip to the Grand Canyon and you stop at a Fazolli's in the heartland you're fucking crazy. You need to go to the local diner that's been owned by the same family since the 1920's and eat what ever they are serving. You'll thank me later.
Cook Your Own Food!
This may seem like a foreign concept for some travelers but cooking meals while traveling is an awesome and fulfilling experience.
First, you have to find a grocery store or a street market. Street markets are perfect to find unique, cultural foods that are very fresh.
Going to s street market is a great way to immerse yourself in a new culture and explore a new area.
My girlfriend and I cooked this authentic Italian meal in Palermo while renting AirBnB in the city center.
(Note: AirBnB is an AWESOME way to level up your travel experience. Click this link to save $40 off your first stay over $75.)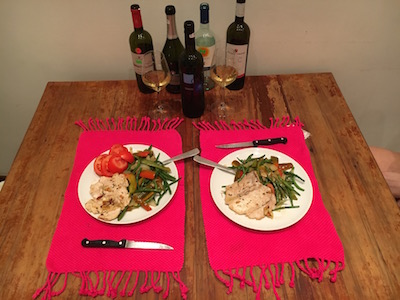 Eat two healthy meals a day
Get at least two healthy meals a day with fresh meat and veggies.
Say the Hell with it – Rules were meant to be broken!
Live a little while you're vacationing or traveling. Don't miss out on any chance to try new, local cuisine. It may be a once in a lifetime opportunity!
Life is meant to be enjoyed, so don't stress too much, and enjoy yourself.