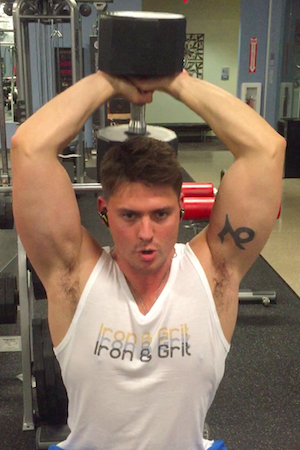 Subj: Get Bigger Arms in 6 Weeks.
Guys love to flex 'em. Ladies love to touch them.
I'm talking about big arms.
This article will fast track your to bigger arms. I used to have little twig arms but now I have big branches because I performed the workout below. It is one of the best arm workouts for mass and definition.
How to Build Massive Arms
In order to build big arms you need to understand arm anatomy – Great arms have four parts: bicep, tricep, forearm and shoulder.
This post will show you how to get massive arms and will focus on biceps, triceps and forearms. (related: My big shoulder workout)
Each part of the arm is developed fully and evenly so the arms look good. Don't overlook shoulder and forearm training because they will make your arms stand out!
The Best Arm Exercises for Mass and Definition
The Best Bicep Exercises
Biceps are the front part of your upper arm. The best exercises to build bigger biceps are: barbell/dumbbell curls, Reverse barbell curls, spider curls, barbell preacher curls, and concentration curls.
The Best Tricep Exercises
Overhead Dumbbell Press, Overhead Tricep Extension, French Press, Rope Pull Downs, close grip bench press, and Skullcrushers.
The Best Forearm Exercises
Reverse Barbell Curls, Wrist Curls, Reverse Wrist Curls.
Big Arms Workout Routine
I train arms biceps and triceps, Forearms (and sometimes shoulders) the same day.
Working biceps, triceps and forearms at the same time has a synergistic affect. Biceps get a little work for tricep exercises and biceps get a little work from tricep exercises, and forearms and vice versa.
I find arms respond best to a lot of volume.
Training arms twice a week is good to build mass quickly.
Perform workout A, then perform workout B four days later.
Arm Workout A
Concentration Curls / French Press  4x 12, 10, 8, 6
Barbell Curls / Overhead Dumbell Press 4x 12, 10, 8, 6
Reverse Barbell Curls / Tricep Pull Down with Rope 4x 12, 10, 8, 6
Dumbbell Curls / Overhead Tricep Extension 4x 12, 10, 10, 8
Wrist Curls / Reverse Wrist Curls 4x 20, 20, 15, 15
All exercises are performed as superset pairs.
Arm Workout B
Overhead Dumbell Press / Spider Curls 4x 12, 10, 10, 8
Skull Crushers / Barbell Curls 4x 12, 10, 10, 8
Tricep Pull Down with Rope / Reverse Drag Curls 4x 12, 10, 10, 8
French Press / Hammer Curls 4x 12, 10, 10, 8
Wrist Curls / Reverse Wrist Curls 4x 20, 20, 15, 15
All exercises are performed as superset pairs.
Do two warm up sets of 20 reps to break a little sweat and wake up your muscles.
Continue this arm workout for 6 weeks. Measure your arms before and after and I guarantee your arms will be bigger on week 7!
How Much Weight should You Use?
Use a weight that allows you to only do the amount of reps shown and no more!
You have to make your arms grow! If they had it their way they would look like spaghetti forever.
This may be too much for a beginner, so try it an evaluate. If you are a beginner, this workout will make yo very sore for several weeks if you keep at it. Eventually your body will adapt and become less sore. (That's when you move to Phase II 😉 )
If soreness is too intense the next few days or if you are still sore on day 4, reduce the sets from 4 to 3 for each exercise.
Make sure you eat a lot of quality food like meat and veggies to build muscles. If you don't eat, you won't grow.
How to build bigger arms training tips
Hold on Tight!
Grip the bar as tight as you can throughout the entire set.
Flex Hard!
this point goes hand in hand with the tight grip. Flex your arm muscles as hard as you can when lifting.While at the top of the motion, peak contraction, hold the weight there and concentrate on flexing as hard as you can for 3 seconds. You will feel your muscle working.
Fat Gripz turn ordinary barbells and dumbbells into thick bars. Thick bars are the best for gaining raw strength and muscle mass because they activate more muscle fibers.
Train with Super Sets!
Supersets are the open secret of the bodybuilding community. Supersets allow you to get more volume within a shorter time, thus increasing workout intensity. Intensity makes muscles grow.
Supersets are my favorite way to train arms.
To perform a superset, you pick two exercises and execute them back to back with no rest in between.
My arms respond best to high volume training and supersets concedes a lot of volume into a one hour workout.
Here's a video showing how to perform a superset:
Big arms are great but just make sure your massive arms don't dwarf your legs! be sure to train your calves (HERE'S the perfect calve workout)! Your calves should be as big around as your arms – if they're not, you have chicken legs!