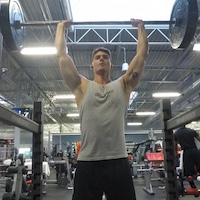 Re: How to build muscle with progressive overload.
I'm going to share an open secret with you. It's a wide open secret yet is often overlooked.
The best way to build muscle is to lift progressively heavier weights.
I see it all the time:
A guy goes to the gym, slaps a 45 pound plate on the bar, and benches it 10 times.
He does three sets of 10 reps with 45's on the bar, then moves on.
The next day, he comes in and does the very same thing.
I've watch many people do this and make ZERO progress in a year. They have absolutely nothing to show for their time in the gym.
Too bad,
If they only knew what they are missing out on.
Some guys could have DOUBLED his bench press and built a stout chest, but instead they remain skinny.
If only they understood the concept of progressive overload, they would be enlightened.
Progressive overload is the gradual increase of weight used to train. Imagine your body is a pyramid –  As you add more bricks, the bigger and stronger you become.
For YEARS, I overlooked the obvious and it cost me a lot of lost time. Don't make the same mistake.
The Progressive Overload Principle
To build muscle, you must train with enough intensity to slightly damage the muscles.
During intense workouts, little micro-tears appear in your muscle fibers. These small muscle fiber tears are a byproduct of lactic acid buildup caused by mechanical tension and metabolic stress.
After your workout, the recovery process begins and you muscles rebuild stronger. Your body adapts quickly and you must continuously add weight in order to keep making improvements.
As muscles get stronger, more intensity is required to overload them. The more you demand of your body the more it will be forced to respond. (Related: Mike Mentzer's 'Heavy Duty' BodyBuilding Workout)
Knowing that your body adapts to the weight quickly means you need to progressively increase the amount of weight used each workout to keep making progress.
The Benefits of Progressive Overload
The most obvious benefit of progressive overload is that it WILL build muscle and WILL make you stronger.
If you've been training it for a while, you know it's a hassle to keep up with your training, progress, meals, energy levels, etc.
Progressive overload make weight lifting simple. You know exactly what you have to do. Progressive overload takes the guess work out of training. Just do more than you did last workout. Just Do More Than Last Time, Every Time and you will improve.
Progressive Overload is the Basis of All Improvement
Bodybuilders and powerlifters alike use progressive overload to get bigger and stronger.
Break your plan and programing for your strength or goals at will, but progressive overload is necessary to make progress.
Progressive Overload is Great for When the Going Gets Tough…
It's going to get hard. Some days you just don't feel like lifting.
That's why you need a plan – Something to stick to while you fight through.
Lifting is as mentally demanding as it is physically.
Concentration and focus wane when you're fatigued and run down. This is why it's so important to plan ahead by using a program.
You've already invested time, effort and energy into your dream body.
Investing time upfront and you're less likely to let yourself off the hook. You don't want to derail your progress and mess up your program, do you?
With a program, each set is a task. You are the taskmaster and can't go home until all your tasks are done, so get to work!
Without tasks, you will slack off. To get better, you need to make improvements every day. Small improvements each day add up to HUGE gains over time.
Keep Making Progress in the Gym with Linear Progression
Most people don't follow through with a linear progression program.
This was me for years. I never trained with a program and would just lift by 'feel'. I thought I knew everything about lifting during high school because I did football workouts.
Truth is, I didn't know shit.
You young guys and new beginners should take care to learn the right way to train and eat.
I wasted YEARS because I didn't realize the power of linear progression programming. I spent maximum time in the gym but got minimal gains.
My progress was slow. I never knew if I was really getting better. I didn't push myself to lift heavier. When training got too hard, I stopped or did something else. I just told myself that 'muscles need a variety of workouts to grow!'. While that's true to some degree, lifting progressively heavier weight is the ONLY way to make REAL progress in muscle growth.
If you add weight each workout, you know you're getting stronger. And if you're getting stronger, you know your getting bigger.
The best way to make gains using progressive overload is by using a linear progression program.
What is Linear Progression Programming?
Linear Progression is a weight training program design to build muscle mass and increase strength.
A Linear progression program ensures the progressive overload principle is adhered to and you keep making gains.
To visualize linear progression, imagine you have a line graph, your vertical line is 'Weight' and your horizontal line is 'Time', there would be a smooth, straight diagonal line on the graph steadily moving up and to the right by the same amount each week.
So, with linear progression, you increase the weight in small increments each workout in either pounds of percent. For example, you add 5 pounds to bench press every workout. Or, increase the weight 2% compared to last time.
The Right and Wrong Ways to do Linear Progression
There's a right and a wrong way to do linear progression.
What's right and what's wrong is determined by your goals.
Linear progression programs like Stronglifts 5×5 and Starting Strength are great for you if you want to build some muscle. But, they don't have enough volume to build a great physique.
You will get stronger and learn how to train with these programs but you will not get ripped.
In fact, no one I know that has done StrongLifts 5×5 or Starting Strength looks impressive. These programs are better than nothing, but won't drastically improve your physique any time fast.
Workouts like Stronglifts and Starting Strength are designed to be simple and easy to follow. But, they simply don't have enough volume to sculpt a great physique.
If you really want to build muscle and look like Brad Pitt in Troy, then you need to do Linear progression the right way.
Linear Progression for Muscle Building
Strength is essentially muscle. if you're getting stronger, you are getting bigger muscle. This is a bit over simplified. You can actually get
However, you can workout two different ways, gain strength with both, but build more muscle with the other.
So, you need the right mix of strength training and volume to create a body like a male model.
Sample Linear Progression Bodybuilding Routine
Bodybuilders have a lot of muscle and a little fat.
Low body fat means your muscle show through and look great, as long as those muscles are developed fully.
This sample workout is designed to do just that –
Squat 4x 10, 8, 6, 4
Bench Press 4x 10, 8, 6, 4
Bent Over Barbell Rows – 4x 10, 8, 6, 4
Military Press 4x 10, 8, 6, 4
Push as hard as you can each set. Pick a weight that you can barely complete the prescribed number of reps.
Three days later, Do the same workout but this time, add 5-10 pounds to each set.
Recap Closing Points
It recovers from each workout by growing stronger. This way it can handle the same weight if lifted again. This is why you must continuously increase the weight lifted, otherwise your gains stagnate.
Make a plan, Commit to your plan completely.