Re: How to heal broken skin damaged from the cold and wind.
It's that time of year again.
Old Man Winter is knocking on the door and the cool, dry air is sapping the moister from your body.
These harsh condition coupled with compulsive hand washing (due to cold and flu season) leads to cracked skin on your hands.
My hands, especially my knuckles, get dry, flaky and cracked to the point that they bleed.
When the skin on your hands becomes too dry, fissures form which are basically open wounds that bleed and welcome infection.
How to Heal Cracked Skin on Chapped Hands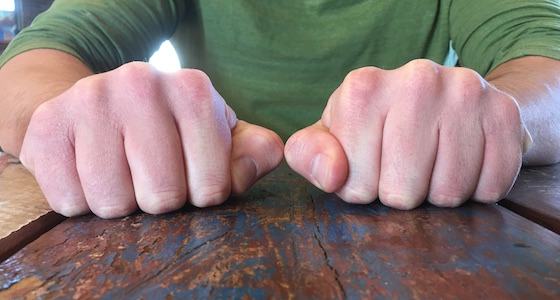 Dry hands are uncomfortable at best and painful at worst.
There are a few things you can do to prevent and fix dry chapped hands this winter season:
Stay Hydrated
Pound a gallon of fresh water every day.
Drink two gallons on days you workout.
Get a big water bottle and carry it with you everywhere.
Staying hydrated is such a simple solution, yet so underrated.
Wear Gloves
Gloves protect your hands from the elements. The cold dry air sucks the water right from your epidermis leaving you with scaly skin.
Not wearing gloves leads to hands more chapped than a cowboy's ass (insert Brokeback Mountain joke here).
I have a pair of Outdoor Research gloves that are in their second season. They are warm, sleek, lightweight and hold up pretty well. The only draw back is that the little grippy things on the figures and hands wears off pretty quickly so if you're holding something it could slip easily.
But this minor annoyance is far outweighed by the benefits. Just increase your grip strength and you don't have to worry about the grip assistance 😉
Use Bag Balm
Bag Balm is an intensive skin moisturizer.
I heard about Bag Balm from Victor Pride over at BoldAndDetermined.com. After reading his article about Taking Care of Hands and Feet I bought this stuff the next time I went to Walgreens.
I tried it out and could feel it work immediately. You rub it in, giving yourself a nice little hand massage, then let your skin absorb it.
You're hands will feel renewed and you can almost feel a layer of protection in your epidermis; like a little shield in your skin that repels the harsh winter wind.
The one draw back of Bag Balm is that it's greasy and takes a while to sink into your skin. Apply it before bed, rub it in thoroughly and you should be fine.
Apply Bag Balm once or twice a week, wear gloves and drink water and you're on your way to healthier hands. Or you can just tough it out, tough guy. Coz if you're gunna be dumb you better be tough.