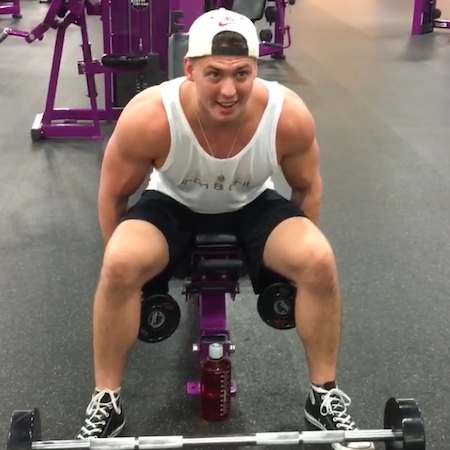 Re: Feeder workouts for increased muscle mass, and faster recovery.
What I'm about to share with you today is a little know, yet powerful technique you can use to build muscle in record time.
Feeder workouts were popularized in recent years by Rich Piana (Rest In Peace, brother).
Although Richy P was 'roided up to his eyeballs, he was dedicated to his craft and his training principle of 'Feeder' workouts has merit.
After conducting my own research and seeing that some people claim to increase their arm size by as much as 1-1.5 inches in a short time I decided to give feeder workouts a try.
I tried feeder workouts for the past week and can notice a definite improvement in muscle definition in just one week! (My diet and routine was the same routine I've done before but just added feeders.)
Feeder workouts  and are perfect for catching up lagging muscles by 'lightly' working and heavily nurturing the muscle more frequently.
Read on if you want to learn more about feeder workouts and their benefits.
What are Feeder Workouts?
Feeder workouts are high volume workouts designed to pump muscles with as much blood as possible without breaking the muscle down.
Feeder workouts are great for bringing up lagging muscle groups – In Arnold Schwarzenegger's book, The Education of a Bodybuilder, Arnold talks about training lagging muscles every day to increase their size and bring lagging muscles up to speed.
Arnold didn't call them 'feeder workouts' or go into much detail about how he trained lagging muscles everyday. (Except for arms and abs, which most golden era bodybuilders trained daily.)
More recently, Rich Piana explained that he used feeder workouts right before bed to construct his Epic arms. (seriously, Rich Piana's arms were monstrous – even road heads didn't possess his arms so he must have been doing something different.) He claims to have used feeders throughout his bodybuilding career and that it is the single most effective training technique to increase muscle size quickly.
After trying it for a week myself,  I am a believer and now plan to use feeder workouts for my forearms before bed for the next 30 days.
Rich Piana's Feeder Workout For Arms
Using 15lb dumbbells with no rest 3 times in a row. No squeeze, no rest – Jump pump the arms and hit these exercises back-to-back superset style.
Skull crushers – 100 reps 
Hammer curls – 60 reps
Dayyum, that's a ton of volume. It's no secret that lifting volume makes your muscle volume increase. In fact, many bodybuilding have achieved stunning physiques with high volume training. You can check out Surge Nubret's pump training or Vince GiRonda's 8×8 workout to see how they build their superior physiques.
For added benefit, go straight to bed after completing your feeder workout. This way your energy goes straight to muscle recovering and growth.
No eating, no showering, no brushing your teeth or fucking your girlfriend after your workout. Just go straight to bed thinking about and feeling your enormous pump.
The only thing you do after your workout is flex your guns in the mirror. This plants the image in your that you can have bigger arms! Bodybuilding like everything else in live is a mental game. You must see yourself achieving your desires. This isn't some, boo-doo, witchcraft, wizardry – it actually works, IF you put the work in and focus on what you want to attain.
You literally prove to yourself through visualization you have bigger arms. The body follows the mind and the process begins! This is an important step. Meta-physical, yes. But definitely effective.
Why Feeder Workouts are so Effective
More volume makes your muscle work harder. Each rep you forces you muscle to expend energy to keep up with the work demand. Your body sends blood to the working muscle to use as energy. Blood brings in nutrients, oxygen and other material to ensure the chemical process to create energy for the muscle to keep working continues. The nutrients help muscles grow in size and strength. As muscles grow, their supporting 'infrastructure must grow as well. The muscle needs space to allow proper blood flow, chemical reactions and waste cleansing to keep the muscle functioning properly.
This is why guys with skinny arms have skinny veins and guys with big arms have big veins.
Your muscles are working hard. They need energy to keep working. without energy, the muscle will fail and breakdown – something your body wants to avoid. It avoids this by adapting to handle the workload demanded of it.
The muscle is being constantly filled with blood, dilates the tissues muscle, veins, cells, everything. The whole machine must adapt to the demand placed on it.
Let's say you're building a skyscraper. You have a crew working around the clock building this skyscraper. You want to ensure the crew has a constant stream of materials to build as fast as possible without stopping. They need to bring in a lot of materials fast, so the best way to do that is to have the biggest, widest road to bring in as many trucks at one time as possible.
As more material is brought in, it is adde to the skyscraper making it larger.
In this analogy, the crew is your muscles, the road is your veins, and the trucks are your body's nutrient transport mechanisms ;).
Feeder workout results have been staggering. People that follow a feeder workout routine reported large. This would be one technique where I explicitly recommend using BCAAs and a Protein powder 30 minutes prior to the feeder workout. This will ensure optimal nutrient delivery.
Feeder Workout Examples
All workouts should be done with no rest between sets and each exercise performed 3 times. Perform these workouts every night until desired results are achieved.
Feeder Workout for Calves
Need to increase you calf size? No problem, this feeder calf workout may just do the trick.
Calf Raises – 100 Reps on block holding dumbbells
1-Leg Calf Raises – 50 Reps on a block alternate legs every 50 reps until you complete 150 reps with each leg individually. Hold onto a wall or piece of furniture for balance if needed).
You can use stairs to perform these calf exercises. because you want your help to go as low as possible at the bottom of each rep. IF YOU PERFORM THIS WORKOUT ON A STAIRCASE DO IT ON THE BOTTOM STEP BECAUSE YOU COULD LOSE BALANCE AND FALL AND FUCK YOUR SHIT UP. k?
Feeder Workout for Shoulders
Want to upgrade your pebble cauldrons for some boulder shoulders? Cool. Try this workout. Feeder workouts are great for shoulders because shoulders respond well to lots of volume. Look at pro basketball players for example. Their shoulders are the best around. Thats because they constantly have their arms up and this requires shoulder strength.
Shoulder Press – 100 Reps
Lateral Raises – 50 Reps
You could probably use 15 pounds for shoulder press. 8-10 might be best for the lateral raises. However everyone is different so pick a starting point and adjust as needed.
Remember, you want a great pump and you want a little burn but you don't want to damage your muscles. You should feel a little pump the day after a feeder workout but shouldn't be sore. (Being a teeny tiny bit sore is ok. You can test this by stretching of flexing the muscle. If it's only a little sore when doing this you should be fine.)
Feeder Workout for Back
Shrugs – 100 Reps
Rows – 50 Reps
Stand up tall and puff out your chest then shrug it out. Perform bent over rows while standing. The rowing motion will target your lats and middle back and your lower back will get a workout just holding yourself in position.
Feeder Workout for Chest
Press (dumbbell or barbell) – 100 Reps
Pec Fly – 50 Reps
you can use machines, or dumbbells, etc. to perform your reps. Be ready for a deep burn.
Alternate Feeder Workout Method: Double Stimulation Training
Double stimulation training is a fancy word given to feeder workouts that are done 24 hours after a hard and heavy training session.
The benefits of this method of feeder training can be equal to or better than the feeder method mentioned above. Whether it's more or less effective then doing it right before bed I'll leave up to you to decide.
I think both methods work but I like this method because I don't like working out right before bed and because in this version, my feeder workout serves as a warm up to my actual workout.
Feeder workouts used in this way enhance your workout from yesterday by increasing anabolic response by delivering ample nutrients to recovering muscles. the past week I've used feeder workouts and will continue to do so because, from what I've seen in a brief period of time, they improve recovery and muscle definition/size.
This type of feeder workout floods your muscles with nutrients  while you muscle is recovering and protein synthesis is at it's peak. it takes material to build muscle and blood brings the right stuff for the jump.
How many reps should you do with feeder workout 'warmups'?
2-3 feeder sets of 50-60 reps using light weight is ideal. Do 1 exercise for each body part.
It's delicate balance – you want to fill the muscle with as much blood as possible without breaking the muscle down.
Don't focus too much on muscle contraction. You just want to 'pump' blood into the muscle. Be sure to maintain perfect form. Don't get sloppy or this won't work.
How to Perform feeder workouts (Feeder workout example)
Two things to keep in mid with feeders:
#1. Feeder workouts should be completed 24 hours after the initial workout.
#2. It should take less than 10-15 minutes if you do it right. Feeder workouts are the perfect warm up.
So, let's say you workout 3 days in a row: Day one is chest, day two is back, day three is legs. Your feeder workouts would look like the following.
On day one, you do your normal chest workout.
Day two you do a feeder chest workout, then do your back workout.
On day three, you do a feeder back workout, then do your leg workout.
Just do what you did the day before as today's feeder workout.
If you miss a day in between. Do not do a feeder workout. It's agreeable that the benefit will not be as drastic since you missed the optimal protein synthesis window.
Although, If you're going to warm up anyway. You may has well do the feeder workout even if you missed a day or two. It won't hurt you and you gotta warm up anyway, right?
Force blood oxygen and nutrients into the muscle to feed them.
Use light weight, little rest and focus on getting a nice pump.
Try these bad boys out and enjoy your gains 🙂