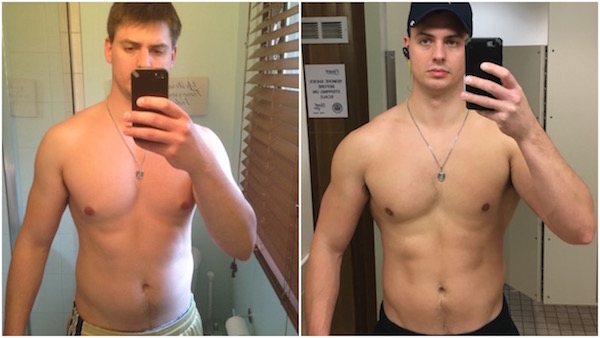 Re: How to bulk up with clean bulking and dirty bulking.
I've clean bulked to 230 pounds and I've dirty bulked to 230 pounds.
Both times I started my bulk I weighed 205 pounds.
And I can say that both methods are effective if done correctly. But, the outcome will be different depending on where you start.
Clean bulking and dirty bulking are two different animals with natures of their own.
I can tell you that for me, at this point in my life, clean bulking is the way to go.
But, if I was young, skinny and wanted to beef up quickly, I would dirty bulk 10/10 times if given the opportunity.
So.
How should you bulk?
I'll tell you exactly how in this post.
Should I Clean Bulk or Dirty Bulk?
Great question, grasshopper.
The answer depends on your goals (surprise!)
For Skinny Guys – 
If you are skinny and want to build muscle and strength quickly, then dirty bulk and workout 4-6 times a week using a strength and hypertrophy routine. Continue you're dirty bulk until you begin to get fat then shift to clean bulking.
Just make sure you hit your minimum nutrition requirements while dirty bulking. (That means get enough protein and vitamins to stay healthy and energized.)
If you're skinny-fat and want to lose fat and build muscle, I recommend clean bulking. Or you can try the steak and eggs diet. Just eat three meals a day instead of two, and eat broccoli, spinach, brussel sprouts or asparagus with every meal.
You need to reduce carbs (sugars, sweets, pasta, bread) and load up on protein and fat. This steak, eggs and green vegetable diet will increase your testosterone levels, burn fat and build muscle.
Also train 4-6 times a week using a total body workout routine designed to build muscle and strength.
For Fat Guys – 
If you're fatter than you want to be and want to build muscle, then you should clean bulk. The combination of clean bulking and hard training will totally recomposition your body. Meaning you will lose fat and build muscle while getting stronger and sexier in the process.
If you're fat and just want to lose fat and be healthy, start eating meat, eggs, beans, nuts, and don't eat/drink another carbohydrate (unless it comes from a green vegetable) until you reach your goal. Also, do a beginner workout to lose fat faster.
So, that being said, there are two steps to get the body you want:
Step #1. Figure out where you are. (are you skinny, skinny-fat, fatter than you want to be, or fat?)
Step #2. Decide where you want to be and follow my instructions above.
Don't over complicate it. Just get started in the right direction. You will learn and get better as you go. Make a commitment, be consistent, work hard and honestly, be patient. And know you will get there.
The Clean Bulking Diet
Your diet will make or break you.
Not just in the gym, but in Life.
Your health, energy, focus, and stamina are directly related to the quality of food you eat. As time goes on, it because even more important to eat well so you can sustain high energy levels and be consistently productive.
So, that begs the question – What should you eat while clean bulking?
Eat as fresh, organic and close to the source as possible. Eat beef and butter from free range, grass-fed cows.
Opt for free range chicken eggs and poultry meat. Wild caught fish from clean waters. Avoid pork (it's a dirty meat) and anything that has artificial ingredients or preservatives.
Avoid anything from animals treated with hormones.
My Clean Bulking Review
Clean bulking you will feel better, have more energy and get better nutrition. (I'll admit though, that my clean bulk did contain beer and donuts occasionally).
Clean eating provides your body with nutrients it craves and makes your body function efficiently.
As opposed to dirty eating, which is a one-two punch directly in your face. Punch one: eating shitty food with little nutritional value, so you need to eat more to get what you need to build muscle. Punch Two: Those extra empty calories carry inorganic ingredients that make your body work extra hard to process.
My Clean Bulking Meal Plan
Breakfast was typically eggs cooked in butter from grass-fed cows. Sometimes with bacon. On weekends I would eat eggs and bacon, a vegetable omelet, or protein pancakes with fruit.
The last 6 weeks of my clean bulk, I ate meat and nuts for breakfast every weekday. Weekends where usually eggs or omelets.
Lunch was typically chicken breast, steamed broccoli and baked sweet potatoes.
Dinner was typically either chicken, steak and eggs, salad and vegetables.
I also made stir-fry with rice which I ate for both lunch and dinner. If I wanted to treat myself, I had fried chicken with baked beans, or a pizza or sandwiches.
About 3-4 meals a week were a little less clean.
For about a 2 month stretch I was eating 2 doughnuts every night for extra calories. I know this isn't 'clean' but it was fucking delicious and I loved every damn bite. Plus everything else I ate was clean.
In hindsight, my clean bulk would have been more successful if I had a protein shake instead of donuts and was more disciplined with my clean eating.
However, I ate mostly all natural and organic foods so it was still a successful clean bulk in my mind. I definitely wanted to be in a calorie surplus, eat wholesome food, and build muscle.
The little extra fat gain was negligible because I'm not trying to be ripped a the moment since it's bulking season.
Drink only water and black coffee throughout the day. At night I might have 2-3 beers or glasses of wine maximum, and only drink 2-3 days a week max. Often times no alcohol at all.
I did not supplement at all while clean bulking. I might have had the rare protein shake when I was in a pinch and needed calories and protein because a real meal was not in sight. 1-2 protein shakes per month over a span of 6 months tops.
Meal prep was my best friend and ally for staying clean. Learn how to cook and take meals with you to work.
My Dirty Bulking Diet
What can I say? I ate like a pig.
And as a result, my physique reflected my diet; sloppy.
While dirty bulking, I shoveled down chips, dip, pasta, cake, candy, beer, fried food, fast food, ice cream, brownies, cookies, doughnuts and pie.
You name it; eating anything and everything in unlimited quantities was my dirty bulk strategy.
Fatty, processed foods, and frozen foods were all on the menu.
I definitely ate a higher ratio of fat and carbs to protein while dirty bulking. My calorie count had to have been well over 4000 calories a day. Maybe even 5000 calories a day. Most of these calories were fluff. As a result, my body was soft and puffy to show for it.
I didn't meal prep while dirty bulking. I just ate anything I wanted any time I wanted it.
Speaking from experience, I can say that dirty bulking will make you fat if you're not careful. (The one exception is if you're skinny, have a fast metabolism and under 23 years old. If you are those things it doesn't matter what you eat, because you are 'immune' to getting fat from dirty bulking; at least for a while, anyway.)
I worked out 4 days a week while dirty bulking but probably could have prevented adding too much extra body fat if I trained REALLY F*CKING HARD 5-6 days a week. But, dirty bulking is hard to sustain without getting fat. Plus, dirty bulking is not healthy.
You'll start to feel run down and tired. Your blood-work might show elevated cholesterol level and your blood pressure might go up. (Mine did.)
Plus, you'll get fat eventually while dirty bulking. So you're better off switching to clean bulking for the long run.
Clean Bulking Workout Routine
I worked out 4-6 times a week while clean bulking.
I also worked out heavy. Heavier than I've ever worked out before. I hit a new personal record Bench Press of 270 Pounds and squated 350+ pounds.
My chest and legs got noticeably larger and more defined.
My weekly Workout Routine looked like this:
Monday: Legs
Tuesday: Chest
Wednesday: Back
Thursday: Shoulders and Arms
Friday: Legs
Saturday: Chest
Sunday: Rest and Meal Prep
The following week I just picked up where I left off. So, Week #2 Monday was Back day.
Dirty Bulking Workout Routine
I worked out about 4 times a week while dirty bulking. If I was smart, I would have worked out 6 days a week. I would have gained more muscle and less fat.
The majority of my workout routine while dirty bulking was an upper-body, lower-body split. Occasionally I would isolate a muscle group for a workout. Sometimes once a week I would workout solely on shoulders, chest, arms, or back.
My Workout Routine while Dirty Bulking:
Monday: Lower body (squat, leg press, lunge, calf raises)
Tuesday: Upper Body (bench, pull up, rows, flyes, military press)
Wednesday: Rest and eat
Thursday: Lower Body (front squat, deadlift, romanian deadlift, calf raises)
Friday: Upper Body or isolate a muscle group (incline bench, guillotine press, cable rows, pull down, dips or barbell curls, dumbbell hammer curls, close grip bench, overhead dumbbell press, tricep pushdown)
Weekend: Rest and eat
I focused mostly on chest, back and legs, and didn't isolate shoulders and arms often for about a year. I maybe trained arms once or twice a month.
The results?
I got stronger. Made some great strength gains, actually. I definitely gained weight. But less lean mass compared to clean bulking.
My deadlift, bench and squat jumped significantly. But I was chubby and didn't look that great. (FYI, I dirty bulked about 2 years before clean bulking. So the gains at during this time were great but not my best. Because my best strength and muscle gains came with clean bulking.)
My face was fat for the first time in my life and I had chipmunk cheeks.
I've always had good facial structure (so I'm told), but that changed after I ballooned up to 230 pounds while dirty bulking.
On the positive side, I got to eat everything I wanted. So that was great. But after a while I wanted to be ripped and have more energy.
So dirty bulking lifestyle got old eventually. It got REALLY OLD when summer came and I had a gut. Not the image I wanted to portray, y'all.
My clean bulking physique looked much healthier and much better overall in terms of body composition and muscle size/definition.
This is because I was adding quality muscle mass and just a little fat.
So, What's Better – Clean Bulking or Dirty Bulking?
You've probably figured out the answer for yourself at this point. Skinny guys looking to bulk up fast should dirty bulk and lift 5 times a week.
if you're looking to get lean and/or healthy then clean bulking is the way to go.