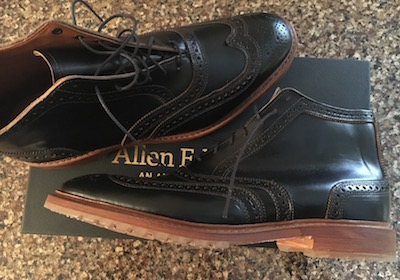 About: Why Allen Edmonds is the best men's shoe brand.
Allen Edmonds makes the best shoe I've ever worn.
I was turned on to Allen Edmonds when I saw my buddy post his new AE shoes on instagram.
They looked great and I liked them right away.
I made a mental note to check them out in the future when I made a little more scratch.
Fast forward to now and I've bought two pair to date, and I can honestly say they are the best shoes I've ever worn.
I wear them to work, to weddings, or out to fine establishments for drinks with my lady friend.
Stand alone, these shoes look great. More than that, they can be dressed up or down to complete any outfit. I've worn them with jeans, dress pants, and a suit.
Obviously, some styles are better suited for a specific setting, but many styles cross over from the boardroom to the bar with ease.
The two pair I own are Sterling Boot and Alumnus Oxford Shoe. Both are superb and convinced me to buy more down the road.
Allen Edmonds Makes the Best Men's Shoes under $500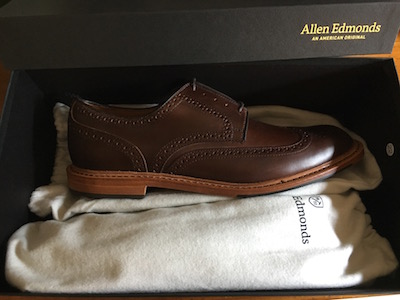 Now in all honesty, these shoes aren't perfect, but are pretty damn close. The only imperfect thing about them is the shoe laces and fit, but that's an easy fix.
The pros outweigh the cons by a mile:
Pros:
Comfortable – Cushy sole yet firm, stable and supportive.
Quality Craftsmanship – Each shoe is hand made in the United States out of  thick, luxurious leather. The construction is nearly flawless.
Super Versatile – Like I mentioned before, these shoes can dress up or down. They look great with dress pants and just as good with jeans.
Durable – I live in Michigan and winters here are rough. these shoes hold up well against elements like rain, snow, ice and slush.
I didn't treat either pair of my Allen Edmonds shoes and I wear them in the rain and snow without worry. If they get a little grimy, I just wipe them down with a towel and they are as good as new.
Style – Beautiful color and construction wrapped into a classic style.
Grip – My Sterling Boots have translucent lug soles so they grip great. The Alumnus shoes grip better than most other shoes i've worn in the winter despite not having a lug sole.
And now for the Cons –
My boots come untied easy. It's a minor annoyance but can be solved with double knots.
Relatively Expensive – But well worth the price. Allen Edmonds casual shoes are better looking then most other brands dress shoes.
If you're the frugal type, I have news for you.
Allen Edmonds runs clearance deals often. Sign up to their mailing list on their website. You'll get daily promotions. I bought both pair for almost half price.
Run Big – They run a little big in length. A few select stores offer sizings. You can find these at the Allen Edmonds website.
My shoes left quite a bit extra room at the toe. It's best to get sized by a pro before you fork over the dough.
Or, buy and try then return for a different size later. But you won't want to send them back once you get them just to wait again. They are too beautiful.
I don't know your financial situation or clothing budget but I'd guess most people think these shoes are expensive.
Yeah, they are expensive.
But, they are worth it.
It's a small price to pay for one of the best men's shoe brands that isn't French or Italian.
Plus, when you buy them, you support American men and women that make them in their Wisconson shoe shop.
So, if you want something timeless and tasteful that will compliment any style, check out Allen Edmonds.