In this post I show you how to make a super easy, 5-ingredient chocolate peanut butter cream pie that's actually kind of good for you.
In fact, I believe I've found the Holy Grail of bodybuilding treats.
This delicious dessert won't make you wish you had more macros.
For you guys and gals out there searching for a morsel to satisfy you without the guilt, you're in luck friend.
You've stumble upon a secret recipe that I invented. I've never seen it and invented it by accident.
It's unbelievably tasty and compared to practically everything else, it's healthy as shit.
One slice has 24 grams of protein and 281.5 calories total (11.5 grams of fat and 20.5 carbs.)
It only has 5 ingredients – Here's what you need:
32oz tub of vanilla non-fat greek yogurt. I use Oikos greek yogurt because it's creamy and there are no preservatives.
1 cup of PB2 Chocolate Peanut Butter Powder
2 cups Almond Flour
1 large egg
Fat Free Cool Whip
and a little slice of grass fed butter to grease the pan
Part 1: Making Almond Flour Pie Crust
To kick things off, mix almond flour and and egg together to make the dough for the crust. I used a spoon to mix and mash the almond flour into the egg.
It takes a while to get it all and it looks like it's too dry but keep mixing until the egg soaks into all the flour.
Form into a dough ball and place on greased 9-inch baking pan.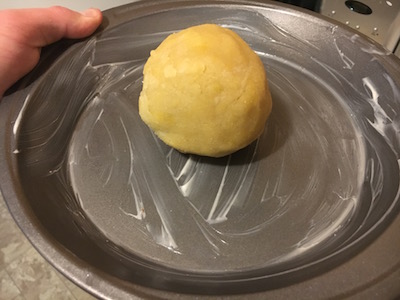 Next, press the dough into the pan with your hands. Squish it down and around until the pan is evenly coated and the dough is an even thickness throughout.
Poke some holes in the crust. Make sure to get the bottom and sides then bake it in the oven at 350 degrees for about 10 minutes or until the edges look a crispy golden brown.
Let the crust cool. Stick it in the fridge to speed up this process.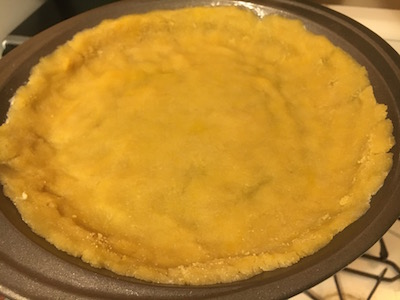 Part 2: Make Delicious Chocolate Peanut Butter Pie Filling
Scoop your tub of greek yogurt into a large bowl and add one cup of PB2 chocolate peanut butter powder. Mix it all together evenly.
You're done when the color and texture is even throughout and the mixture resembles gelato.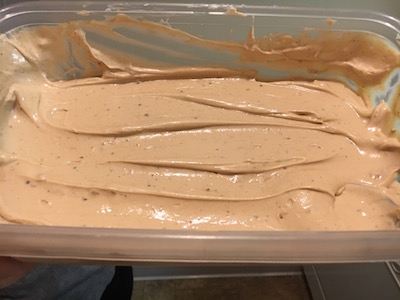 Once the pie crust cools to below room temp, add the creamy yogurt filling: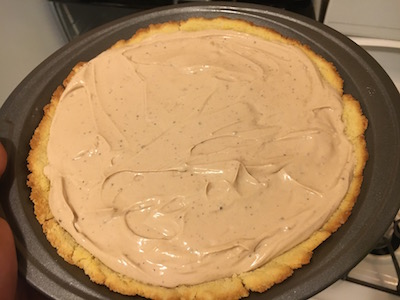 BUT FIRST, the Cool Whip!
Add Fat Free Cool Whip to the top and spread evenly with a spoon: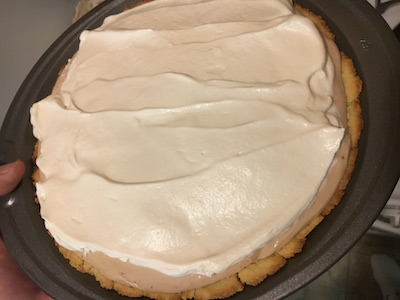 Enjoy Your Chocolate Peanut Better Cream Pie
Go ahead and have a slice – it cuts up nice and the filling is thick enough to stay in place. I'm going to warn you though, this treat is addicting.
Luckily, it's a relatively clean way to satisfy your sweet tooth or sugar craving and every bite helps you build muscle.