Subject: How I meal prep to get shredded for my first bodybuilding competition.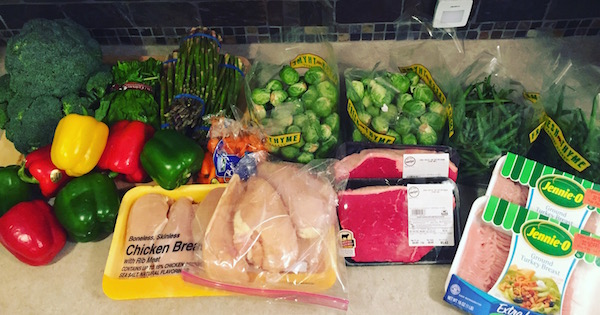 If you've read me before, you know I'm a big fan of meal prep.
Meal prep is a mandatory part of my routine because it gives me the energy and nutrition I need for my lifestyle.
I recently signed up for my very first bodybuilding competition and realized meal prep would play an intrical part to my success.
I've meal prepped for a long time, but now I needed to become focused on my calories, macros, and consistency.
Usually, I'm not super strict with my diet. I eat mostly healthy, nutrient dense foods, but after I was satisfied with the amount and quality of food I ate that day, I would have something sweet. (I've been know to put down 2-3 doughnuts a day).
There were somedays I would just eat whatever I wanted in unlimited amounts.
But with my competition fast approaching that shit had to stop.
How to Burn Fat Fast (Fat Loss, Phase One)
The first thing I did when beginning my diet was slash sugar consumption.
I reduced my sugar intake by over 90%.
The result?
I lost nearly ten pounds in 2 weeks – going from roughly 15% body fat to 12%: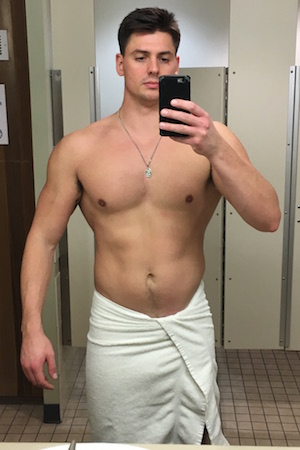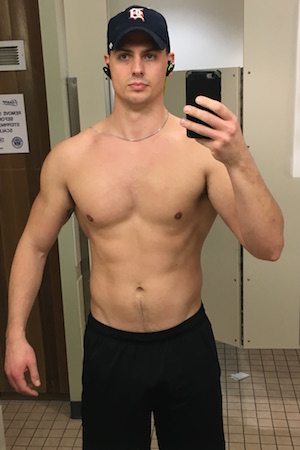 Keep in mind, that up to this point, I didn't count calories or macros during these first two weeks – I just stopped eating sugar.
Gone were the days of me scarfing down two Boston creme donuts before bed.
Now if I have a sweet tooth I resort to greek yogurt with a little bit of honey drizzled over it.
Also, during this time I reduced carbs significantly. No bread, pasta, potatoes or pizza. The only carbs I ate are from vegetables.
(Ok, so I might have a teeny tiny slice of protein-packed peanut butter cream pie for dessert, IF I have left over macros. Check this recipe out in the link – It will blow your mind.)
This simple sugar reducing approach worked for a while but shit got real when I signed up for a bodybuilding competition and now have to take stage in seven weeks.
Now I have money and my reputation on the line.
With my busy lifestyle, I realized I needed a systematic approach to achieve my desired body fat percentage. Otherwise, I would be blowing in the wind.
Without a system and plan in place I risked wasting a lot of time or missing my mark come show time.
I wanted to be as efficient as possible in my approach because time and energy are precious commodities.
I needed data and control. So, I figured out my exact dietary needs to get stage ready and made a plan to get in the best shape of my life!
Less than 8 Weeks to Achieve 8% Body Fat (Phase 2, Calorie Control)
My starting weight was about 225. Right now (2/13/2018) I'm at 210.5 pounds.
My target weight is 200 pounds by show time, which would put me at 8% body fat.  I think I will be very competitive with 8% body fat composition.
How did I figure out my target weight?
The first thing I did was calculate my total daily energy expenditure (TDEE).
TDEE is just what it sounds like – it's the amount of energy (calories) you burn daily.
There are calculators online to help you determine your TDEE (google search TDEE calculator).
Basically, TDEE calculators factor your height, weight, age, and activity level to determine your energy requirements.
Once you know how many calories you burn each day, you know how many calories you need to eat in order to maintain your size.
Many TDEE calculator use different methodology for the calculation, so no two calculators give you the same results.
Since I wanted the calculator to reflect me as accurately as possible, I researched the methods used and decided on ones that were most relevant given my conditioning and current body fat.
You don't have to overthink it, but I took this extra step because I need to be as precise as possible to pull off a win with my aggressive timeline.
My TDEE Numbers
Based on my total daily energy expenditure, I need to eat 3,502 calories every day to maintain my weight, given my current activity level.
By the time I calculated my maintenance calories, it was February 4th, 2018 with my contest day fast approaching (March 24th).
Here I am sitting at 216 pounds and want to drop 16 pounds of fat while maintaining all my lean mass.
I need to figure out how many calories I can eat per day to reach my target in order to look amazing on stage. The math follows:
A pound of body fat contains 3,500 calories.
Since I'm dropping 16 pounds of fat, I need to a 56,000 calorie deficit over the next seven weeks. That means, I need to burn 56,000 calories MORE than I take in over the next seven weeks.
I figure I can shed 2 pounds of fat each week with an aggressive cut.
Cutting daily calories to 2,500 puts me in a 1000 calorie deficit.
My macros are 313 grams of protein, 63 grams of carbs, and 111 grams of fat.
My plan is to try this for a week and adjust accordingly if needed.
Weighing and measuring food can be a chore. But once I signed up and had money on the line, it was actually kind of fun. I know what I'm working toward and each meal I weigh is one step closer to Victory.
My Weekly Bodybuilding Meal Prep Plan
Meal prep is a must to stay on track with any diet.
I eat three meals a day. Have 1-2 protein shakes and maybe enjoy a small snack.
Meal #1 – Breakfast
Breakfast is always the same thing – 6oz lean beef patty with 2 hard boiled eggs.
Take 90-95% lean ground beef and make five patties that I cook on the stove top with a frying pan. I don't add any butter or oil, just toss the meat in a non-stick pan and cook it to your desired doneness.
Then just boil, peel and pack 10 eggs and you're set: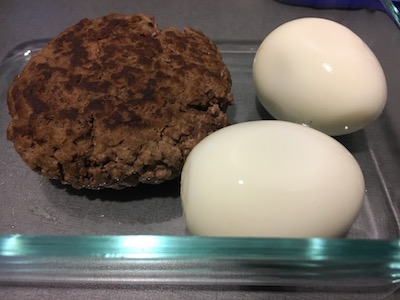 I use anchor glass containers because they are sturdy and microwavable. I hate the idea of eating out of plastic, even if it says "Microwave Safe".
UPDATE – I have since started eating 6 ounces of ground turkey instead of beef. I use 99% lean turkey. I do this because turkey has few calories.
Meal #2 – Lunch
My lunch is usually 8oz of chicken breast with 150g each of broccoli and cauliflower.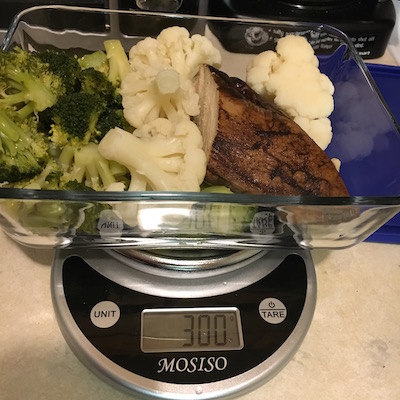 I cook 4-5 chicken breasts each Sunday. Bake them in the oven on 400 degrees for about 45 minutes until it's cooked thoroughly. Make sure the meat has no pink or you will eat it and die (probably).
Channel your inner Gordon Ramsey and season the chicken deliciously, or by pre-seasoned, pre-marinated chicken from your friendly supermarket.
(A word of caution, these marinades usually have a lot of usage an salt so keep that in mind.)
I steam the cauliflower and broccoli because it's the easiest and tastes the best.
Meal #3 – Dinner
Dinner is beef and vegetable stew, steak and eggs, fish and salad, or chicken with broccoli, or stir fry without the rice.
I'll cook food for five days worth of meals, Monday-Friday. On the weekends I usually go out to eat once or twice and cook some sort of meal that fits my diet plan.
This gives me some variety and flexibility so I can get a little more flavor in my diet.
Meal Prep Recipes
My meal prep had to be simple. Complicated recipes mean more time to prepare and more time to calculate macros.
Everything I meal prep is simple to prepare and is something I really enjoy eating. I make stuff I know I'll eat again so once I calculate macros macros for a meal I can use those same numbers forever.
Here are some of my goto meal prep recipes. Each one is lean and clean –
Beefy Bodybuilding Stew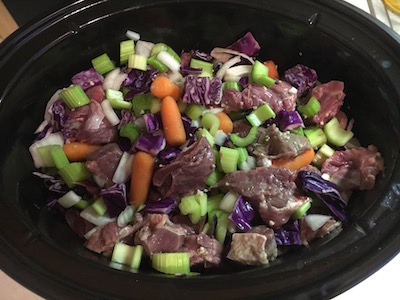 Ingredients:
3 Pounds Beef Tips
1 Bag mini carrots
8 large stalks Celery
1 large onion
Half head of red cabbage
A box of low sodium beef broth
A punch of minced garlic
oregano, salt, pepper and turmeric to taste.
Let it cook on high for 6 hours or low for 8-10 hours.
Low Carb Stir Fry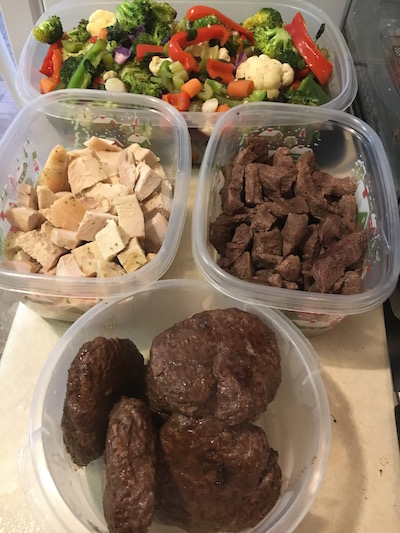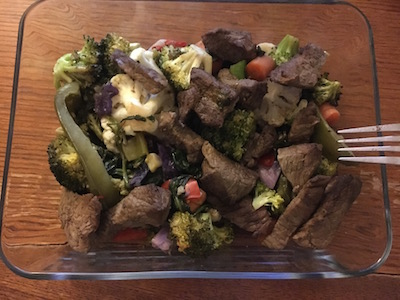 Ingredients:
2 pounds Beef steak cut in strips
3 Large bell peppers
2 cups Spinach
1 large Onion
1/2 head Red cabbage
1 large crown Cauliflower
1 large crown Broccoli
A bag baby carrots
Use whichever ratio of vegetables that suites your taste. The quantities above are my preference. You can substitute chicken for steak if you want something leaner.
Put garlic and olive oil in two big frying pans and cook all the vegetables at once over medium heat until tender.
MORE MEAL PREP RECIPES TO COME SOON –
In the mean time, check out my meal prep videos for more ideas:
Weekly Bodybuilding Meal Prep –  Episode 7
Bodybuilding Meal Prep – Episode 6
One Day of Eating
One day of eating for me looks something like this: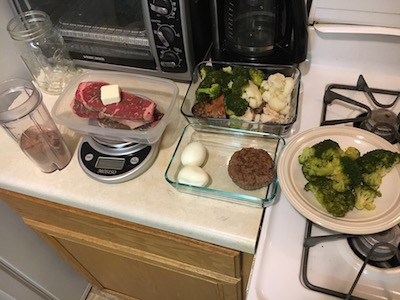 In the pic above I have 3 steaks, 300g broccoli, 150g cauliflower, 6 ounce lean beef patty two hard boiled eggs and two scoops of whey protein.
Supplements
As far as supplements go, I'll have a protein shake or two each day, and I'll take fish oil capsules and a Magnesium, Calcium, Zinc, and Vitamin D tablet each day.
Another supplement I love and can't say enough good things about are Liver Tabs. They boost your strength, endurance and energy. They are especially helpful when cutting t energize you for tough workouts.
Training Routine – 8 Weeks Out
Although you can lose weight and burn fat by solely being in a calorie deficit, Training is a must to maintain strength, muscle mass.
The cutting phase is perfect to carve defined lines into your muscles. My training routine pushes me to lift a few heavy sets to maintain strength, but the majority of my workout is relatively lighter weight with slow, hyper-focused repetitions.
My workout routine is a modified the old school workout split.
Monday – Leg and Abs Workout
Back Squat
Leg Press / Calf Press Superset
Lunges
Leg Extensions
Hanging Leg Raises
Cable Crunches
Tuesday – Chest / Back Workout
Incline Barbell Bench / Pull Ups
Incline Dumbbell Bench / Bent Over Rows
Guillotine Press / Cable Rows
Dumbbell Flyes
Cable Crossovers / Pull Downs
Wednesday – Shoulder and Arm Workout
Military Press / Lateral Raises
Upright Rows / Rear Delt Flyes
Hammer Curls / Overhead Extension
Dumbbell Curls / Skull Crushers
Reverse Grip Drag Curls / Tricep Push Down
Concentration Curls / French Press / Wrist Curls
Thursday – Leg Workout
Back Squat
Leg Press / Calf Press
Romanian Deadlift
Leg Extensions
Hanging Leg Raises
Cable Crunches
Friday – Chest / Back Workout
Incline Barbell Bench / Pull Ups
Incline Dumbbell Bench / Bent Over Rows
Guillotine Press / Cable Rows
Dumbbell Flyes
Cable Crossovers / Pull Downs
Saturday – Shoulder and Arm Workout
Military Press / Lateral Raises
Upright Rows / Rear Delt Flyes
Hammer Curls / Overhead Extension
Dumbbell Curls / Skull Crushers
Reverse Grip Drag Curls / Tricep Push Down
Concentration Curls / French Press / Wrist Curls