Introducing THE Greatest Workout Shirt on
Planet Earth

.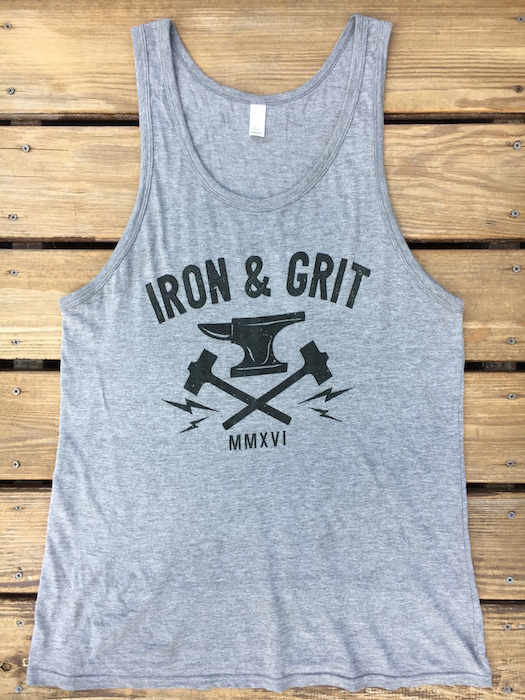 Are you sick and tired of poorly designed, mundane looking fitness apparel?
Yeah, me too.
That's why I'm launching the Official Iron & Grit Apparel line and starting Strong with the release of The Greatest Workout Shirt on Plant Earth.
I started with the end in mind – to design a shirt that makes you look Damn Good!
Let's face it  – You work your a$$ off to look good. Your shirt should look good too.
Not only will this shirt look damn good on you, it's also made using organic bamboo viscose blended fabric (70/30 bamboo/cotton blend).
Bamboo is fast growing and is a greener alternative to synthetics like nylon and polyester.
Do good for you and do good for the World!
Order Now!
💥Made in America!💥
These shirts are stitched and printed by Americans in America therefore are Patriotic AF  💯🇺🇸
💥Ultimate Comfort💥
Saying this shirt is silky-smooth doesn't do it justice. Wearing this shirt feels like being hugged by a cloud wearing a kitten-fur jacket. 🐱 ☁️🐱
💥Breathable and Cooling Effect💥
Bamboo Viscose fibers naturally have 'micro-gaps' make bamboo fabrics work its moisture-wicking magic and provide ventilation for optimum airflow and temperature regulation. ❄️💨
💥Protection Against Odor and Sweat💥
Train like a filthy animal but don't smell like one. Bamboo is naturally anti-bacterial so this garment keeps you fresh even during your toughest workouts.
💥Durable💥
Bamboo is a tough S.O.B. Plus this shirt is engineered intelligently with features like neck and arm hole binding and double needle hems to withstand your toughest workouts.
💥Superior Wearability💥
Form-fitting and suitable for wearing pre, during and post workout.
From the Bench Press to the Beach to Bar, and everything in between, no other shirt performs like this one.
Oh, and did I mention, this shirt is –
💥Environmentally Friendly💥
Made of highly-renewable Bamboo Viscose blend, this shirt is:
Organic ✅
Sustainable ✅
Environmentally Friendly ✅
🐼 Panda Friendly❌
(sorry, pandas…)
All this in ONE shirt for just $25  (Shipping not included. U.S. Shipping Only and this time)
Purchase below –  Just pick your Size and click 'Buy Now'!
Shirt currently available in Tempest Gray Color!!
(CYou will be taken to Paypal to finish your order. You will get an email confirming your purchase. Each shirt is printed to order. Product ships within 48 business hours. Please allow an additional 3-5 business days for delivery. We are in the process of setting up an automated order intake system so please bare with us!! For questions email ironandgrit1@gmail.com